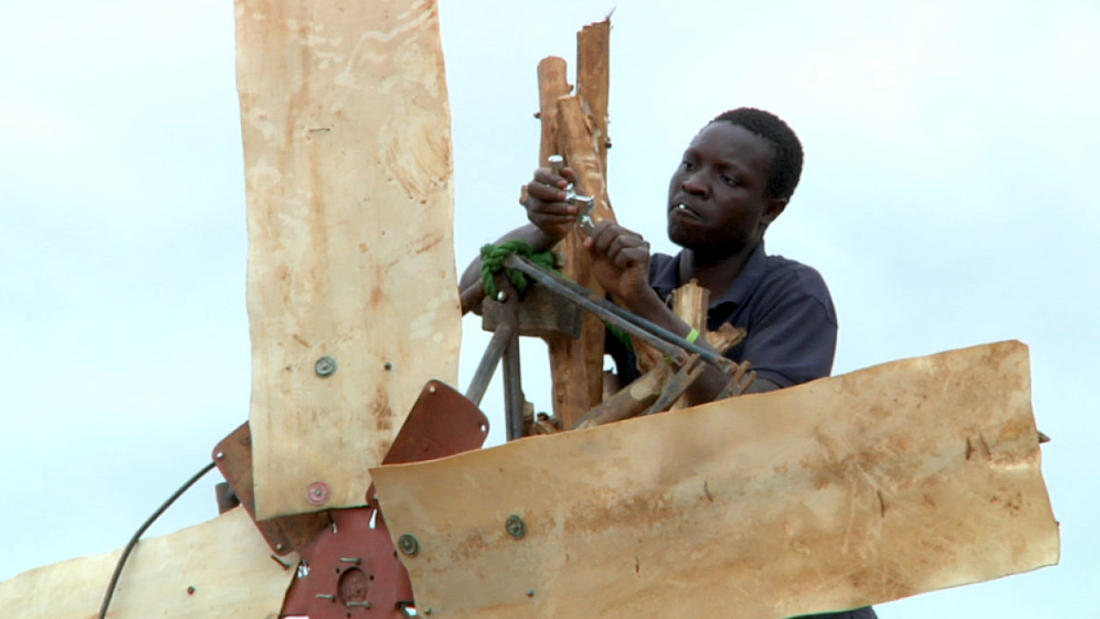 2021
with
Shereen Essof
Executive director, JASS (Just Associates)
and
Andrew Goodin
Lead instructor, Purdue Polytechnic High School
and
Joanne Sandler
Senior Associate, Gender At Work; Former Deputy Executive Director for Programmes, UN Development Fund for Women
and
Wendy Saul
Past President, International Book Bank; Former Allen B. and Helen S. Shopmaker Chair in Education and International Studies, University of Missouri-St. Louis
and
Rachmadian Wulandana
Assistant Professor of Mechanical Engineering, SUNY New Paltz
and
Cameron Zohoori
Documentary filmmaker, Vignette Creative
William and the Windmill—

[ONLINE] Thinking about promise: A story of hope from an under-resourced nation
Program Description
From March 15 to March 31, Rosendale Theatre presents a free series of online mini-programs related to William Kamkwamba and the windmill he built to save his Malawian family from famine:
Visit to a Green Energy Lab with sustainable-technology expert Doni Wulandana, who is experimenting with turbine engines.
Students from Purdue Polytechnic, a STEM-focused high school in South Bend, Indiana, share their solutions to a design challenge posed by teacher Andrew Goodin and inspired by The Boy Who Harnessed the Wind and William and the Windmill.
Understanding Book Donation Programs with Wendy Saul, former President of the International Book Bank, the organization that sent the book on energy that inspired William to his library.
An African Perspective on William's Story features Shereen Osoff, a native of Zimbabwe and now executive director of JASS (Justice Associates) and her colleague Joanne Sandler, formerly of the UN.
Filmmaker Cameron Zohoori talks about differences between scripted and documentary presentations of story, using The Boy Who Harnessed the Wind and William and the Windmill as examples.
Then on March 24, all of the featured experts will join together for a live online Q&A. Presented as part the 2021 National Evening of Science on Screen.

Film Synopsis
William Kamkwamba navigates the opportunities and challenges of international fame after he creates a power-generating windmill from junk parts to save his family from famine in Malawi.
With only a library book as his guide, 14-year-old William Kamkwamba builds a windmill in his Malawian village that changes his life forever. Using junk parts and an inexhaustible imagination, he harnesses enough energy to power a generator that saves his family from famine and resuscitates his dying farming community.
An instant media sensation, the teen soon has the ability to chart a previously unimaginable future of TEDtalks, Ivy League schools, and speaking tours. But despite the help of an American entrepreneur who helps navigate his success, some changes threaten to capsize him. He was once just a kid back home, but suddenly he's a village leader. Away at school, the famous boy inventor struggles on a steep learning curve. Cameras capture the dramatic upheavals, external pressures, and subtle shifts of perspective in this inspiring story of a young man facing the changes that a humble homemade windmill set in motion.
Winner of the SXSW Grand Jury Prize for Best Documentary, The Austin Chronicle calls it "a subtle but beautiful portrait," and Indiewire described it as "a fascinating look at the tricky balancing act of third world activism."
About the Speaker
Shereen Essof, who currently serves as the Executive Director of JASS, is a respected Zimbabwean feminist, activist, popular educator, academic and former regional director for JASS Southern Africa. Her academic work is grounded in her engagement with women in trade unions, social movements, and community-based organizations. She strives to understand the roots and the gendered nature of neo-liberal, patriarchal systems, and from that understanding to imagine and organize towards alternatives. She worked at the Zimbabwe Women's Resource Centre and Network in Harare for six years, and then with the African Gender Institute at the University of Cape Town. Shereen has published widely on feminism, women's movements, and social movement organizing in both online and hard copy journals in South Africa and internationally.
Andrew Goodin is the lead instructor at Purdue Polytechnic High School (PPHS). PPHS is reinventing high school. Rather than engage in traditional courses, students at PPHS practice human-centered design in a series of passion projects and industry-partner challenges. Previously, Andrew was the Makerspace Teacher at Grand Center Arts Academy in St. Louis. Andrew's passion is to engage students in exploration, creation, and problem solving on a daily basis. As a result of his work, he's been awarded the Peabody Energy "Leader in Education" prize, the Loeb Prize for Teaching Excellence, and St. Louis Public Schools Science Teacher of the Year. Andrew was a 2008 Teach for America St. Louis Corps Member, teaching 11th grade chemistry.
Joanne Sandler, a senior associate of Gender at Work, is an independent consultant focused on women's human rights and organizational change strategies. Joanne has worked with international organizations, private foundations, academic institutions and women's organizations and networks for the past 30 years. From 2001 to 2010 Joanne served as Deputy Executive Director for Programmes for the UN Development Fund for Women (UNIFEM), guiding its support to programs that advance women's empowerment and rights throughout the developing world. During her tenure, UNIFEM grew from an organization with an $18 million annual budget and presence in 20 countries to a $200 million annual budget with presence in 80 countries. Joanne then served on the transition team for the establishment of UN Women. Joanne currently serves on the boards of directors of Breakthrough and of Women Win.
Wendy Saul, PhD, now retired from her position as the Allen B. and Helen S. Shopmaker Chair in Education and International Studies at the University of Missouri- St Louis, is the author of 10 books connecting critical thinking, science, and literacy. Saul has worked with teachers in Eastern and Central Europe, Central Asia, China, South America, and for the past 10 years in Africa. She has also directed a number of large National Science Foundation programs in Baltimore and St Louis. Dr. Saul was formerly president of the International Book Bank, the organization that sent a book on energy to the Wimbe Library, where William Kwankamba found it and used it to build his windmill. She is currently a member of Board of Directors at the literacy-focused nonprofit CODE (Canada) and the Rosendale Theatre.
Rachmadian Wulandana, Assistant Professor of Mechanical Engineering at SUNY New Paltz, received his undergraduate degree in civil engineering from Bandung Institute of Technology in Indonesia and his master's and doctoral degrees from the Department of Mechanical Engineering at the University of Pittsburgh. He worked as a postdoctoral fellow at Georgia Tech in the Cardiovascular Fluid Mechanics Lab. His primary teaching assignments at New Paltz include thermodynamics, thermal system designs, fluid dynamics, heat transfer, as well as Finite Element Analysis. His own research focuses on innovative designs in renewable energy and sustainable technology. Ongoing research projects include investigations of vortex-induced autorotating turbines for hydrokinetic applications, designs of Tesla turbines for renewable energy, and utilization of thermoelectric semiconductors for cooling applications, as well as research on metal 3d-printing.
Cameron Zohoori is a filmmaker from North Carolina by way of Jamaica, Arkansas, and Seattle. After studying neuroscience, he decided storytelling was a more compelling way to affect people's brains. Projects in diverse media have taken him from the hollers of Kentucky to the streets of Monrovia, from cage diving with great white sharks to training rural radio producers in multimedia techniques. He was selected as a 2012 Lewis Hine Documentary Fellow and spent a year filming and photographing the lives of youth and youth workers in Lowell, Massachusetts. The resulting short doc "The Vow" played festivals around the country and internationally. Since 2015, Cameron has worked with Vignette in Seattle, bringing documentary filmmaking to brands and organizations with honest stories to tell.