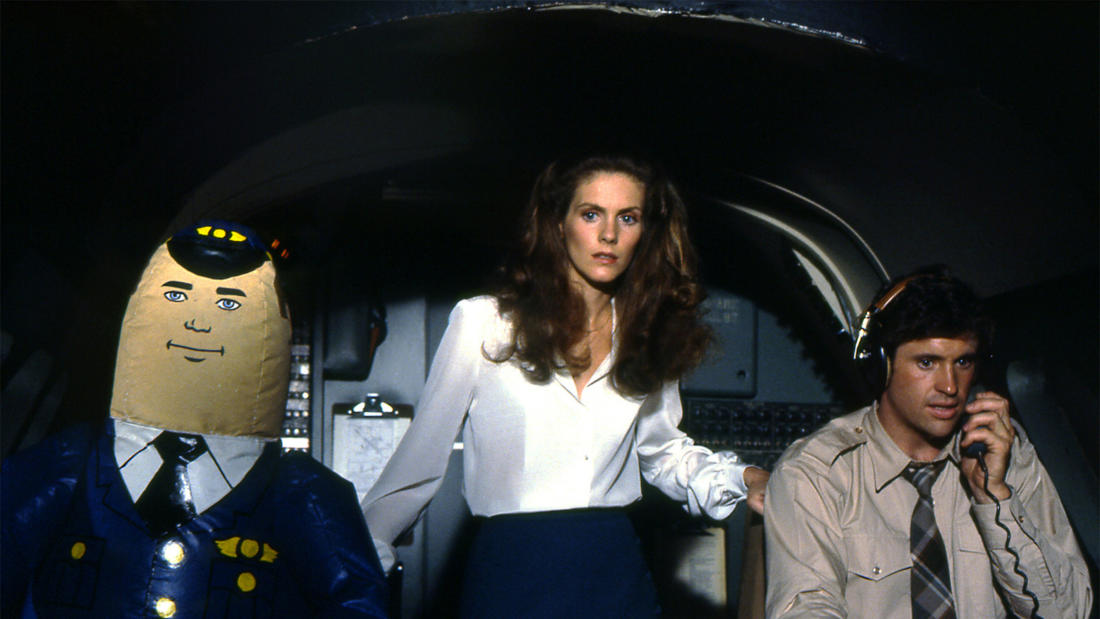 2022
with
Erin E. Chernak, Ph.D.
A. Dale Thompson Endowed Professor of Leadership, Director, Insights for Organizations Center at the University of Texas, Arlington
Airplane!—

By the way, is there anyone on board who knows how to fly a plane? The science of aviation psychology
Program Description
Aviation's success relies not just on feats of engineering design, but on the training and selection of employees at every point in the flying experience and the creation of an organizational culture that promotes safety and avoids disaster. Come hear from an aviation psychology expert on some of the lesser-known but fascinating facts behind how we keep the world flying—without calling anyone Shirley.

Film Synopsis
A man afraid to fly must ensure that a plane lands safely after the pilots become sick.
This pun and sight-gag-filled disaster-movie spoof features a jive-talking grandma, a shell-shocked lieutenant who thinks he's Ethel Merman, and a co-pilot who looks suspiciously like Kareem Abdul-Jabbar. In the film, ex-fighter pilot Ted Striker (Robert Hays) pursues his flight attendant girlfriend Elaine (Julie Hagerty) onto a Boeing 707 bound for Chicago, in an effort to win back her affections. Ted hasn't flown since "the war," where he was severely traumatized and developed his "drinking problem." When many of the passengers and crew fall ill, fellow passenger Dr. Rumack (Leslie Nielsen) deduces that they have contracted food poisoning. It is now up to Striker to land the plane, with the help of a glue-sniffing air traffic controller (Lloyd Bridges) and Striker's vengeful former captain (Robert Stack), who must both talk him down. Ranked the number-one comedy of all-time by Empire Magazine, Airplane! set the bar for slapstick in the early 1980s.
About the Speaker
Dr. Erin E. Chernak is an expert in Industrial/Organizational Psychology and the Aviation industry. She is the A. Dale Thompson Endowed Professor of Leadership and Director of the Insights for Organizations Center at the University of Texas, Arlington. With a research and practice career focused on applying psychological science to the aviation industry, her expertise is relied on by numerous national and international news outlets, including Good Morning America, live in-studio on NBC's Meet the Press, CNN's The Lead with Jake Tapper, CNN's Tonight with Don Lemon, BBC Radio, CBC, Bloomberg, USA Today, Forbes, The Washington Post, a feature article in Flying Magazine, and many others.