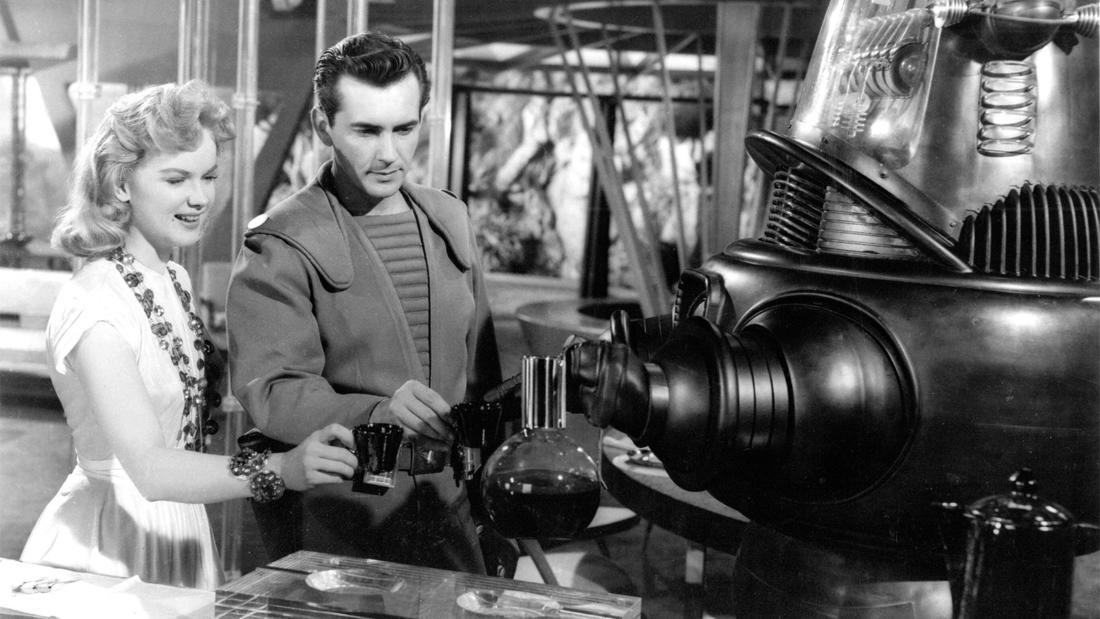 2021
with
Sofia degli Alessandri-Hultquist of Drum & Lace
Composer and performer
Forbidden Planet—

Technology, synthesis, and film scoring
Program Description
Musician Sofia degli Alessandri-Hultquist of Drum & Lace discusses the technology behind her film and television scores, which mix chamber music, electronica, and sounds of the natural world.
Film Synopsis
A starship crew goes to investigate the silence of a planet's colony only to find two survivors and a deadly secret that one of them has.
In this sci-fi classic, loosely based on Shakespeare's The Tempest, a spacecraft travels to the distant planet Altair IV to discover the fate of a group of scientists sent there decades earlier. When Commander John J. Adams (Leslie Nielsen) and his crew arrive, they discover only two people: Dr. Morbius (Walter Pidgeon) and his daughter, Altaira (Anne Francis), who was born on the remote planet. The two have created an Eden-like world that is guarded by their obedient robot, Robby. Gradually, Adams uncovers the mystery of what happened on Altair IV, and why Morbius and Altaira are the sole survivors.
About the Speaker
Drum & Lace, aka Sofia degli Alessandri-Hultquist, is an Italian composer and performer who creates music for film and media. Raised in Florence, she received her undergraduate degree from Berklee College of Music (Film Scoring & Composition) and a master's degree (Music Technology & Composition) from New York University.
Melding together sampled field recordings, chamber instruments and lush layers of synths, she creates densely textural and beat-heavy music, drawing extensively from film music, music concrete, and modern electronica. Her ambient and chamber work also gathers inspiration from nature and natural sound, as well as the juxtaposition of unlikely sounds with one another. In her composition work includes writing for various mediums, including film, television, dance, theater, fashion events and advertising.
She has scored the HBO documentary "At The Heart of Gold: Inside the USA Gymnastics Scandal" (dir. Erin Lee Carr) and Netflix's "Deadly Illusions" (dir. Anna Elizabeth James) — as well as upcoming films "Night Teeth" (dir. Adam Randall, Netflix) and "Cobweb" (dir. Samuel Bodin, Lionsgate). Television credits include AppleTV+ Original Series "Dickinson" (created by Alena Smith) and season 3 and 4 of NBC "Good Girls" (created by Jenna Bans and Bill Krebs).
Drum & Lace's performances often include elements of spatial audio and multimedia. Some of these include The Echo Society VI: Family (Los Angeles, CA), National Sawdust's Digital Discovery Festival 2020 (virtual), Quadraphonic Live at L.A. Central Library's Taper Auditorium with Suzanne Ciani (Los Angeles, CA), and Moogfest 2019 (Durham, NC).