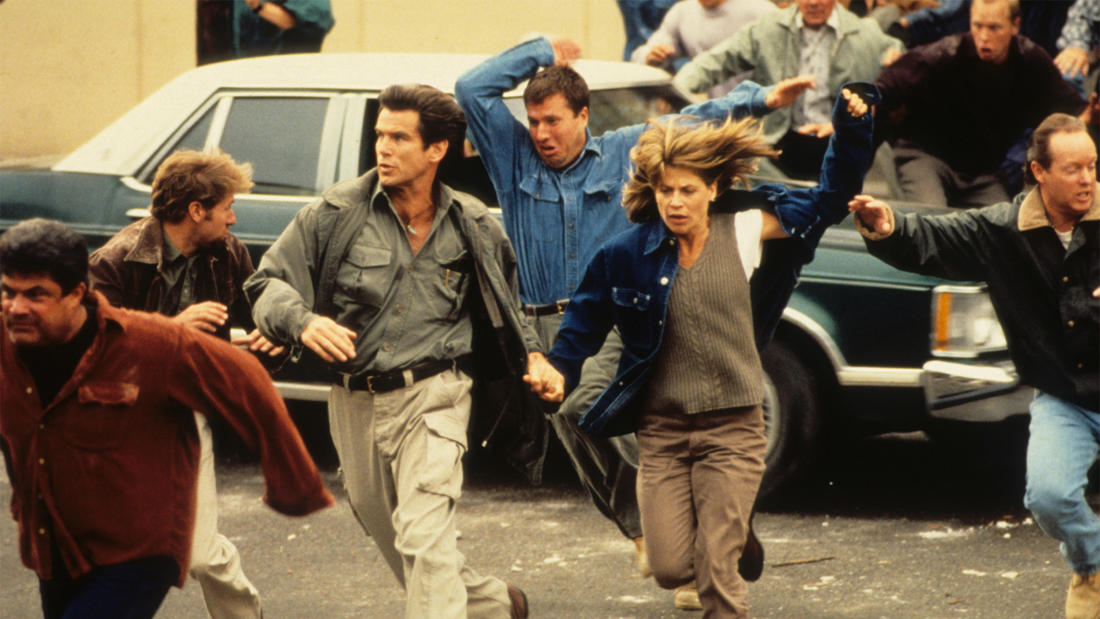 2018
with
Ron Metzger
Professor of Geology, Southwestern Oregon Community College
Dante's Peak—

Oregon's real seismic science
Program Description
Oregon's Cascadia subduction zone is a geologic hotspot, triggering earthquakes, tsunamis, and—yes!—volcanoes! So is the science behind eco-thriller Dante's Peak the real deal? Part of the 2018 National Evening of Science on Screen.
Film Synopsis
A vulcanologist arrives at a countryside town named Dante's Peak, which has recently been named the second most desirable place to live in America, and discovers that long-dormant volcano Dante's Peak may wake up at any moment.
Harry Dalton (Pierce Brosnan) is a volcano expert who is sent to investigate unusual seismic activity in the quiet Pacific Northwest community of Dante's Peak. There he discovers people boiled to death in the local hot spring and plant and animal life dying or displaying unusual illnesses near the city's supposedly dormant volcano. Harry becomes convinced that a major volcanic catastrophe is imminent. Rachel Wando (Linda Hamilton), the town's mayor, is skeptical of Harry's warnings. He must convince her of the potential danger before it's too late.
About the Speaker
Ron Metzger earned a BS from St. Lawrence University and an MS and PhD from the University of Iowa. He has been a member of the Southwestern Oregon Community College faculty since the fall of 1996. He is a past-president of the Pacific Northwest section of the National Association of Geoscience Teachers. One of his most significant local contributions has been the development of the geology lecture series that brings prominent scientists to the college to present free lectures on cutting edge topics to students and the community. The geology department at SWOCC benefits from the rich and varied geology nearby. Students benefit from exposure during field trips to varied rock types, coastal processes, evidence of geologic hazards, Cascade volcanoes, and more.
Donations benefit Southwestern Oregon Community College's Geology Lecture Series.