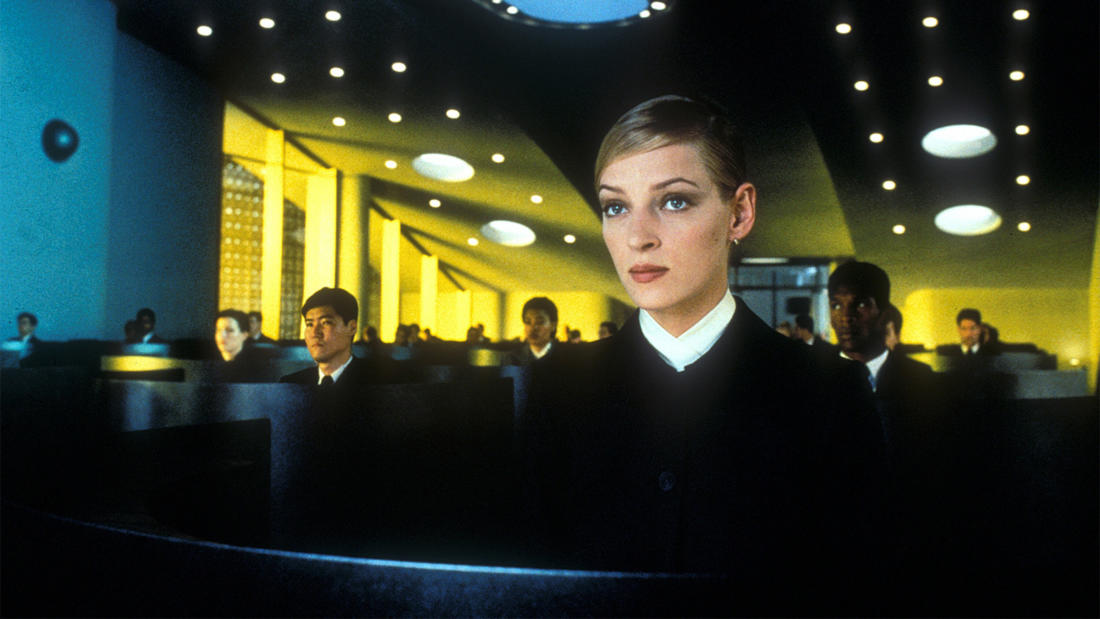 2018
with
Gene Robinson
Director of the Institute for Genomic Biology and Swanlund Chair of Entomology, University of Illinois at Urbana-Champaign
Gattaca—

Nurture vs. nature: How Gattaca got it wrong
Program Description
Is DNA destiny? Genomics expert Gene Robinson discusses how an organism's environment influences the expression of the genes it inherits.
Film Synopsis
In a dystopian future that prizes ideal DNA above all, a genetically inferior man assumes the identity of a superior one in order to pursue his lifelong dream of space travel.
In the not-too-distant future, a less-than-perfect man wants to travel to outer space. Society has categorized Vincent Freeman (Ethan Hawke) as a genetically inferior "in-valid," and he has become one of the underclass of humans that are only useful for menial jobs. He decides to fight his fate by purchasing the genes of Jerome Morrow (Jude Law), a perfect genetic specimen. He assumes Jerome's identity and joins the Gattaca space program, where he falls in love with Irene (Uma Thurman). Just when Vincent is finally scheduled for a space mission, a Gattaca officer (Gore Vidal) is killed and the police begin an investigation, jeopardizing his secret.
About the Speaker
Gene E. Robinson is the director of the Carl R. Woese Institute for Genomic Biology and holds a Swanlund Chair at the University of Illinois at Urbana-Champaign, where he has been since 1989. He also holds affiliate appointments in the Department of Cell & Developmental Biology, the Program in Ecology, Evolution and Conservation Biology, and the Beckman Institute of Science and Technology. He received his Ph.D. from Cornell University and was an NSF Postdoctoral Fellow at Ohio State University.
Dr. Robinson's research group uses genomics and systems biology to study the mechanisms and evolution of social life, using the Western honey bee, Apis mellifera, as the principal model system, along with other species of bees. The research is integrative, involving perspectives from evolutionary biology, behavior, neuroscience, molecular biology, and genomics. The goal is to explain the function and evolution of behavioral mechanisms that integrate the activity of individuals in a society, neural and neuroendocrine mechanisms that regulate behavior within the brain of the individual, and the genes that influence social behavior. Research focuses on division of labor, aggression, and the famous dance language, a system of symbolic communication. In social evolution, the sophistication of neural and behavioral mechanisms for the essentials of life—food, shelter, and reproduction—stems from increased abilities to communicate and synchronize behavior with conspecifics. Social insects, especially honey bees, are thus exemplars for the discovery of general principles of brain function, behavior, and social organization.
In addition to serving as IGB Director, Dr. Robinson is also the director of the Bee Research Facility, as well as serving as director of the Neuroscience Program from 2001-2011, leader of the IGB research theme Neural and Behavioral Plasticity from 2004-2011, and interim IGB Director from 2011-2012. He is the author or co-author of over 275 publications, including 27 published in Science or Nature; has been the recipient or co-recipient of over $50M in funding from the National Science Foundation, National Institutes of Health, US Department of Agriculture and private foundations; led the effort to gain approval from NIH for the sequencing of the honey bee genome, pioneered the application of genomics to the study of social behavior; and founded the Honey Bee Genome Sequencing Consortium. Dr. Robinson serves on the National Institute of Mental Health Advisory Council and has past and current appointments on scientific advisory boards for academic organizations and companies with significant interests in genomics.
Dr. Robinson's honors include: University Scholar and member of the Center of Advanced Study at the University of Illinois; Burroughs Wellcome Innovation Award in Functional Genomics; Founders Memorial Award from the Entomological Society of America; Fulbright Senior Research Fellowship; Guggenheim Fellowship; NIH Pioneer Award; Fellow, Animal Behavior Society; Fellow, Entomological Society of America; Fellow, American Academy of Arts & Sciences; and member of the US National Academy of Sciences.