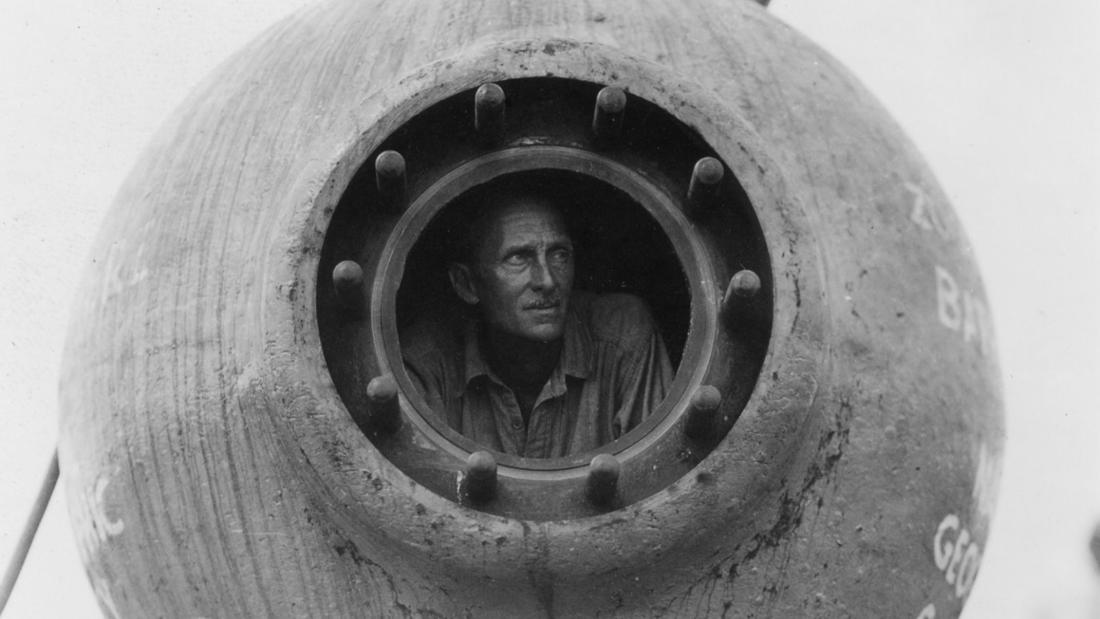 2018
with
Fabien Cousteau
Ocean explorer, filmmaker, and conservationist; Founder, Ocean Learning Center
and
Howard Rosenbaum
Director, Wildlife Conservation Society Ocean Giants Program; Senior scientist, American Museum of Natural History
and
Jon Forrest Dohlin
Director, New York Aquarium; Vice president, Wildlife Conservation Society
Of the Deep: Films by the Department of Tropical Research—

Films from the Bathysphere
Program Description
This rarely seen archival footage will be introduced by Jon Dohlin, director of the New York Aquarium, and presented with live musical accompaniment by High Water. After the films, Fabien Cousteau—ocean explorer, filmmaker, and grandson of marine pioneer Jacques Cousteau—and conservation biologist and whale researcher Howard Rosenbaum will discuss marine ecology and underwater filmmaking.
Before the film program, hand-colored lanternslides from the Department of Tropical Research expeditions will play, with music from DTR cinematographer Floyd Crosby's son, David Crosby of Crosby, Stills & Nash.
Film Synopsis
A deep dive into the 1927 to 1934 films of the Department of Tropical Research, famous for record-breaking submersible dives of discovery thousands of feet under the sea.
William Beebe in the 1930s, in his steel-walled sphere—the Bathysphere—made record-setting dives fathoms below the ocean surface to discover marine organisms living in darkness. A famed ecologist, ornithologist, and ichthyologist from New York, Beebe's research crew was named the Department of Tropical Research (DTR). Women and men, scientists and artists, belonged to the DTR (part of the New York Zoological Society, now known as the Wildlife Conservation Society), and some went on to Hollywood fame. Members Ruth Rose and Ernest Schoedsack made King Kong, and Floyd Crosby (Tabu, High Noon) got his first professional experience behind a movie camera on a 1927 expedition to Haiti. Crosby and other DTR members shot the films in this collection, some of which have not been screened since the Department of Tropical Research toured with them in the 1930s.
About the Speaker
Fabien Cousteau is an oceanographic explorer, conservator, and filmmaker who grew up on his grandfather Jacques Cousteau's ships. Cousteau led the longest scientific expedition on the world's only underwater marine laboratory, living underwater for 31 days. He has studied sharks, coral reefs, and worked to restore ecosystems. Cousteau has used film underwater to study marine animals, and has collaborated to produce television specials such as Attacks of the Mystery Shark (National Geographic), Mind of a Demon (CBS), and Ocean Adventures (PBS). Cousteau is founder of the Ocean Learning Center, which raises awareness and leads initiatives to help preserve marine habitats and life.
Howard Rosenbaum is the director of the Wildlife Conservation Society's Ocean Giants Program and has more than 25 years experience in marine mammal research and conservation activities involving a number of large whale and dolphin species. His research interests involve the application of current techniques in molecular biology to the conservation of wildlife. In addition to his position at the Wildlife Conservation Society, Dr. Rosenbaum is a senior scientist at the American Museum of Natural History, is on the United States delegation to the International Whaling Commission, and is a faculty member at Columbia University.
Jon Forrest Dohlin is a vice president of the Wildlife Conservation Society and the director of the New York Aquarium, where he oversees the care and exhibition of its animals and conservation programs. Under his leadership, the Aquarium is nearing completion of the $150 million "Ocean Wonders: Sharks!" exhibit, which will introduce visitors to New York City's marine wildlife and the work WCS researchers are doing to protect it. The Aquarium is also beginning construction on a $100 million rebuild of the areas damaged by Hurricane Sandy, which will include resiliency measures to protect the facility in future weather events.
Credits: All footage courtesy the Wildlife Conservation Society. Lanternslide film courtesy Katherine McLeod, Mark Dion, Madeleine Thompson, and Sarah Enid Hagey. Special thanks to archivist at the Wildlife Conservation Society Archives Madeleine Thompson.