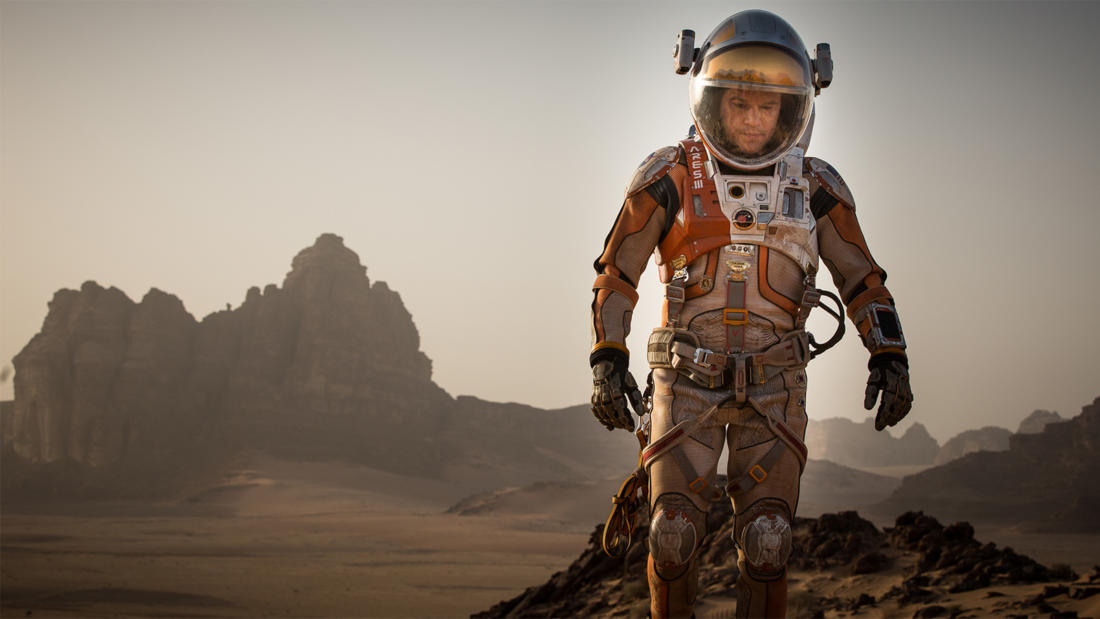 2016
with
Mark Kelly
Astronaut
The Martian—

Surviving the Extreme
Program Description
An introduction and post-film discussion led by Astronaut Mike Kelly on the reality of the science depicted in the film, along with his own experiences in space, as well as those of his twin brother, Scott Kelly, who had just completed his 340 day stint in space as part of the Twins study.
Film Synopsis
When astronauts blast off from the planet Mars, they leave behind Mark Watney, presumed dead after a fierce storm. With only a meager amount of supplies, the stranded visitor must use his wits, spirit, and scientific know-how to find a way to survive on the hostile planet.
During a manned mission to Mars, Astronaut Mark Watney (Matt Damon) is presumed dead after a fierce storm and left behind by his crew. But Watney has survived and finds himself stranded and alone on the hostile planet. With only meager supplies, he must draw upon his ingenuity, wit, and spirit to subsist and find a way to signal to Earth that he is alive. Millions of miles away, NASA and a team of international scientists work tirelessly to bring "the Martian" home, while his crewmates concurrently plot a daring, if not impossible, rescue mission. As these stories of incredible bravery unfold, the world comes together to root for Watney's safe return. Based on the best-selling novel by Andy Weir, and helmed by master director Ridley Scott, The Martian was nominated for three Golden Globes.
About the Speaker
Mark Kelly is an American astronaut, retired United States Navy Captain, #1 New York Times best-selling author, and an experienced naval aviator and test pilot who flew combat missions during the Gulf War. The winner of many awards, including the Legion of Merit, two Defense Superior Service Medals, two Distinguished Flying Crosses, and the NASA Exceptional Service Medal, Kelly was selected by NASA as an astronaut in 1996. He flew his first of four missions in 2001 aboard Space Shuttle Endeavour, the same space shuttle that he commanded on its final flight in May 2011. He has also commanded Space Shuttle Discovery and is one of only two individuals who have visited the International Space Station on four different occasions.
With 6,000 flight hours in more than 50 different aircraft, 375 aircraft carrier landings, 39 combat missions, and more than 50 days in space, Kelly is one of our country's most experienced pilots. Already a celebrated American, Kelly became the center of international attention after the January 2011 assassination attempt on his wife, former Congresswoman Gabrielle Giffords. Their story captivated the nation and was chronicled in an exclusive Diane Sawyer interview as well as on the covers of People and USA Today. Kelly was featured on the cover of Esquire and named one of the magazine's 2011 "Americans of the Year." In 2013, Kelly and Giffords were selected as Glamour magazine's very first "Couple of the Year." Kelly is also an entrepreneur and is one of the founders of World View Enterprises, a company pioneering a new frontier at the edge of space. He is a sought after public speaker who exemplifies leadership, the importance of teamwork, and courage under pressure.