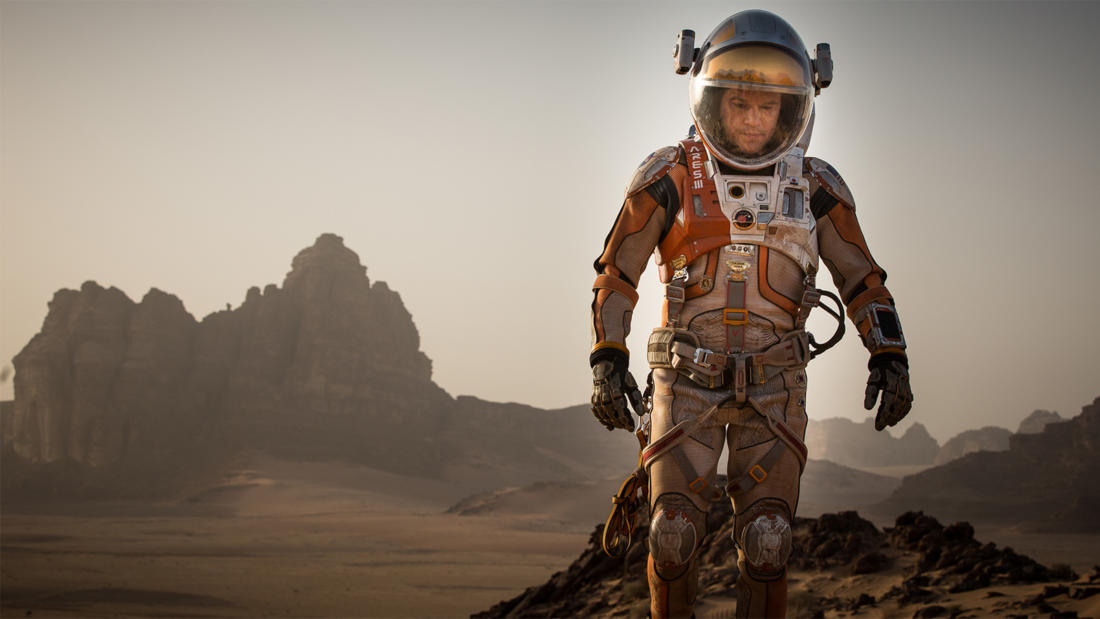 2023
with
Darby Dyar
Kennedy-Schelkunoff Professor of Astronomy at Mount Holyoke College and Senior Scientist at the Planetary Science Institute
The Martian—

Separating fact from fiction in Andy Weir's The Martian
Program Description
Adapted from an outstanding book by Andrew Weir of the same title, The Martian explores what might happen if an astronaut got left behind on Mars by a hastily departing crew. Although the initial premise and penultimate scene in the movie are truly fictional, Weir does a mostly faithful job of presenting what life on Mars might be like. Planetary scientist Darby Dyar walks us through how this book foreshadows probable reality in the next 100 years of human exploration of the Red Planet.
Film Synopsis
When astronauts blast off from the planet Mars, they leave behind Mark Watney, presumed dead after a fierce storm. With only a meager amount of supplies, the stranded visitor must use his wits, spirit, and scientific know-how to find a way to survive on the hostile planet.
During a manned mission to Mars, Astronaut Mark Watney (Matt Damon) is presumed dead after a fierce storm and left behind by his crew. But Watney has survived and finds himself stranded and alone on the hostile planet. With only meager supplies, he must draw upon his ingenuity, wit, and spirit to subsist and find a way to signal to Earth that he is alive. Millions of miles away, NASA and a team of international scientists work tirelessly to bring "the Martian" home, while his crewmates concurrently plot a daring, if not impossible, rescue mission. As these stories of incredible bravery unfold, the world comes together to root for Watney's safe return. Based on the best-selling novel by Andy Weir, and helmed by master director Ridley Scott, The Martian was nominated for three Golden Globes.
About the Speaker
Darby Dyar is the Kennedy-Schelkunoff Professor of Astronomy at Mount Holyoke College and Senior Scientist at the Planetary Science Institute. She is an analytical geochemist and mineralogist who studies the evolution of the solar system as revealed by spectroscopy and machine learning. She is the Deputy Principal Investigator on the upcoming VERITAS mission to Venus and was on the science team for the Mars Science Laboratory mission. Her honors and awards include the G.K. Gilbert Award from the Geological Society of America (GSA), the Hawley Medal from the Mineralogical Association of Canada, and the Eugene Shoemaker Distinguished Scientist Medal from NASA; she is a Fellow of GSA, the Mineralogical Society of America, and the Geochemical Society. She earned her B.A. from Wellesley College and her Ph.D. for geochemistry from Massachusetts Institute of Technology.