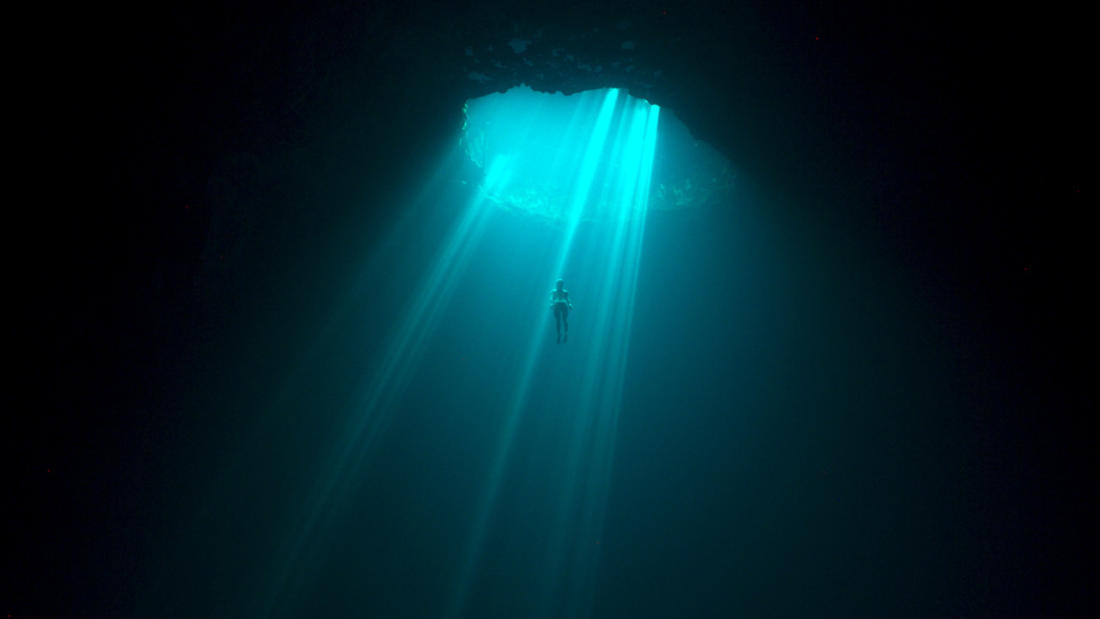 2023
with
Laura McGann
Director
and
William Trubridge
Freediver
The Deepest Breath—

Plumbing the depths: Insights into the physiology of freediving
Program Description
Director Laura McGann and world-renowned free diver Will Trubridge discuss the dangerous sport of free diving and its treatment in the film, as well as Will's career and insights into the physiological effects of free diving.
Location: Brooklyn Army Terminal
Film Synopsis
A champion freediver and expert safety diver seemed destined for one another, meeting at the pinnacle of the freediving world. A look at the thrilling rewards—and inescapable risks—of chasing dreams through the depths of the ocean.
Champion freediver Alessia Zecchini fell in love with the sport as a child growing up in Italy, astounding coaches with her raw talent and determination in pool swims and open water contests before she was even old enough to legally compete. Irish adventurer-turned-expert safety diver Stephen Keenan, meanwhile, was raised near the sea, but as a young man he set out on a quest to find himself, traveling across Africa before landing in Dahab, Egypt, and establishing a dive school. Despite their very different paths, the two would meet at the pinnacle of the competitive freediving world, discovering a shared passion for pushing their limits and forming a powerful relationship that felt like fate. From director Laura McGann, this thrilling documentary takes a look inside one of the most dangerous sports in the world, using everything from raw underwater dive footage to childhood home movies to chronicle Zecchini and Keenan's lives and careers. The bond between them propels the film's emotional journey into the stunning, silent depths of the ocean, a breathtaking place unseen by all but the fortunate few—where exhilarating accomplishments and unavoidable risks await.
Photo credit: Netflix
About the Speaker
Laura McGann is a documentary filmmaker from Ireland. She started making films and producing theater when she was 15 and went on to study film in Ballyfermot, Dublin, before pursuing her master's at Liverpool Hope University. McGann has worked in Ireland and abroad shooting and directing numerous documentary projects for RTÉ, Sky, PBS, BBC, Lonely Planet, and UTV.
William learnt to swim at the age of 2, and could freedive to 15m at 8 years old, but didn't begin serious training for the sport until 2003. In 2005 William was the first freediver to dive at Dean's Blue Hole, now recognised as the world's premier freediving venue, and site of the annual Vertical Blue event. There, in April 2007, he broke his first world record in the discipline of CNF (Constant Weight No Fins), diving to 81m. Since then he has broken this record multiple times, and in 2010 he became the first human to descend to 100m (330 feet) during Project Hector, an event aimed at bringing awareness to the plight of New Zealand's critically endangered Hector's and Maui's Dolphins. In July 2016 he furthered this record to 102m (334 feet). William has also broken the world record multiple times in the Free Immersion discipline, most recently with 124m (406 feet) at Vertical Blue, in May 2016. In 2019 he became the first person to complete an 'underwater crossing' of a major channel, swimming only underwater over the course of 934 breath holds to cross the Cook Strait between New Zealand's North and South Islands in 9 hours 15 minutes.