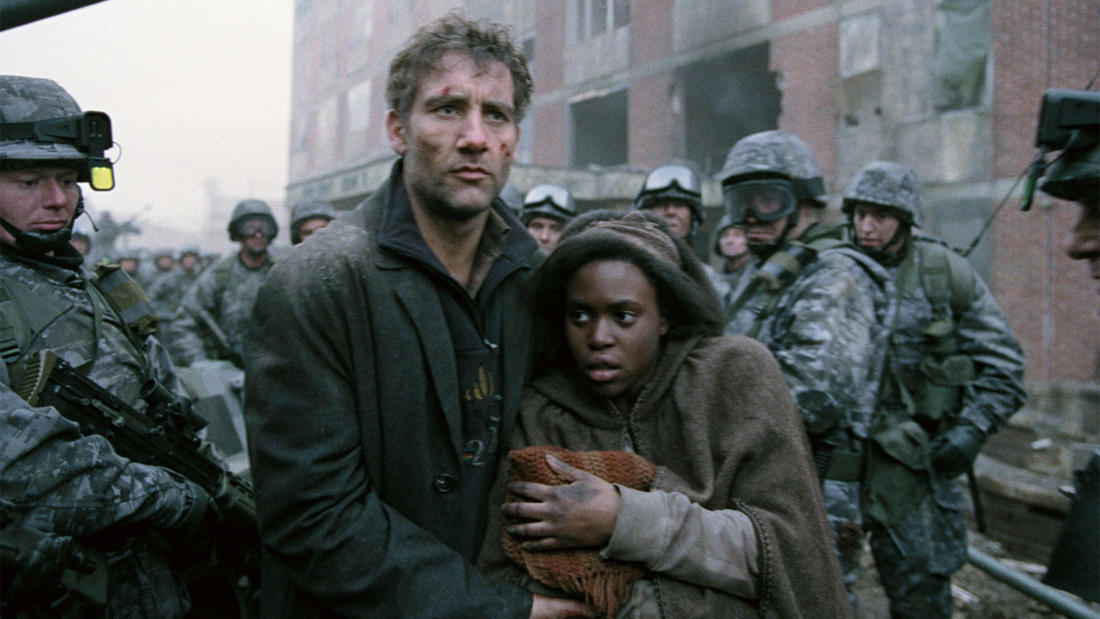 2023
with
Şevin Gülfer Sağnıç
Refugee Studies Researcher, Doctorate Candidate in UCSD's Sociology Department
Children of Men—

Embodied struggle: Women, migration, and the struggle for safety
Program Description
Sociology PhD candidate Şevin Gülfer Sağnıç approaches the movie from a forced migration perspective that highlights gender and migration, and how women's bodies become the border and embody the struggle itself.

This series evaluates how cinema's interpretation of the future frames humankind within intersections of surveillance, race, healthcare, identity, and A.I. advancements. We are particularly interested in how the technological advancements presented in these films have implications for present day systemic injustices.
Film Synopsis
In 2027, in a chaotic world in which women have become somehow infertile, a former activist agrees to help transport a miraculously pregnant woman to a sanctuary at sea.
It is the year 2027, and it has been 18 years since the last baby was born. Explosions erupt in cafes, surveillance cameras abound, armed guards roam the streets, and illegal immigrants are hauled into teeming refugee camps. Theo (Clive Owen), a jaded employee of the Ministry of Energy, tunes out the chaos that surrounds him, but finds his apolitical stance challenged by the reappearance of his former lover, Julian (Julianne Moore). Now the leader of an underground immigrant rights group, Julian pleads with Theo to help escort a young female refugee (Claire-Hope Ashitey) out of the country. After reluctantly agreeing to lend a hand, Theo discovers that the refugee is harboring a shocking, hopeful secret: she is pregnant. Adapted from the P. D. James novel of the same name, Children of Men was nominated for three Academy Awards.
About the Speaker
Şevin Gülfer Sağnıç is a PhD candidate in the Department of Sociology at UC San Diego, studying the connections between international migration, international relations, and political sociology. She has also worked on projects funded by the European Union for the Helsinki Citizens Assembly in Istanbul and consulted for the United Nations High Commissioner for Refugees and a registered expert for UNESCO. She conducts research projects on the gendered vulnerabilities of refugees and trends in refugee studies in the Global South. Her current research focuses on the role of foreign policy in refugee governance in the Middle East.