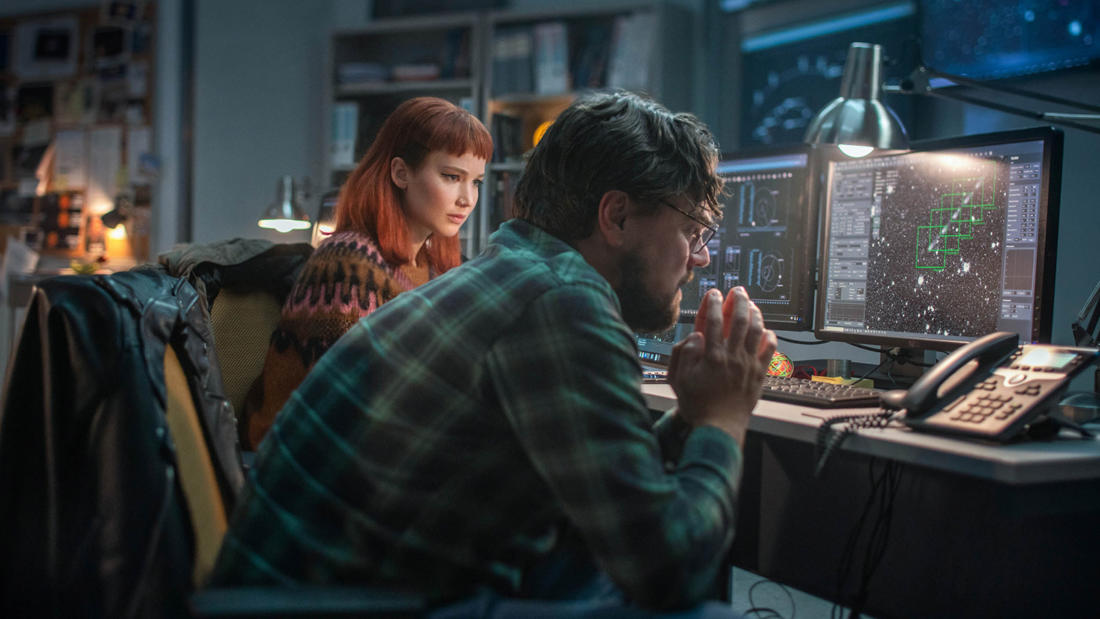 2023
with
Dr. Carl Bergstrom
Evolutionary Biologist, Professor of Biology, University of Washington
Don't Look Up—

Disinformation and misinformation
Program Description
"Bullshit" is Dr. Carl Bergstrom's catchall term for lies that propagate online—it includes misinformation (lies spread inadvertently) and disinformation (lies spread deliberately). In his talk, Dr. Bergstrom shares his research findings and draws parallels between the COVID-19 pandemic and the themes of McKay's film before exploring the changes and challenges the public and the scientific community will face in the future.

Presented as part of the 2023 National Evening of Science on Screen.
Film Synopsis
Two low-level astronomers must go on a giant media tour to warn mankind of an approaching comet that will destroy planet Earth.

Kate Dibiasky (Jennifer Lawrence), an astronomy grad student, and her professor Dr. Randall Mindy (Leonardo DiCaprio) make an astounding discovery of a comet orbiting within the solar system. The problem: it's on a direct collision course with Earth. The other problem? No one really seems to care. Turns out warning mankind about a planet-killer the size of Mount Everest is an inconvenient fact to navigate. With the help of Dr. Oglethorpe (Rob Morgan), Kate and Randall embark on a media tour that takes them from the office of an indifferent President Orlean (Meryl Streep) and her sycophantic son and Chief of Staff, Jason (Jonah Hill), to the airwaves of The Daily Rip, an upbeat morning show hosted by Brie (Cate Blanchett) and Jack (Tyler Perry). With only six months until the comet makes impact, managing the 24-hour news cycle and gaining the attention of the social media obsessed public before it's too late proves shockingly comical -- what will it take to get the world to just look up?! — Rotten Tomatoes
Photo courtesy of Netflix
About the Speaker
Dr. Carl Bergstrom is an Evolutionary Biologist, and Professor of Biology at the University of Washington. Though trained in evolutionary biology and mathematical population genetics, he enjoys working across disciplines and integrating ideas across the span of the natural and social sciences. The unifying theme running throughout his work is the concept of information. Within biology, he studies how communication evolves and how the process of evolution encodes information in genomes. In the philosophy and sociology of science, he studies how norms and institutions influence scholars' research strategies and, in turn, our scientific understanding of the world. Within informatics, he studies how citations and other traces of scholarly activity can be used to better navigate the overwhelming volume of scholarly literature. Lately he's become concerned with the spread of disinformation on social networks, and interested in figuring out what can be done about it.