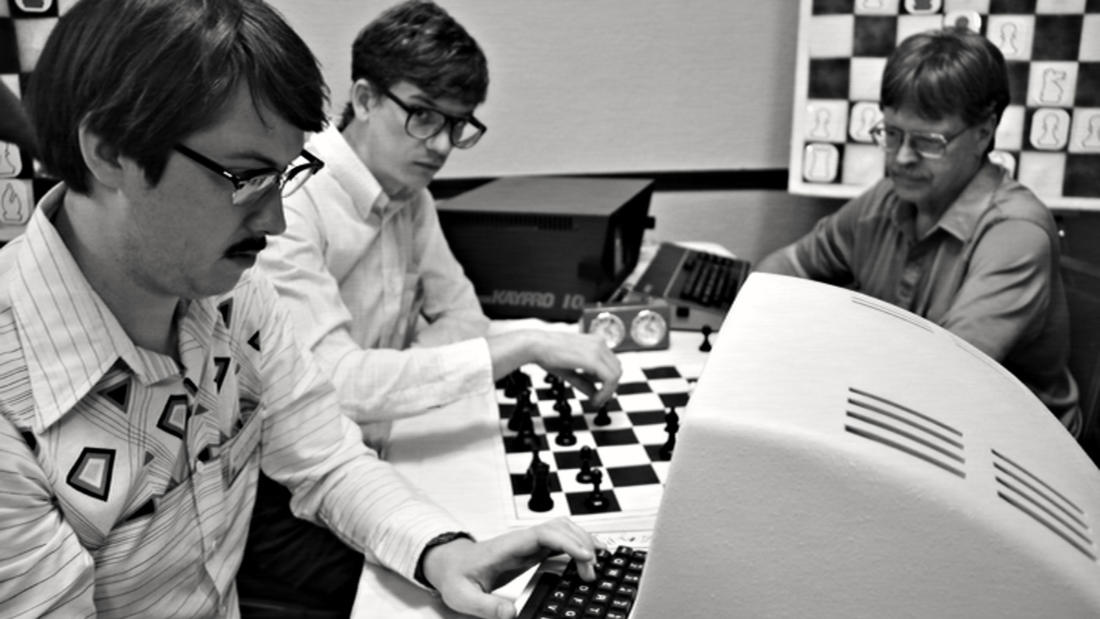 2023
with
Andrew Bujalski
Writer, Director and Editor
Computer Chess—

Artificial Intelligence, then and now
Program Description
Written and directed by Andrew Bujalski, COMPUTER CHESS is set deep in the subculture of 1980s computer nerds. The film focuses on a tournament that unfolds over the course of one strange weekend in which competitors vie to create the best code to outplay each other at computer chess.
Andrew Bujalski joins AFS for a post-film discussion and demonstration of the state of the art in Artificial Intelligence today, juxtaposing the modern with the rudimentary and bringing the enduring battle of man vs. machine full circle.
Presented as part of the 2023 National Evening of Science on Screen.
Film Synopsis
A 1980s-set story centered around a man-versus-machine chess tournament.
Set in the early 1980s, in and around an isolated roadside hotel, computer programmers gather for a tournament that pits their chess programs against each other. The action is centered on the junior programmer of an academic team who begins to suspect that their computer is able to detect the difference between a computer opponent and a human one, and thus is exhibiting elements of self-consciousness. He also learns from another member of the team that the computer had been engaging him in gnomic philosophical dialogue and hinting that it thinks it's alive.
About the Speaker
Born in Boston in 1977, Andrew Bujalski is the son of an artist-turned-businesswoman, Sheila Dubman, and a businessman, Edmund Bujalski. Andrew studied film at Harvard's Department of Visual and Environmental Studies, where the Belgian filmmaker Chantal Akerman was his thesis advisor.
He shot his first feature, Funny Ha Ha, in 2002, and followed it with Mutual Appreciation in 2003—though neither film received theatrical distribution until 2005 and 2006, respectively. Bujalski wrote both screenplays, and appears as an actor, playing a major role in both films. In 2006, he appeared as an actor and contributed to the screenplay of the Joe Swanberg film Hannah Takes the Stairs.
Beeswax and Computer Chess, Bujalski's third and fourth independent films, were filmed in Austin, where the director lives now. Beeswax was released in the summer of 2009. While making Beeswax, Bujalski wrote a screenplay adaptation of Benjamin Kunkel's 2005 novel Indecision for Paramount Pictures.
His fourth feature Computer Chess, a period film set at a computer programming tournament in 1980, premiered at the Sundance Film Festival in 2013 and won the Alfred Sloan Feature Film Prize. It is his first feature edited digitally and it is the only feature film shot almost exclusively with original Sony 1968 AVC-3260 B&W video cameras.