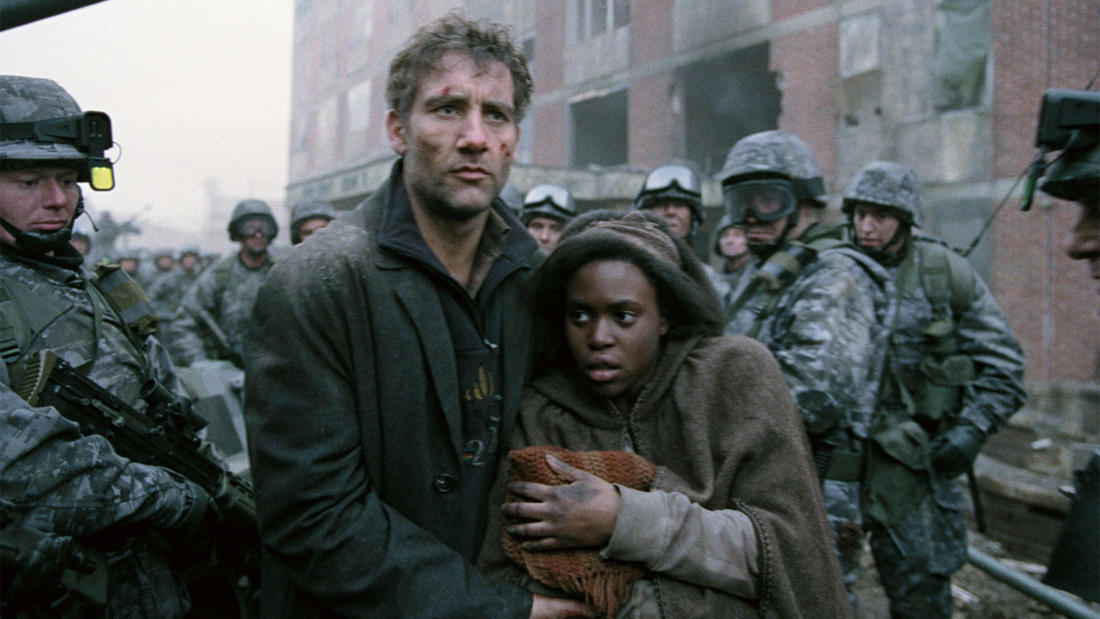 2022
with
Michael Artime, Ph.D.
Assistant Professor and Chair of the Political Science Department, Pacific Lutheran University
Children of Men—

Under Pressure: Democracy in Times of Crisis
Program Description
Children of Men depicts a world full of turmoil, violence, and oppression while experiencing a global public health catastrophe. In watching the film, it is impossible not to draw parallels with the pandemic and its personal and societal repercussions. How does a society hold onto democratic values and norms in the midst of a crisis of this magnitude? Is it hopeless? Political scientists have some helpful ideas.
Film Synopsis
In 2027, in a chaotic world in which women have become somehow infertile, a former activist agrees to help transport a miraculously pregnant woman to a sanctuary at sea.
It is the year 2027, and it has been 18 years since the last baby was born. Explosions erupt in cafes, surveillance cameras abound, armed guards roam the streets, and illegal immigrants are hauled into teeming refugee camps. Theo (Clive Owen), a jaded employee of the Ministry of Energy, tunes out the chaos that surrounds him, but finds his apolitical stance challenged by the reappearance of his former lover, Julian (Julianne Moore). Now the leader of an underground immigrant rights group, Julian pleads with Theo to help escort a young female refugee (Claire-Hope Ashitey) out of the country. After reluctantly agreeing to lend a hand, Theo discovers that the refugee is harboring a shocking, hopeful secret: she is pregnant. Adapted from the P. D. James novel of the same name, Children of Men was nominated for three Academy Awards.
About the Speaker
Michael Artime is an Assistant Professor and Chair of the Political Science Department at Pacific Lutheran University. He has a Ph.D. in Political Science from the University of Missouri--St. Louis. His scholarship focuses on the intersection of media and politics.