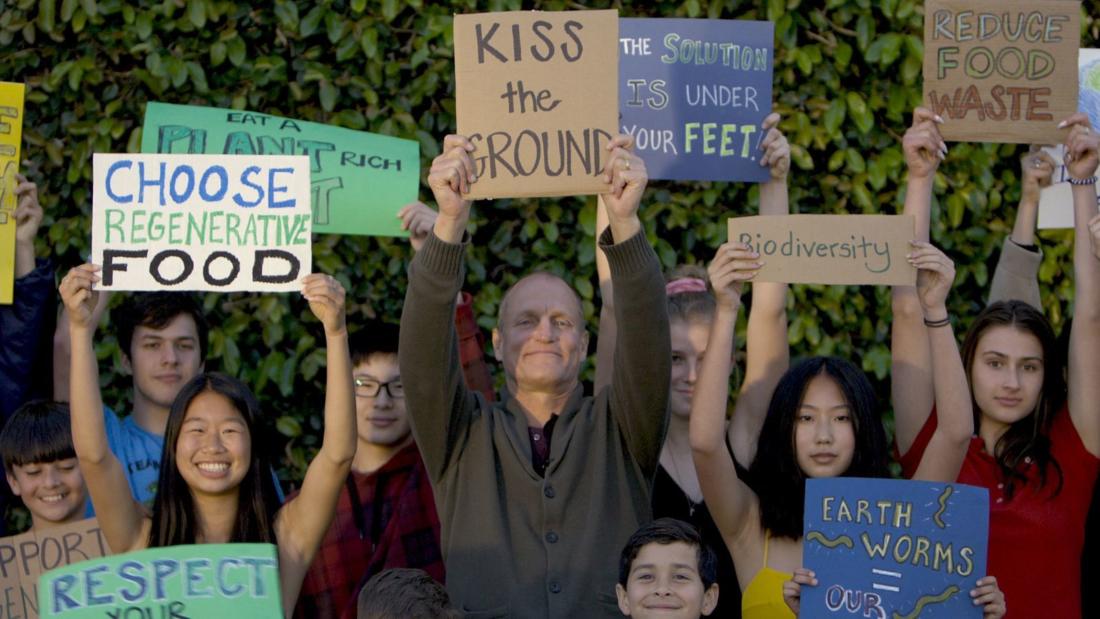 2022
with
Dean Fernandez
Owner, Oz Farm
and
Jesse + Katrina Hanna
Cattle Farmers
Kiss the Ground—

Regenerative agriculture
Program Description
Local agricultural and ranching experts describe their practices that create healthy soil, produce healthy food, and also help reduce climate change. They comment on the film's content and engage in discussion with the audience.

Film Synopsis
Activists, scientists, farmers and politicians turn to regenerative agriculture to save the planet's topsoil.
Narrated by and featuring Woody Harrelson, Kiss the Ground reveals what it says is the first viable solution to our climate crisis: regenerative agriculture.
By regenerating the world's soils, we can completely and rapidly stabilize Earth's climate, restore lost ecosystems and create abundant food supplies. Using compelling graphics and visuals, along with striking NASA and NOAA footage, the film artfully illustrates how, by drawing down atmospheric carbon, soil can be the missing piece of the climate puzzle.
The movie positions itself to catalyze a movement to accomplish what seems impossible: solving humanity's greatest challenge, balancing the climate, and securing the future of our species.
About the Speaker
Since 1990, Oz Farm has been growing certified organic (CCOF) apples and pears as well as a full range of vegetables. Oz offers a CSA and sells to local grocery stores and restaurants as well as at two local farmers' markets. Dean took over ownership and management of Oz Farm and Retreat Center about six years ago, a multifaceted community that aspires to engage the public through immersive education in sustainable food systems and holistic life practices. He has increased its capacity to produce more and better organic food, sell the food locally, train interns each year, and offer workshops/retreats for those who want to learn more.
Jesse and Katrina raise grass-fed beef and goats on farms in regenerative ways that improve the farms' agricultural and soil conditions. Their products are sold locally in the Point Arena area to families, restaurants, and farmers markets.