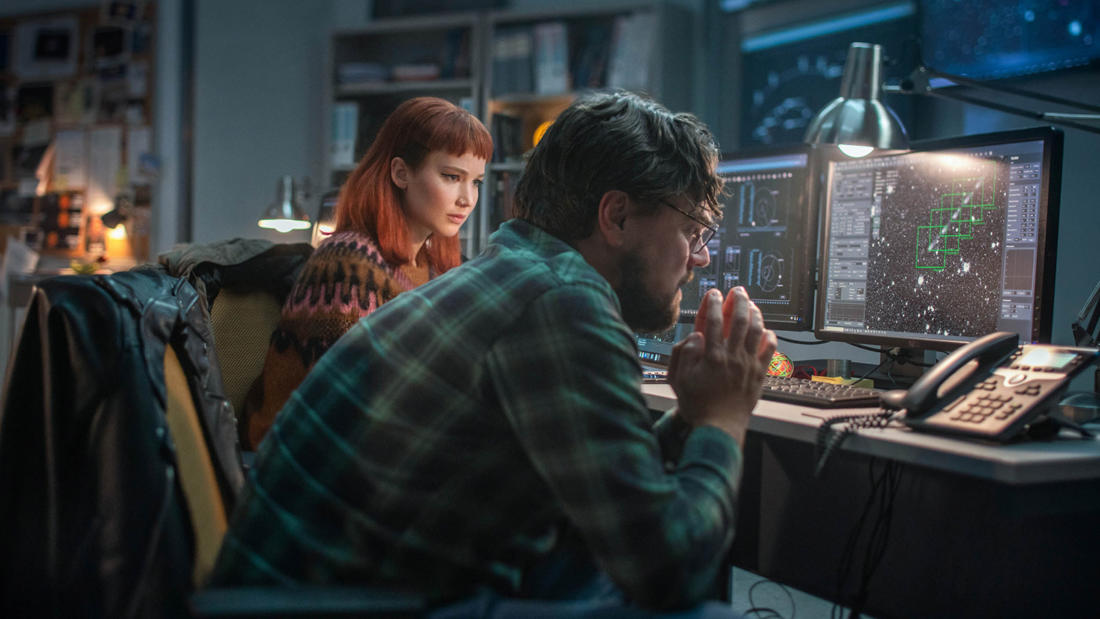 2022
with
Thomas Boudreaux
Astrophysics Graduate Student, Dartmouth College
Don't Look Up—

Meteors, Moons and Other Earth Killers
Program Description
Astrophysicist Thomas Boudreaux examines the fact and fiction around meteors destroying Earth.
Film Synopsis
Two low-level astronomers must go on a giant media tour to warn mankind of an approaching comet that will destroy planet Earth.

Kate Dibiasky (Jennifer Lawrence), an astronomy grad student, and her professor Dr. Randall Mindy (Leonardo DiCaprio) make an astounding discovery of a comet orbiting within the solar system. The problem: it's on a direct collision course with Earth. The other problem? No one really seems to care. Turns out warning mankind about a planet-killer the size of Mount Everest is an inconvenient fact to navigate. With the help of Dr. Oglethorpe (Rob Morgan), Kate and Randall embark on a media tour that takes them from the office of an indifferent President Orlean (Meryl Streep) and her sycophantic son and Chief of Staff, Jason (Jonah Hill), to the airwaves of The Daily Rip, an upbeat morning show hosted by Brie (Cate Blanchett) and Jack (Tyler Perry). With only six months until the comet makes impact, managing the 24-hour news cycle and gaining the attention of the social media obsessed public before it's too late proves shockingly comical -- what will it take to get the world to just look up?! — Rotten Tomatoes
Photo courtesy of Netflix
About the Speaker
Thomas Boudreaux is a third-year graduate student at Dartmouth College studying astrophysics. In 2019, he received a bachelors of science in computational physics from High Point University. His research focuses on the chemical composition of globular clusters and developing numerical tools to better model stellar evolution in GCs. In his first year at Dartmouth, he studied the magnetic fields of M-dwarfs through the rotation-activity relation. At High Point he focused on pulsating hot subdwarf B stars (sdBs) or more specifically finding new pulsating sdBs from archival GALEX data and then getting fed up with that and training neural networks to find pulsating sdBs. Aside from these sdB escapades, he also worked on projects extracting radial velocity measurements from high resolution echelle spectra.