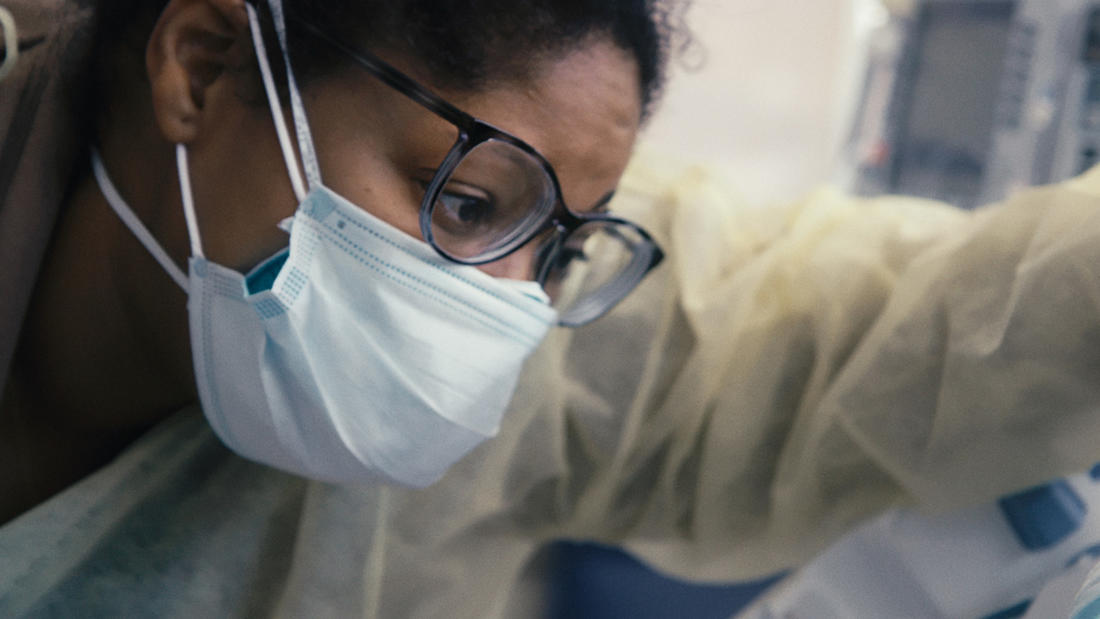 2022
with
Matthew Heineman
Director
The First Wave—

Meet the Heroes of the Pandemic
Program Description
Post-film conversation with Oscar-nominated director Matthew Heineman and local medical experts about the beginning of the pandemic.
Film Synopsis
Matthew Heineman presents the story of three frontline workers in this intimate and emotional look at the early days of the pandemic.
In March 2020, director Matthew Heineman and three equally fearless filmmakers embedded in a hospital in Queens, New York to capture the pandemic's first wave... from behind the frontlines. The result is an intensely intimate documentary, a graphic and emotional reminder of the early days of the crisis, in all its confusion and horror. The story focuses on three everyday heroes: the tireless and charismatic internist Dr. Nathalie Dougé and two critical COVID patients: NYPD Officer Ahmed Eliis and nurse/new mother Brussels Jabon.
Employing his signature approach of character-driven cinema vérité, Heineman knows that each distinct storyline serves as a microcosm through which we can experience the emotional and societal rollercoaster of the pandemic. While this can be a challenging film to watch, its rewards far outweigh the heartbreak. Eighteen months into this pandemic, The First Wave urgently reminds us what's at stake while also delivering a breathtaking testament to the fight to live, the calling to heal and the power of human connection.
Photo courtesy of National Geographic
About the Speaker
Matthew Heineman is an Academy Award®-nominated and Emmy Award-winning filmmaker. The Sundance Film Festival called Heineman "one of the most talented and exciting documentary filmmakers working today," while Anne Thompson of Indiewire wrote that Heineman is a "respected and gifted filmmaker who combines gonzo fearlessness with empathetic sensitivity."  

He directed, produced, shot and edited THE FIRST WAVE, a feature documentary film with exclusive access inside one of New York City's hardest-hit hospital systems during the harrowing first four months of the COVID-19 pandemic. Employing Heineman's signature approach of character-driven cinéma vérité, he and his team embeds with a group of doctors, nurses and patients on the frontlines as they face one of the greatest threats the world has ever encountered. With each of their distinct storylines serving as a microcosm through which we can view the emotional and societal impacts of the pandemic, THE FIRST WAVE is ultimately a testament to the strength of the human spirit.
Heineman, a 2005 graduate of Dartmouth College, is based in New York City.  His previous films include THE BOY FROM MEDELLÍN, TIGER, A PRIVATE WAR, THE TRADE, CITY OF GHOSTS, CARTEL LAND, and ESCAPE FIRE