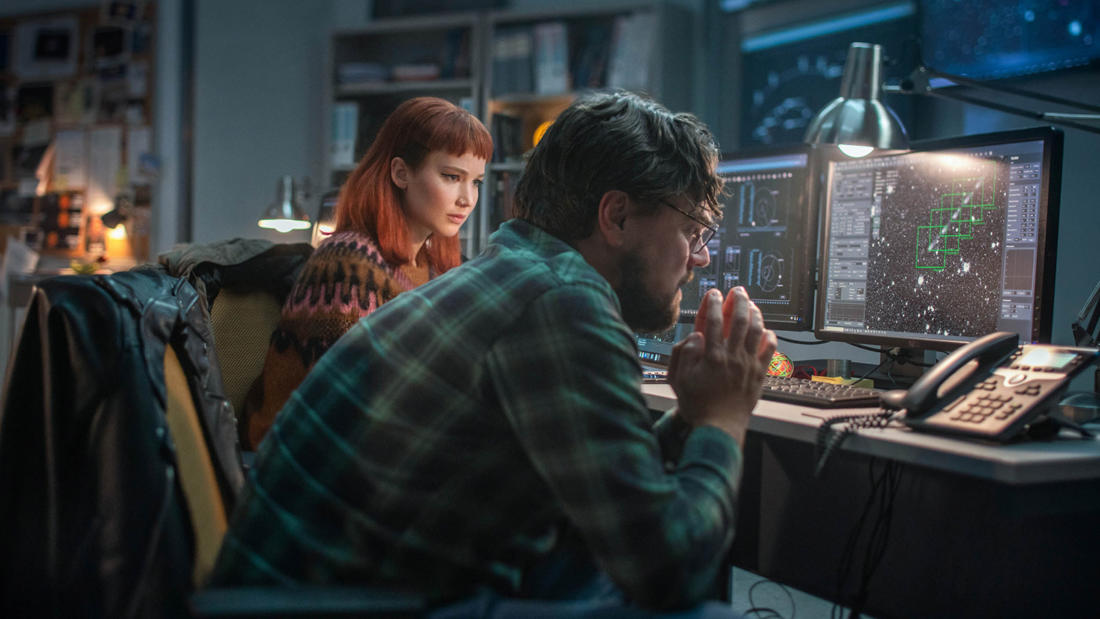 2022
with
Dr. Catherine Franssen
Life Scientist, Science Museum of Virginia
and
Dr. Jeremy Hoffman
David and Jane Cohn Scientist. Science Museum of Virginia
and
Justin Bartel
Immersive Experience Manager, Science Museum of Virginia
Don't Look Up—

How "Don't Look Up" has scientists saying, "Do listen in!"
Program Description
A neuroscientist, a climate scientist and an astronomer share perspectives on the film and contemplate real-life threats.
Film Synopsis
Two low-level astronomers must go on a giant media tour to warn mankind of an approaching comet that will destroy planet Earth.

Kate Dibiasky (Jennifer Lawrence), an astronomy grad student, and her professor Dr. Randall Mindy (Leonardo DiCaprio) make an astounding discovery of a comet orbiting within the solar system. The problem: it's on a direct collision course with Earth. The other problem? No one really seems to care. Turns out warning mankind about a planet-killer the size of Mount Everest is an inconvenient fact to navigate. With the help of Dr. Oglethorpe (Rob Morgan), Kate and Randall embark on a media tour that takes them from the office of an indifferent President Orlean (Meryl Streep) and her sycophantic son and Chief of Staff, Jason (Jonah Hill), to the airwaves of The Daily Rip, an upbeat morning show hosted by Brie (Cate Blanchett) and Jack (Tyler Perry). With only six months until the comet makes impact, managing the 24-hour news cycle and gaining the attention of the social media obsessed public before it's too late proves shockingly comical -- what will it take to get the world to just look up?! — Rotten Tomatoes
Photo courtesy of Netflix
About the Speaker
A broadly trained neuroscientist who holds a Ph.D. in neurobiology from the University of Chicago, her research has been published in numerous academic journals, books, magazines and popular news outlets. Catherine is a gifted communicator, whose mission is to make neuroscience approachable, interesting and applicable to everyone.

Jeremy is a nationally renowned public speaker on the broad impacts of climate change, including health and environmental inequity, paleoclimatology, urban microclimatology, resilience and phenology.
After earning an astronomy degree from the University of Arizona, he worked at museums in KS and FL before coming to the Science Museum of Virginia. Justin manages the Museum's Dome, utilizing the Digistar system to create unique astronomical visualizations. Whether it's astronomy, planetary science, space exploration or planetariums, Justin's expertise is out of this world.