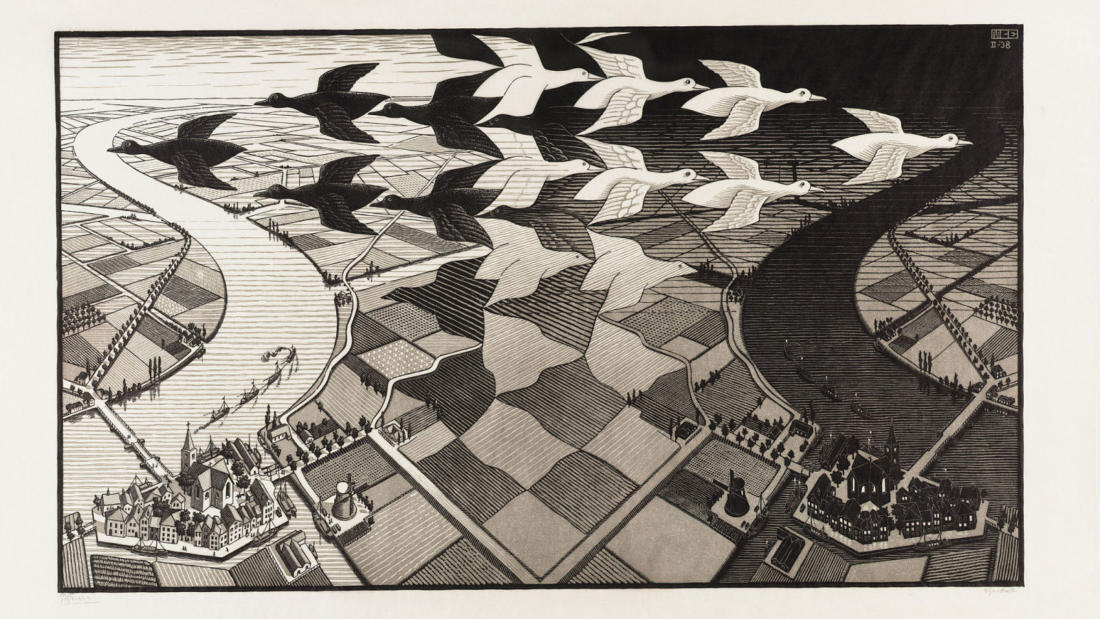 2021
with
Chris Klapper and Patrick Gallagher
2020-2021 Artists in Residence at FERMILAB – National Particle Physics and Accelerator Laboratory ; 2021 UMass Amherst Visiting Artists
and
Timothy Goldberg
Associate Professor of Mathematics, Lenoir–Rhyne University
and
Rachael Elliott
Bassoon soloist and chamber artist
M.C. Escher: Journey to Infinity—

[ONLINE] The intersection of art and math
Program Description
In this recorded online panel discussion artists Chris Klapper and Patrick Gallagher, mathematician Timothy Goldberg, and musician Rachael Elliott discuss M.C. Escher and how his work has influenced each panelist's professional practice. Re-presented as part of the 2021 National Evening of Science on Screen.

Film Synopsis
Diary musings, excerpts from lectures, and striking images offer insight into the life and work of Dutch graphic artist M.C. Escher.
M.C. Escher: Journey To Infinity is the story of world famous Dutch graphic artist M.C Escher (1898-1972). Equal parts history, psychology, and psychedelia, Robin Lutz's entertaining, eye-opening portrait gives us the man through his own words and images: diary musings, excerpts from lectures, correspondence, and more are voiced by British actor Stephen Fry, while Escher's woodcuts, lithographs, and other print works appear in both original and playfully altered form. Two of his sons, George (92) and Jan (80), reminisce about their parents, while musician Graham Nash (Crosby, Stills & Nash) talks about Escher's rediscovery in the 1970s. The film looks at Escher's legacy: one can see tributes to his work in movies, in fiction, on posters, on tattoos, and elsewhere throughout our culture; indeed, few fine artists of the 20th century can lay claim to such popular appeal.
Banner image: "Day and Night" by M.C. Escher © The M.C. Escher Company B.V.-Baarn - The Netherlands; courtesy of Zeitgeist Films
About the Speaker
Chris Klapper and Patrick Gallagher collaborate in multidimensional and large-scale multimedia to explore new technologies and use them to express immense ideas on a human scale.
They are currently the 2020-2021 Artists in Residence at FERMILAB – National Particle Physics and Accelerator Laboratory and 2021 UMass Amherst Visiting Artists. Recent projects include PI Project, DATAATADATA: Everything and Nothing at The Invisible Dog Art Center and DATAATADATA:3-Sphere at ODETTA.

Dr. Timothy Goldberg is an Associate Professor of Mathematics in the Donald and Helen Schort School of Mathematics and Computing Sciences at Lenoir–Rhyne University in Hickory, North Carolina. His mathematical interests are primarily in geometry.

Rachael Elliott is a versatile performer who is active in classical, new music, and improvised rock and pop. She is best known as the founding member of the genre-bending music group, Clogs. Ms. Elliott may also be heard on recordings by The National, My Brightest Diamond, and Thomas L. Read, and in films including Turn the River and Colony.