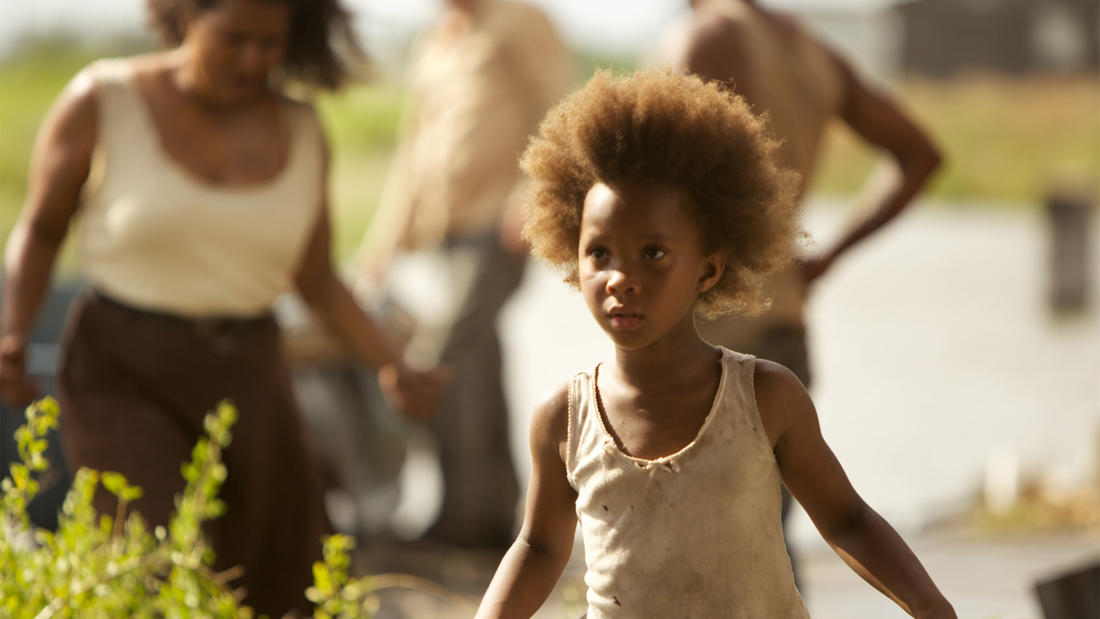 2021
with
Gaurab Basu
Primary Care Physician and Co-Director, Center for Health Equity Education and Advocacy, Cambridge Health Alliance; Instructor, Harvard Medical School
and
S. Atyia Martin
CEO and Founder, All Aces, Inc.
moderated by
Cristina Kim
Associate Producer, NPR and WBUR's Here & Now
Beasts of the Southern Wild—

Racial inequity and climate change
Program Description
Benh Zeitlin's Sundance Film Festival award-winning debut film is viewed through the lens of climate change and race in this virtual Science on Screen discussion, featuring physician and climate and health inequity expert Gaurab Basu, inclusion and resiliency consultant S. Atyia Martin, and NPR and WBUR Here & Now associate producer Cristina Kim.
Presented as part of Sundance Film Festival 2021; produced in partnership with WBUR CitySpace.
Film Synopsis
Faced with both her hot-tempered father's fading health and melting ice-caps that flood her ramshackle bayou community and unleash ancient aurochs, six-year-old Hushpuppy must learn the ways of courage and love.
In a forgotten yet defiant bayou community called the Bathtub, cut off from the rest of the world by a sprawling levee, six-year-old Hushpuppy (Quvenzhané Wallis) exists on the brink of orphanhood. Her mother is long gone and her beloved father, Wink (Dwight Henry), is a wild man on a perpetual spree. When Wink is home, he lives under a different roof: Wink in a rusted-out shack, Hushpuppy in a trailer propped on two oil drums. More often than not, Hushpuppy is left to her own devices on their isolated compound filled with feral wildlife, where she perceives the natural world to be a fragile web of living, breathing, squirting things, wherein the entire universe depends on everything fitting together just right. The film was nominated for four Academy Awards, including Best Picture, Best Director, Best Adapted Screenplay, and Best Actress. At age 9, Quvenzhané Wallis became the youngest Best Actress nominee in history.
About the Speaker
Gaurab Basu, MD, MPH is a health equity fellow at the Center for Climate, Health, and the Global Environment at the Harvard T.H. Chan School of Public Health. He is a primary care physician at Cambridge Health Alliance (CHA) and instructor at Harvard Medical School's Department of Global Health and Social Medicine. He co-directs CHA's Center for Health Equity Education and Advocacy (CHEEA).
Dr. Basu has a background in human rights and global health. He has expertise in health equity medical education and the impacts of climate change on health. He is currently a Robert Wood Johnson Foundation "Culture of Health Leader," a 3-year health equity leadership program.
He has received numerous awards in medical education, including the Charles McCabe Faculty Prize in Excellence and the CHA Academic Council award. He has been a Curtis Prout Academy Fellow at Harvard Medical School and a Harvard Macy Scholar. He serves on the Harvard Medical School's Task Force to Address Racism. He co-directs the social medicine curriculum at Harvard Medical School.
He has spoken on behalf of numerous state and federal climate policies at legislative sessions and town halls, and serves on the city of Cambridge's Net-Zero Climate Task Force. He has spoken at numerous medical institutions on the topics of climate change and health equity medical education. He has written for the Boston Globe, Grist, Scientific American, NPR/WBUR, Philadelphia Inquirer, Academic Medicine, STAT News and the Council on Foreign Relations' Think Global Health. His work in climate change medical education has been featured by NPR's All Things Considered.
Dr. Basu was a Johns Hopkins Bloomberg School of Public Health Sommer Scholar, where he studied human rights. Dr. Basu is trained in community organizing and has served as a coach for workshops run by Harvard Kennedy School Professor Marshall Ganz. He has previously worked for the Gates Institute, Partners in Health, and Last Mile Health.
Dr. Atyia Martin is the CEO and Founder of All Aces, Inc., an alternative to traditional diversity, equity, and inclusion consulting and professional development. Instead, All Aces is a Racial Equity Applied Learning [REAL] Partner for organizations with a mission to activate consciousness, catalyze critical thinking, and transform capabilities that advance racial equity and build resilience. They offer practical professional, personal, and organizational development which includes their online learning community, IntentionallyAct.com. Additionally, Dr. Martin is a Distinguished Senior Fellow at Northeastern University's Global Resilience Institute. She has over 19 years of experience in resilience, applied learning, social and organizational equity, emergency management, public health, and intelligence.
As a certified emergency manager, her previous professional roles include Chief Resilience Officer for the City of Boston, director of the Office of Public Health Preparedness at the Boston Public Health Commission, and adjunct faculty in the Master of Homeland Security and Public Policy programs at Northeastern University. Dr. Martin has also held positions at the Boston Police Department's Boston Regional Intelligence Center; City of Boston's Mayor's Office of Emergency Management; the Federal Bureau of Investigations (FBI); the Air Force as active duty assigned to the National Security Agency; and the Initiative for a Competitive Inner City.
Dr. Martin and her husband were born and raised in Boston where they currently live. They co-founded Next Leadership Development Corporation, a nonprofit focused on building resilience in Black households and communities. They have five children, two still at home.
Cristina Kim is an associate producer for Here & Now.
She was formerly with KQED in San Francisco, where she produced KQED's Truth Be Told podcast, an advice show for and by people of color, and Forum, a daily interview and news program. Cristina has also produced and managed engagement efforts for Reveal from The Center for Investigative Reporting, StoryCorps and KPFA. Passionate about reaching new and underserved audiences in creative ways, Cristina was part of the Reveal team that won the 2019 Edward R. Murrow Award for Excellence in Social Media.
Cristina grew up in the San Francisco Bay Area and is the proud daughter of immigrants. The only American-born person in her immediate family, she spent her early childhood convinced she was born in Spain like her sisters. She is a native Spanish speaker and hopes to regain her once-proficient French and Portuguese.
She earned her bachelor's degree in Latin American and Latino Studies from the University of California, Santa Cruz, and holds two master's degrees in American Studies from Columbia University and Brown University.