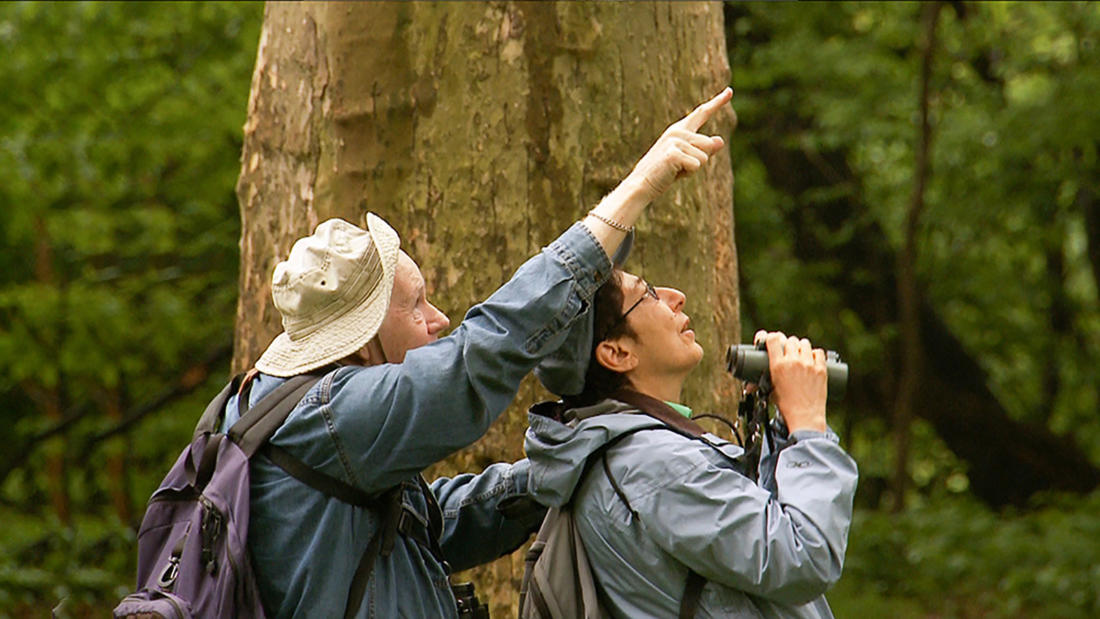 2021
with
Alyssa Bueno
Environmental educator, Wave Hill; Member, Feminist Bird Club
and
Ryan Mandelbaum
Science writer; Member, Feminist Bird Club
Birders: The Central Park Effect—

[VIRTUAL] Birding: Expanding joy
Program Description
If you've thought about birding but your practice has yet to take flight, join us Wed 6/16 at 1pm ET on Instagram Live @DCTVny with NYC birders and members of Feminist Bird Club, Alyssa Bueno and Ryan Mandelbaum, as they offer insight into equity and access to the outdoor exploration of New York City.

Presented At
DCTV New York, NY
Film Synopsis
A diverse group of full-of-attitude New Yorkers reveals how a hidden world of beautiful wild birds in the middle of Manhattan has upended and magically transformed their lives.
This documentary reveals the unexpected array of wild birds that grace Manhattan's Central Park and the equally colorful New Yorkers who plan their lives around the rhythms of migration. Renowned author Jonathan Franzen, an eccentric trombone technician, an amiable fashion-averse teenager, and a bird-tour leader who has recorded every sighting she's made since the 1940s are among the film's cast of characters. Featuring spectacular wildlife footage capturing the changing seasons, Birders reveals the dazzling world that goes all but unnoticed by the 38 million people who visit America's most famous park each year.
About the Speaker
Alyssa Bueno is a Bronx-based environmental educator at Wave Hill pursuing grad school to study bird conversation. She enjoys photographing birds and exploring local parks.

Ryan Mandelbaum is a science writer and birder living in Brooklyn, New York. During the day, Ryan writes about physics and birds (obviously), but early mornings you can find them hiking around Prospect Park, Greenwood Cemetery, Floyd Bennett Field, or even on their roof looking for birds to enjoy and photograph.
The Feminist Bird Club is dedicated to promoting inclusivity in birding while fundraising and providing a safe opportunity for members of the LGBTQIA+ community, BIPOC, and women to connect with the natural world.