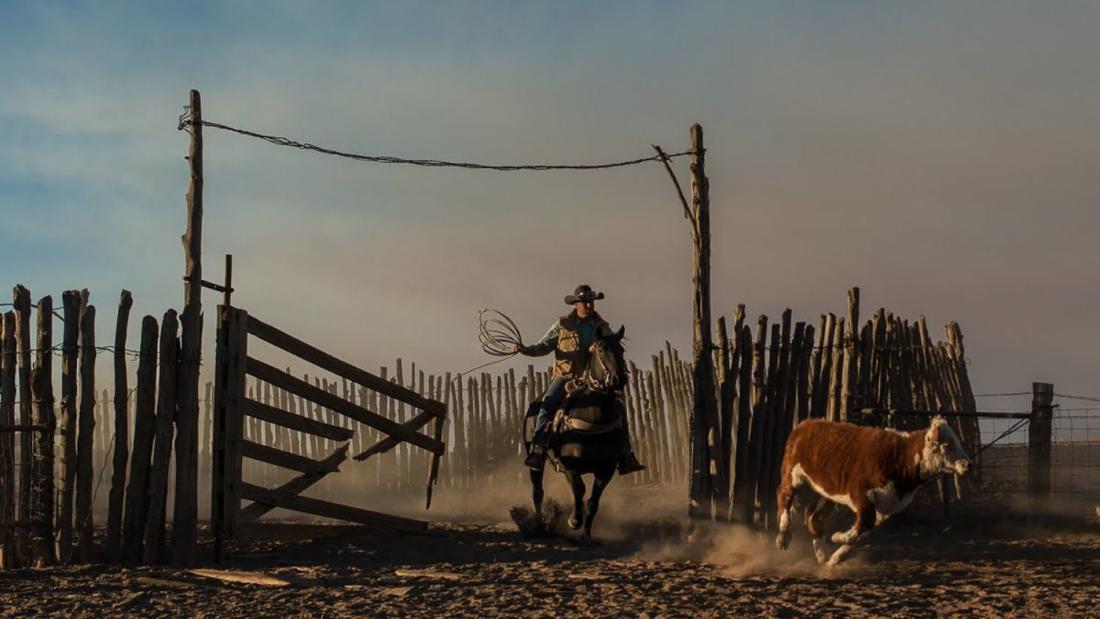 2020
with
Matt Spangler
Animal Science Professor and Extension Beef Genetics Specialist, University of Nebraska-Lincoln
and
Mitch Stephenson
Assistant Professor and Range and Forage Management Specialist, University of Nebraska-Lincoln
and
Tim Nolting
Cowboy Poet
Cowboys: A Documentary Portrait—

The lives of cows and cowboys
Program Description
Beef genetics expert Matt Spangler, range and forage management specialist Mitch Stephenson, and cowboy poet Tim Nolting discuss the science and art of rangeland cattle ranching and the cowboy life.
Film Synopsis
A look at the lives of working cowboys on America's largest cattle ranches—including their connection to a storied past and the challenges they face in the future.
Told in the cinematic tradition of classic westerns, COWBOYS: A Documentary Portrait is a feature-length film that gives viewers the opportunity to ride alongside modern working cowboys on some of America's largest and most remote cattle ranches. The movie documents the lives of the men and women working on these "big outfit" ranches—some over one million acres in size—that still require full crews of horseback mounted workers to tend large herds of cattle.
Narrated through first-hand accounts from the cowboys themselves, the story explores the rewards and hardships of a celebrated but misunderstood way of life, including the challenges that lie ahead for the cowboys critical to providing the world's supply of beef.
COWBOYS was filmed on eight of the nation's largest cattle ranches across ten states in the American West.
Banner image by John Langmore
About the Speaker
Matt Spangler is a Professor and Extension Beef Genetics Specialist at the University of Nebraska. He grew up on a diversified crop and livestock farm in Kansas. He received degrees from Kansas State University (BS; 2001), Iowa State University (MS; 2003), and the University of Georgia (PhD; 2006) and is currently a Professor and Extension Beef Genetics Specialist at the University of Nebraska. He works as part of a team with colleagues at UNL and US MARC to improve genetic/genomic selection tools and methods and currently leads a USDA funded project to develop web-based decision support tools for genetic selection.
Dr. Mitch Stephenson began his current position in 2015 as an Assistant Professor and Range and Forage Management Specialist at the University of Nebraska – Lincoln Panhandle Research and Extension Center in Scottsbluff. Stephenson received his MS degree in 2010 from the University of Nebraska – Lincoln where he studied the influence of different grazing strategies on vegetation and livestock production in the Nebraska Sandhills. Between his MS and PhD, he worked as a rangeland consultant on Wyoming and Nevada grazing lands. He received a PhD from New Mexico State University in 2014 where he evaluated livestock grazing behavior and targeted grazing practices in southern New Mexico. Currently, Stephenson's research is focused on better understanding spatial and temporal relationships between vegetation and precipitation in the Nebraska Sandhills and how this influences cattle grazing behavior and forage availability. Other research in the Nebraska Panhandle is focused on better understanding targeted grazing strategies to better manage cheatgrass within perennial grass/cheatgrass systems.
Tim Nolting is a fifth generation westerner of pioneer stock born and raised near the family homestead in northeastern Kansas. He has been presenting his original poetry across the west for more than 25 years and has been a featured poet at Cowboy gatherings from Elko, Nevada, to Ruidoso, New Mexico, and a bevy of states across the west. Tim's original verse paints word pictures of the west and captures the spirit, drama and humor of a life lived among cattle, horses, humans, and the grandeur of God's creation. Tim resides with his singer-songwriter wife and partner, Deb Carpenter-Nolting, in Bushnell, Nebraska. Tim has recently published a two-volume set of short sketches of life in the Heartland, from historical events to personal reflections, entitled "101 Yesterdays".