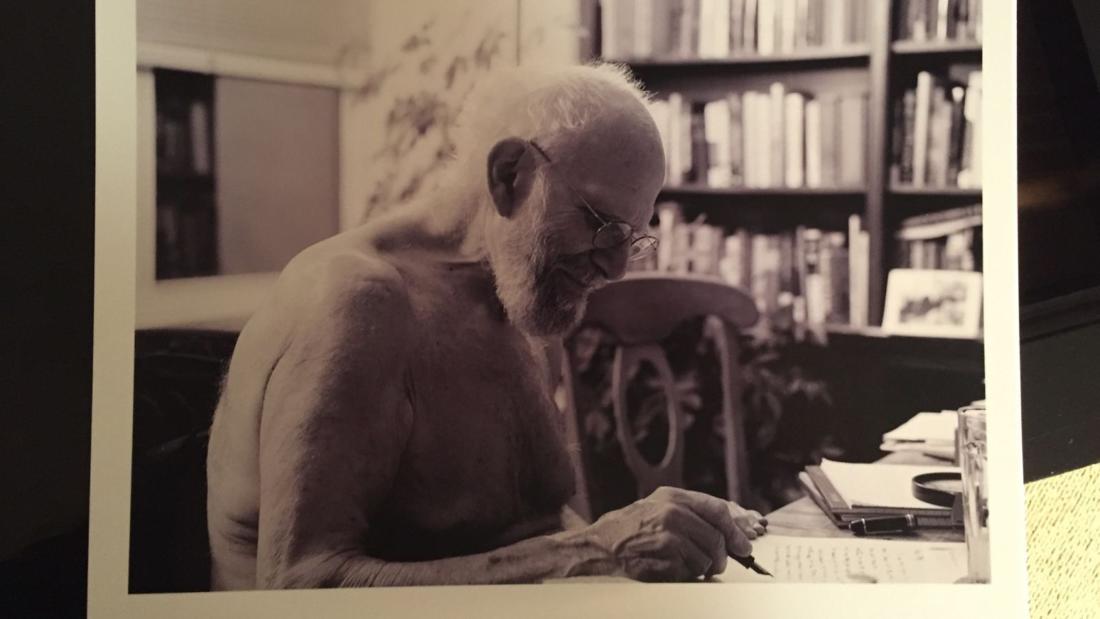 2020
with
Atul Gawande
Professor of Health Policy and Management, Harvard T.H. Chan School of Public Health; Professor of Surgery, Harvard Medical School; ; General and Endocrine Surgeon, Brigham and Women's Hospital
and
Kate Edgar
Executive Director, Oliver Sacks Foundation; Oliver Sacks' personal editor
moderated by
Sean B. Carroll
Vice President for Science Education, Howard Hughes Medical Institute; Andrew and Mary Balo and Nicholas and Susan Simon Endowed Chair of Biology, University of Maryland
Oliver Sacks: His Own Life—

Kate Edgar and Atul Gawande on Oliver Sacks
Program Description
Oliver Sacks, known for his literary works Awakenings and The Man Who Mistook His Wife for a Hat, was a fearless explorer of unknown cognitive worlds who helped redefine our understanding of the brain and mind, the diversity of human experience, and our shared humanity. In this Q&A moderated by award-winning scientist, author, educator, and film producer Sean B. Carroll, Sacks's longtime editor Kate Edgar and renowned surgeon, writer, and public health leader Atul Gawande discuss the life and legacy of the legendary neurologist and storyteller.

Film Synopsis
A documentary exploring the life of neurologist and best-selling author Oliver Sacks—an old-fashioned polymath and natural historian who redefined our understanding of brain and mind.
On January 15th, 2015, a few weeks after completing his memoir, the writer and neurologist Oliver Sacks learned that the rare form of cancer for which he had been treated seven years earlier had returned, and that he had only a few months to live. One month later, he sat down with the producers for a series of marathon filmed interviews in his apartment in New York. For eighty hours, across five days in February – and on three more occasions in April and June in places in the Bronx – surrounded by family and friends, books and minerals, notebooks from six decades of thinking and writing about the brain, he talked about his life and work, his dreams and fears, his abiding sense of wonder at the natural world, and the place of human beings within it. He spoke with astonishing candor, and with unflinching honesty – a profoundly gifted 81-year-old man facing death with remarkable courage and vitality who was still vigorous while facing the end. He was determined to come to grips with what his life has meant and what it means to be, as he put it, "a sentient being on this beautiful planet."
Drawing on these riveting and profoundly moving twilight reflections, Oliver Sacks: His Own Life explores the extraordinary life and work of the renowned neurologist, clinician and writer. With unique access to the extensive archives of the Oliver Sacks Foundation, and featuring nearly two dozen deeply revealing and personal interviews conducted with family members, colleagues, patients and close friends, including Jonathan Miller, Robert Silvers, Temple Grandin, Christof Koch, Robert Krulwich, Lawrence Weschler, Roberto Calasso, Dr. Isabelle Rapin, Billy Hayes, Kate Edgar, Dr. Mark Homonoff, Jonathan Sacks, Steve Silberman, Shane Fistell, Dr. Atul Gawande, and Lowell Handler, among others. The film is in part the biography of an extraordinary physician and writer who "dramatized," one man later said, "the most strange and thrilling scientific and cultural issue of our time: the nature of the human mind, through the simple act of telling stories." It is also a deeply illuminating exploration of the science of human consciousness and the nature of subjectivity, and a meditation on the deep and intimate relation between art and science and storytelling.
Banner image courtesy of Steeplechase Films / Ric Burns
About the Speaker
Atul Gawande, MD, MPH, is a surgeon, writer, and public health leader. He is a surgeon at Brigham and Women's Hospital in Boston, Mass., and a professor at Harvard Medical School and the Harvard T.H. Chan School of Public Health. He is the founder and chair of Ariadne Labs, a joint center for health systems innovation, and of Lifebox, a nonprofit organization making surgery safer globally. He is also chairman of Haven, where he was CEO from 2018 to 2020.

Dr. Gawande has also been staff writer for The New Yorker magazine since 1998, and has written four New York Times best-selling books: Complications (a National Book Award finalist), Better, The Checklist Manifesto, and Being Mortal: Medicine and What Matters in the End. He is the winner of two National Magazine Awards, AcademyHealth's Impact Award for highest research impact on healthcare, a MacArthur Fellowship, and the Lewis Thomas Award for writing about science.

Kate Edgar is the executive director of the Oliver Sacks Foundation. She began working with Oliver Sacks as editor and researcher in 1983. She contributed to all sixteen of his books, including the recently published Everything in its Place. For over three decades, she travelled the world with Dr. Sacks and knew many of his patients and subjects.
As Head of Studio, Sean B. Carroll directs HHMI Tangled Bank Studios' mission, strategy, and editorial focus, and oversees both the documentary and dramatic film slates.
An internationally recognized scientist, award-winning author, and Emmy-winning executive producer, Carroll is the architect of HHMI's filmmaking initiative to bring great stories about science and scientists to broad audiences. He has served as executive producer on a wide variety of feature documentaries, IMAX, and short films. As leader of HHMI's Department of Science Education, Carroll also oversees the largest portfolio of privately supported science education activities in the United States.
A frequent public speaker and prominent storyteller in print, in film, and on radio, Carroll is the author of several books including "Remarkable Creatures," which was a finalist for the 2009 National Book Award (non-fiction); "The Making of the Fittest;" "Endless Forms Most Beautiful;" "The Serengeti Rules;" and "Brave Genius." His first two books were the basis for a two-hour NOVA special in December 2009 on the occasion of the 150th anniversary of Darwin's "On the Origin of Species," and his "The Serengeti Rules" was the basis for the recent, highly honored feature documentary. Carroll also authored a regular feature, "Remarkable Creatures," for the New York Times' Science Times. He received the 2016 Lewis Thomas Prize for Writing about Science.
Carroll is a pioneer in the field of evolutionary developmental biology or "evo-devo," the study of the genes that control animal body patterns and play major roles in the evolution of animal diversity. In recognition of his scientific contributions, Carroll has received the Benjamin Franklin Medal in Life Sciences, been elected to the National Academy of Sciences and the American Philosophical Society, and been named a Fellow of both the American Academy of Arts and Sciences and the American Association for the Advancement of Science.