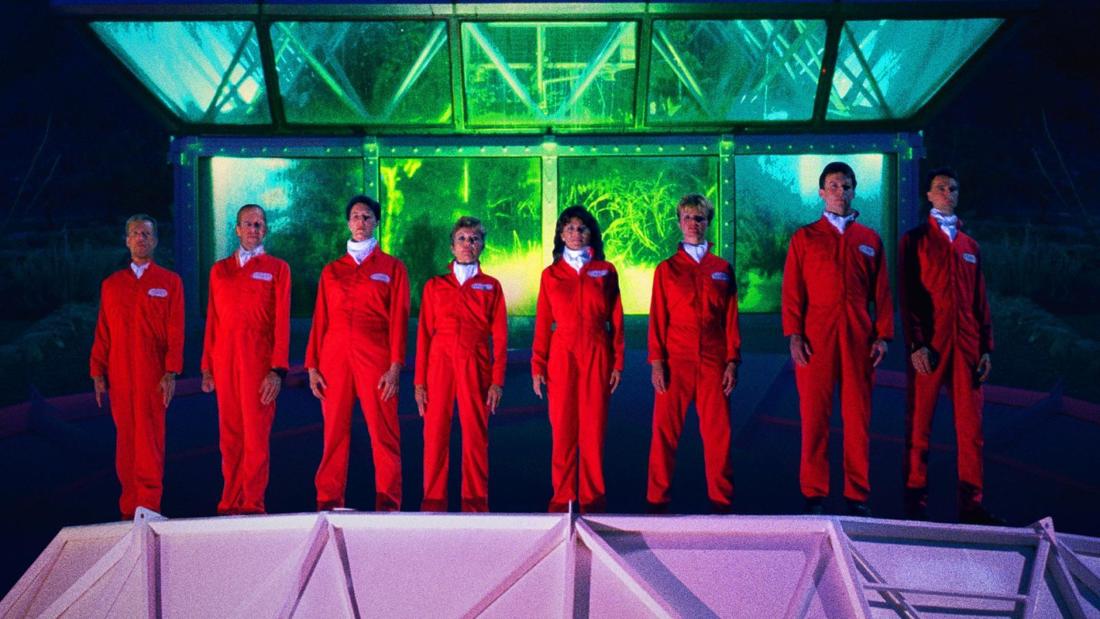 2020
with
Andrew Reid Bell
Assistant Professor of Environmental Studies, New York University
and
Matt Wolf
Director, SPACESHIP EARTH
and
Linda Leigh
Biospherian
and
Mark Nelson
Biospherian
Spaceship Earth—

[ONLINE] Reimagining the future
Program Description
In this online Q&A, Spaceship Earth director Matt Wolf and NYU environmental scientist Andrew Reid Bell consider the making of this superb film, sustainable models of living, the consequences of isolation, and how we might think differently about engaging with the world when the coronavirus pandemic ends.
Film Synopsis
In 1991, eight visionaries embark on a two-year experiment to quarantine themselves inside Biosphere 2—a self-engineered replica of Earth's ecosystem.
Spaceship Earth is the astonishing story of eight visionary people who in 1991 spent two years isolated within a self-built, closed system environment called Biosphere 2. These individuals came together not as scientists, but as a theater troupe motivated by the ethos of "learning by doing." Their expeditions led them to build a functioning ranch in New Mexico, sail around the world in a ship of their own making, and ultimately create a model of Earth's ecosystem to help model sustainable living and contribute to mitigating the risks of climate change. Directed and produced by Matt Wolf (Teenage, Recorder: The Marion Stokes Project), Spaceship Earth intermixes never-before-seen archival footage with present-day interviews with the Biospherians to tell a stranger-than-fiction story we would do well to reflect upon in this time when the future is uncertain.
Banner image courtesy of ecotechnics.edu
About the Speaker
Andrew Reid Bell's research is focused on livelihoods decision-making and natural resource governance in rural areas, mainly in the Global South. Current projects include a large-scale trial of a Payments for Ecosystems Services (PES) program for villages in rural Malawi, and a high-frequency study of access to ecosystems services in rural and urban areas in Cambodia via Android smartphone. Andrew received BASc and MASc degrees in Environmental Engineering from the University of Waterloo (2002) and Waseda University (2005), respectively, before completing a PhD in Natural Resource Management at the University of Michigan (2010). He was a post-doctoral fellow at the Earth Institute at Columbia University (2010-2012), and then a Research Fellow at the International Food Policy Research Institute (IFPRI, 2012-2014) before landing at NYU in 2015. Andrew has taught courses on water governance, environmental science and modeling.
Matt Wolf is a filmmaker in New York. His critically acclaimed and award-winning documentary films have played widely in festivals and have been distributed internationally in theaters and on television. Matt's features include Wild Combination about the cult cellist and disco producer Arthur Russell, and Teenage about early youth culture and the birth of teenagers. His recent film Recorder is about the activist Marion Stokes, who secretly recorded television 24 hours a day for 30 years. Matt's newest film Spaceship Earth is about Biosphere 2, a controversial experiment where 8 people lived quarantined inside a replica of the planet. The film premiered at Sundance, was released by Neon, and is now streaming on Hulu.

Matt has made numerous short films about artists and queer history, including Bayard & Me on the civil rights activist Bayard Rustin, who adopted his younger boyfriend in the early 1980s to obtain equal rights, and HBO's It's Me, Hilary about the Eloise illustrator Hilary Knight. Other shorts include, I Remember about the artist Joe Brainard, and The Face of AIDS for Time Magazine about a notorious 1992 Benetton advertisement. His newest short Another Hayride is about the self-help guru Louise Hay, and is being released by the New York Times' Op-Docs and PBS' POV series. Matt has also made a number of short series about the arts for organizations like the Whitney Museum and The New York Times.

Matt directs commercials and content for brands, and he was an Executive Producer and Showrunner on the National Geographic miniseries I Am Rebel. In addition to filmmaking, Matt organizes film screenings and public events, and he was the Co-Curator of Film for the 2019 Whitney Biennial. He is a Guggenheim Fellow and a member of the Academy of Motion Pictures Arts and Sciences.