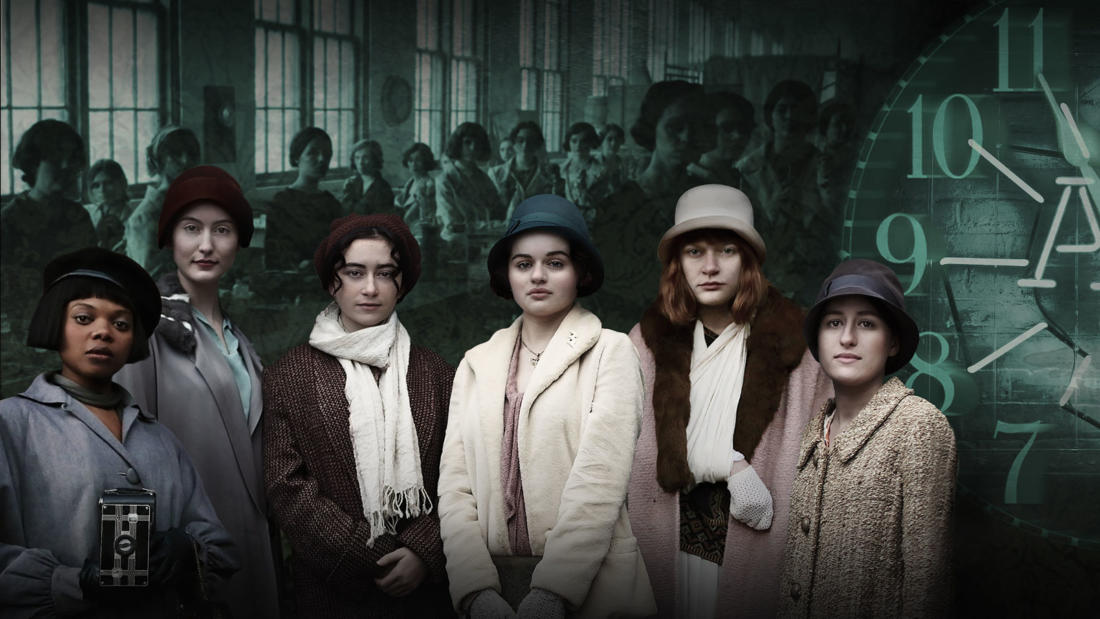 2020
with
Richard Clapp
Adjunct Professor of Sustainable Production at the University of Massachusetts Lowell; Emeritus Professor of Environmental Health at Boston University School of Public Health
and
Lydia Dean Pilcher
Filmmaker, RADIUM GIRLS
and
Ginny Mohler
Co-writer and filmmaker, RADIUM GIRLS
Radium Girls—

Radium: From cure-all to environmental hazard
Program Description
Environmental epidemiologist Richard Clapp discusses the impacts of radium and the story of the radium dial painters with RADIUM GIRLs filmmaker Lydia Dean Pilcher and co-writer and filmmaker Ginny Mohler. Watch the YouTube livestream at the link below.

Film Synopsis
When mysterious ailments strike a dial painter at American Radium, a dark truth emerges: She is not the first in the watch factory to fall ill. Her sister's legal fight against the corporation in 1928 launched workplace safety reforms and closer study of the dangers of radioactivity.
Based on true events of the 1920's, Radium Girls stars Emmy and Golden Globe nominee Joey King and Abby Quinn as Bessie and Jo Cavallo, sisters who dream of Hollywood and Egyptian pyramids as they work painting luminous watch dials at the American Radium factory in New Jersey. When Jo loses a tooth, Bessie's world is turned upside down as a mystery slowly unravels. She discovers a corporate cover-up and, in a radical coming-of-age story, Bessie and the Radium Girls decide to take on American Radium. Based on historical events, the national sensation following the notorious case of the Radium Girls in 1928 ultimately led to significant and lasting impact in the area of workplace health and safety and the study of radioactivity.
Radium Girls marks the feature directorial debuts of Emmy-winning and Academy-Award nominated producer Lydia Dean Pilcher and filmmaker Ginny Mohler, who co-wrote the award-winning original screenplay for Radium Girls with Brittany Shaw. The film made its world premiere at the 2018 Tribeca Film Festival.
Banner image courtesy of Juno Films
About the Speaker
An epidemiologist with more than forty years experience in public health practice, teaching and consulting, Richard (Dick) Clapp is an Emeritus Professor of Environmental Health at Boston University School of Public Health and an Adjunct Professor at the University of Massachusetts Lowell. His research projects at UMass Lowell focus on analyzing data related to environmental and occupational causes of cancer and other diseases. He served as Director of the Massachusetts Cancer Registry from 1980-1989 and former Co-Chair of Greater Boston Physicians for Social Responsibility. Dr. Clapp received an award for "Science for the Benefit of Environmental Health" in 2006 from the Toxics Action Center and frequently speaks to community groups and participates in advisory committees to government agencies and academic institutions.
Lydia Dean Pilcher has produced over 35 feature films. Her most recent credits include Disney's Queen of Katwe and HBO's The Immortal Life of Henrietta Lacks. She is a two time Emmy Award winner and was nominated for an Academy Award in 2014 for Cutie & The Boxer. She has produced for many celebrated directors including Kathryn Bigelow, Wes Anderson, Wayne Wang, Gina Prince Bythewood, Alison Maclean, Ritesh Batra, and eleven films in a twenty-five-year collaboration with internationally acclaimed director Mira Nair.

Ginny Mohler is a Brooklyn-based writer and director. Radium Girls is her debut feature film. Her work as a writer, producer and researcher in nonfiction television has fueled her passion for untold history and her commitment to telling the true stories of women who fight back. She discovered the story of the Radium Girls in 2012 while working on a documentary about the Manhattan Project alongside co-writer Brittany Shaw. She is a graduate of NYU Tisch School of the Arts.