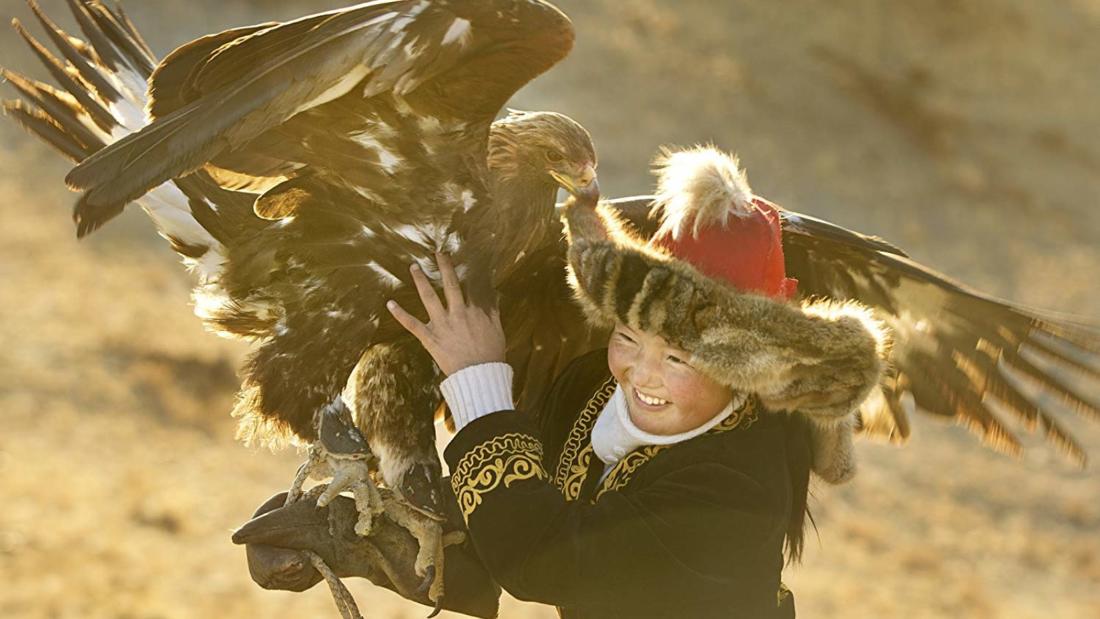 2020
with
Emma Balazs, Staff of the Chewonki Foundation
The Eagle Huntress—

Habits and adaptations of Maine's native owls
Program Description
Three live owls are the highlights of this program, which introduces participants to the owls native to Maine and New England. Beginning with slides and sounds, participants learn the identifying characteristics and calls of each owl. Then, using talons, wings, and skulls, we explore the adaptations of these silent nocturnal hunters. This program ends with an intimate and detailed look at live owls, bringing these creatures of the night into the light!
Film Synopsis
The true story of Aisholpan, a 13-year-old girl who defies convention and disapproval to train and compete as an eagle hunter, a tradition that has been handed down from father to son in nomadic Kazakh families like hers for 2,000 years.
Step aside, Katniss! Make room for Aisholpan, the 13-year-old eagle huntress from Mongolia.
For 2,000 years, the Kazakh people of the Altai region in western Mongolia have practiced a tradition of hunting with golden eagles, whose wingspan can reach up to 7.5 feet wide. Though this practice has traditionally been the domain of men, Aisholpan decides that she wants to become an apprentice hunter after spending her childhood helping her father, a renowned eagle hunter, care for his birds. Under the tutelage and support of her father and her grandfather—and very few others—Aisholpan learns all aspects of falconry, from taming her very own eagle to training for an annual competition, where she will compete against 70 eagle hunters on her quest to gain acceptance.
Featuring breathtaking cinematography and intimate footage, this film not only explores the life of a young girl striving to pursue her passion and break down gender barriers in a very traditional culture but also provides an engaging glimpse into the lives of this remote community, as they balance their traditional lifestyle with the modern world. (Sundance Institute)
About the Speaker
Chewonki is a school, camp and environmental education organization based in Wiscasset, Maine, that inspires transformative growth, teaches appreciation and stewardship of the natural world, and challenges people to build thriving, sustainable communities throughout their lives.