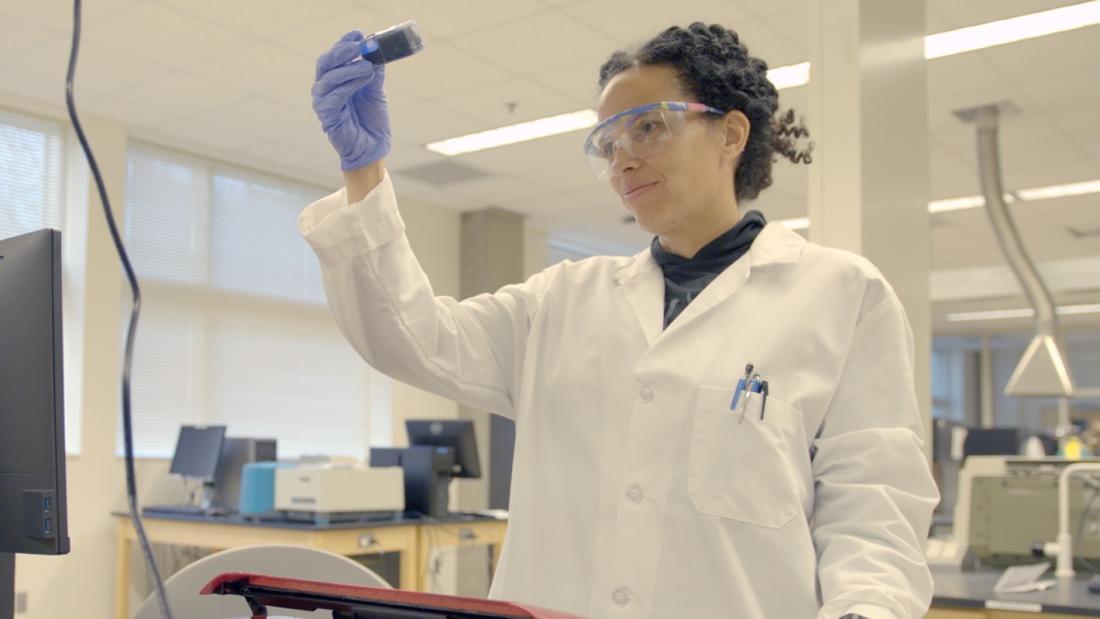 2020
with
Raychelle Burks
Associate Professor of Chemistry, American University
and
Nancy Hopkins
Amgen Professor of Biology Emerita, MIT
and
Jane Willenbring
Associate Professor, Geosciences Research Division, Scripps Institution of Oceanography
and
Ian Cheney
Director/Producer, PICTURE A SCIENTIST
and
Sharon Shattuck
Director/Producer, PICTURE A SCIENTIST
moderated by
Molly Webster
Senior correspondent, RadioLab
Picture a Scientist—

Fighting sexism in science
Program Description
In this virtual Q&A, biologist Nancy Hopkins, chemist Raychelle Burks, and geologist Jane Willenbring, whose stories are featured in the film, discuss with the filmmakers the persistent problem of sexism and sexual harassment in academic science and their battles for more inclusion in the profession that has both dismissed and inspired them.

Film Synopsis
Through their personal stories and thoroughly researched data, three scientists discuss the deeply entrenched problems of sexual harassment and gender inequality against women that are no less prevalent in science than they are in pop culture and corporate America.
PICTURE A SCIENTIST chronicles the groundswell of researchers who are writing a new chapter for women scientists. Biologist Nancy Hopkins, chemist Raychelle Burks, and geologist Jane Willenbring lead viewers on a journey deep into their own experiences in the sciences, ranging from brutal harassment to years of subtle slights. Along the way, from cramped laboratories to spectacular field stations, we encounter scientific luminaries - including social scientists, neuroscientists, and psychologists - who provide new perspectives on how to make science itself more diverse, equitable, and open to all.
About the Speaker
After working in a crime lab, Dr. Raychelle Burks returned to academia, teaching, and forensic science research. An analytical chemist, she enjoys the challenge developing detection methods for a wide-variety of compounds. Her research team is focused on the devlopment of colorimetric and luminescent sensor arrays for the detection of analytes of mainly forensic and national security interests with accompanying image and chemometric analysis. To maximize the portability of their analytical systems, Dr. Burks' team uses laptops, tablets, and smartphones for image collection and data processing. Beyond forensics and national security, there are a variety of fields where low cost and reliable rapid screening methods are needed. Dr. Burks collaborates with colleagues in a variety of fields in furtherance to provide application-specific sensing systems employing portable, imaging-based detection. Dr. Burks is a popular science communicator, appearing on TV, in podcasts, at large genre cons such as DragonCon and GeekGirlCon, in addition to writing a science-meets-true crime column called "Trace Analysis" for Chemistry World. She is a member of a number of local, national, and international committees, task forces, and projects focused on social justice and STEM.
Nancy Hopkins became an assistant professor at MIT's Center for Cancer Research in 1973. She used genetics to map RNA tumor virus genes, identifying genes that determine host range and the type and severity of cancers mouse retroviruses cause. These genes included capsid protein p30 and transcriptional elements now known as enhancers. Hopkins switched research areas more than a decade later, developing tools for zebrafish research and devising an efficient method for large-scale insertional mutagenesis. Using this technique, her lab identified and cloned 25% of the genes essential for a fertilized zebrafish egg to develop into a swimming larva. These genes included known and novel genes that predispose fish to cancer. Currently, Hopkins works on advocacy for cancer prevention and early detection research. She is a fellow of the American Academy of Arts and Sciences, a member of National Academy of Sciences and the National Academy of Medicine, and has received numerous awards for her work, including the Harvard Centennial Medal in 2014 and a 2018 Xconomy Lifetime Achievement Award.
Jane Willenbring is interested in understanding the evolution of the Earth's surface – especially how landscapes are affected by tectonics, climate change, and life. She uses geochemical techniques, high-resolution topographic data, field observations, and, when possible, couples these data to landscape evolution numerical models and ice sheet models. The geochemical tools she uses and develops often include cosmogenic nuclide systems, which provide powerful, novel methods to constrain rates of erosion and mineral weathering. She has also started to organize citizen science campaigns and apply basic science principles to problems of human health with an ultimate broader impact goal of cleaning up urban environments.
Ian Cheney is an Emmy-nominated and Peabody Award-winning documentary filmmaker. He has completed nine feature documentaries, including King Corn (2007), The Greening of Southie (2008), The City Dark (2011), The Search for General Tso (2014), Bluespace (2015), The Most Unknown (2018), Picture Character (2019), and Thirteen Ways (2019). His films have premiered at film festivals and theaters worldwide and been released on Netflix, PBS, The Sundance Channel, VICE Media, and other networks. A former Macdowell fellow and Knight Science Journalism fellow at MIT, he lives in Maine.
Sharon Shattuck is an Emmy-nominated documentary film director and podcast host. Her feature debut, From This Day Forward, broadcast nationally on POV (PBS) in 2016 and was a New York Times Critic's Pick. She's the co-host of the podcast "Conviction: American Panic" from Gimlet/Spotify and the co-creator of the New York Times Op-Docs science series "Animated Life." Her work has appeared on PBS, National Geographic Channel, Netflix, Slate, Vice, The New York Times, The Atlantic, ProPublica, Spotify, and Radiolab. She has degrees in forest ecology and journalism.
Molly Webster is features producer and guest host at Radiolab. Best described as someone who likes to "sit in the woods and stare," Molly fell for science in the ponds, wildlife, and fields of Ohio. After focusing on biology in college, she began to pursue science journalism, and has written and produced (radio/podcasts) for outlets like Scientific American, Wired, Nature, Science Friday, and National Geographic Adventure, as well as created live conversations at the World Science Festival, where she specialized in creating programs at the intersection of science, philosophy, and art. Her ability to comprehend and totally immerse herself in complicated issues has helped Radiolab investigate blood donation, drug prices, and one very special jar. She also had a hand in the pilot of Freakonomics Radio, where you can still hear her voice at the top of every episode.