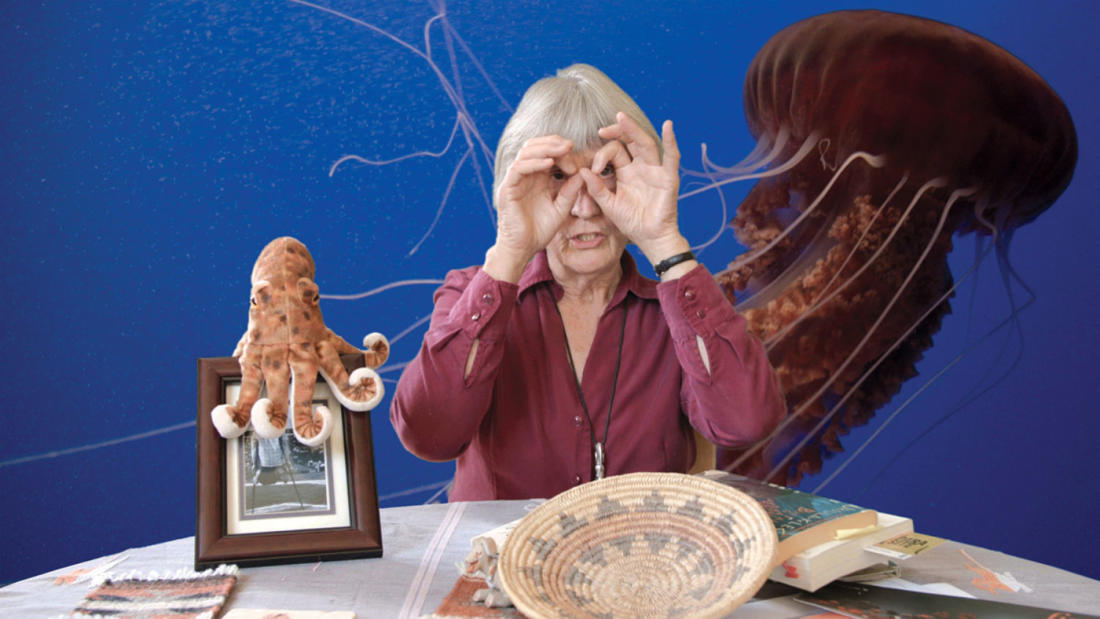 2020
with
Elizabeth Chalecki
Assistant Professor of International Relations at the University of Nebraska Omaha
and
Ash Smith
Assistant Professor of Emerging Media Arts, University of Nebraska-Lincoln
moderated by
Sylvie Fortin
Curator-in-Residence, Bemis Center for Contemporary Arts
Donna Haraway: Storytelling for Earthly Survival—

Can storytelling shape a new reality?
Program Description
In a conversation moderated by curator Sylvie Fortin, environmental policy and perception expert Elizabeth Chalecki and speculative artist Ash Smith discuss Donna Haraway and connections among fiction, science, and reality. Presented in collaboration with Bemis Center for Contemporary Arts.
Film Synopsis
An insightful glimpse into the thoughts of a contemporary feminist and revolutionary science historian Donna Haraway.
Donna Haraway is a prominent scholar in the field of science and technology, a feminist, and a science-fiction enthusiast who works at building a bridge between science and fiction. She became known in the 1980s through her work on gender, identity, and technology, which broke with the prevailing trends and opened the door to a frank and cheerful trans species feminism. Haraway is a gifted storyteller who paints a rebellious and hopeful universe teeming with critters and trans species, in an era of disasters. Brussels filmmaker Fabrizio Terranova visited Donna Haraway at her home in California, living with her – almost literally, for a few weeks, and there produced a quirky film portrait. Terranova allowed Haraway to speak in her own environment, using attractive staging that emphasised the playful, cerebral sensitivity of the scientist. The result is a rare, candid, intellectual portrait of a highly original thinker.

About the Speaker
Dr. Elizabeth Chalecki came to the University of Nebraska Omaha (UNO) in August 2014. She earned her Ph.D. in International Relations from the Fletcher School of Law & Diplomacy at Tufts University, and also earned an M.Sc. in Environmental Geography from the University of Toronto.
Dr. Chalecki researches trans-boundary environmental, security, and foreign policy topics such as climate change and security, international environmental policy and the intersection of science and International Relations. She writes about cool stuff like climate change and Arctic security, environmental terrorism, climate change and international law, public perception of environmental issues and water in outer space.

She is a Non-Resident Research Fellow at the Stimson Center. Dr. Chalecki recently concluded a fellowship at Goucher College as the Visiting Mellon Scholar for Environmental Studies. She has taught at Boston College, Boston University, California State University-Hayward and the Monterey Institute of International Studies.
She has also worked for the Pacific Institute, Environment Canada, the U.S. Department of Commerce, and the Brookings Institution.
Ash Smith is a speculative artist, designer and researcher who creates stories for film, stage and immersive play. She comes to Nebraska from the University of California at San Diego, where she was a lecturer and the associate director of their Art and Technology program.
In her work, Smith incorporates strategies of play and speculation to solve problems, re-imagine systems and build worlds to create interactive stories, mixed reality experience, simulations and prototypes of the future. In addition to teaching, Smith works on the speculative design team at Hyundai's The Design Lab, where her pioneering work focuses on robotaxis and microbility.
Smith received her Master of Fine Arts in visual arts from the University of California at San Diego and a Master of Arts in performance studies from New York University's Tisch School of the Arts. She received her Bachelor of Arts in media and technology studies and media production from the University of North Carolina at Chapel Hill. She has also completed a Spanish language immersion program at the University of Havana in Cuba.
Sylvie Fortin is an independent curator, researcher, critic, and editor. She was Executive/Artistic Director of La Biennale de Montréal (2013–2017) and Executive Director/Editor of the Atlanta-based ART PAPERS (2007–2012). Her curatorial posts have included Curator of Contemporary Art at the Agnes Etherington Art Centre at Queen's University (Kingston, Ontario, 2013), Curator of Manif 5 – the 5th Québec City Biennial (2010), Curator of Contemporary Art at the Ottawa Art Gallery (1996–2001) and Program Coordinator at LA CHAMBRE BLANCHE (Québec City, 1991–1994). Her critical essays and reviews have been published in numerous catalogues, anthologies, and periodicals, including Artforum International, Art Press, C Magazine, Flash Art International, Frieze, Fuse, NKA: Journal of Contemporary African Art, and Parachute. She also initiated Pass, the International Biennial Association's journal, and edited its inaugural issue (2018). She is currently researching the currencies of hospitality.