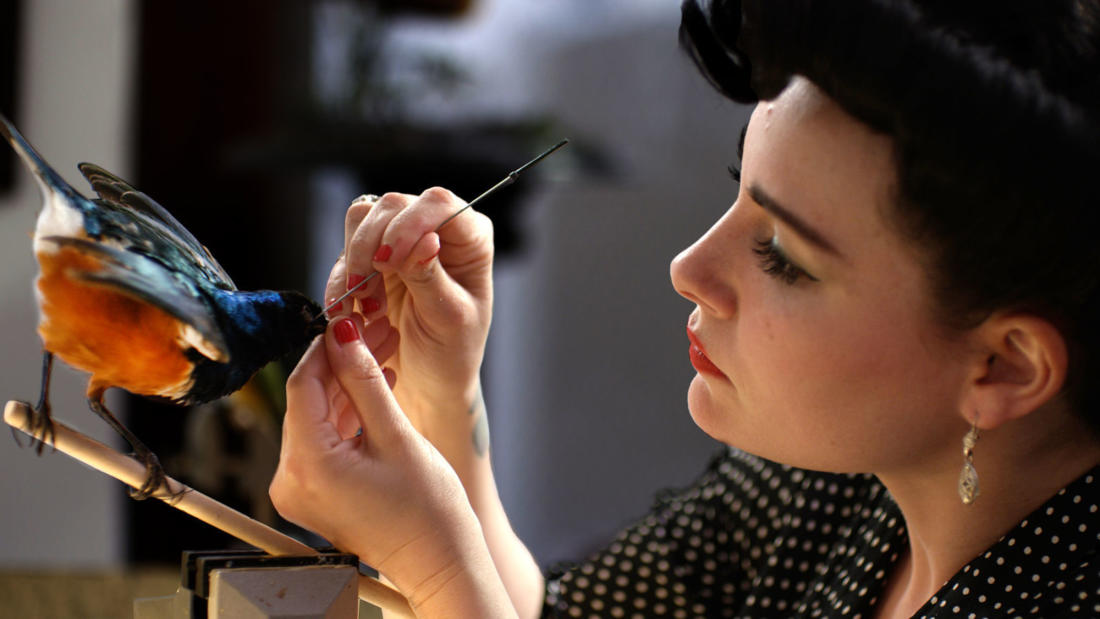 2020
with
Allis Markham
Taxidermy artist, Prey Taxidermy
and
Susan Hengeveld
Senior lecturer (Ornithology & Intro Biology), Department of Biology, Indiana University
moderated by
Betsy Stirratt
Founding director of the Grunwald Gallery, Eskenazi School of Art, Architecture + Design
Stuffed—

An anatomy to remember: Science and art in the world of taxidermy
Program Description
Award-winning taxidermy artist Allis Markham and ornithologist Susan Hengeveld discuss the science and art of taxidermy.
Film Synopsis
An exploration of the surprising world of taxidermists: passionate artists who push creative boundaries while revealing the importance of preserving nature.
"Stuffed" is a documentary feature film about the surprising and unique world of taxidermy.
Through the eyes and hands of passionate renowned artists across the world, the film allows the audience to dip into and explore this diverse subculture, where sculptors must also be scientists. It is a genre of art, formed by a collection of people who have a fanaticism for nature, matched only by their desire to protect it. They love animals and see life where others only see death. In an unexpected twist, "Stuffed" reveals the importance of preserving nature, using taxidermy as its unlikely vehicle, and the taxidermist as its wild driver.
Banner image courtesy of Music Box Films
About the Speaker
Allis Markham, owner of Prey Taxidermy, is an award-winning taxidermist based in Los Angeles. In 2017, she was named 'Third in the World' at the World Taxidermy Championships. Born in the small town of Madison, Ind., Allis grew up with a love of both nature and art—happily with a lack of supervision that made exploring both possible. Her clients include the Los Angeles Natural History Museum, the Moore Lab of Zoology, The Frost Museum of Science, Colorado State University, and The Getty Museum.
Markham is featured in the documentary Stuffed.