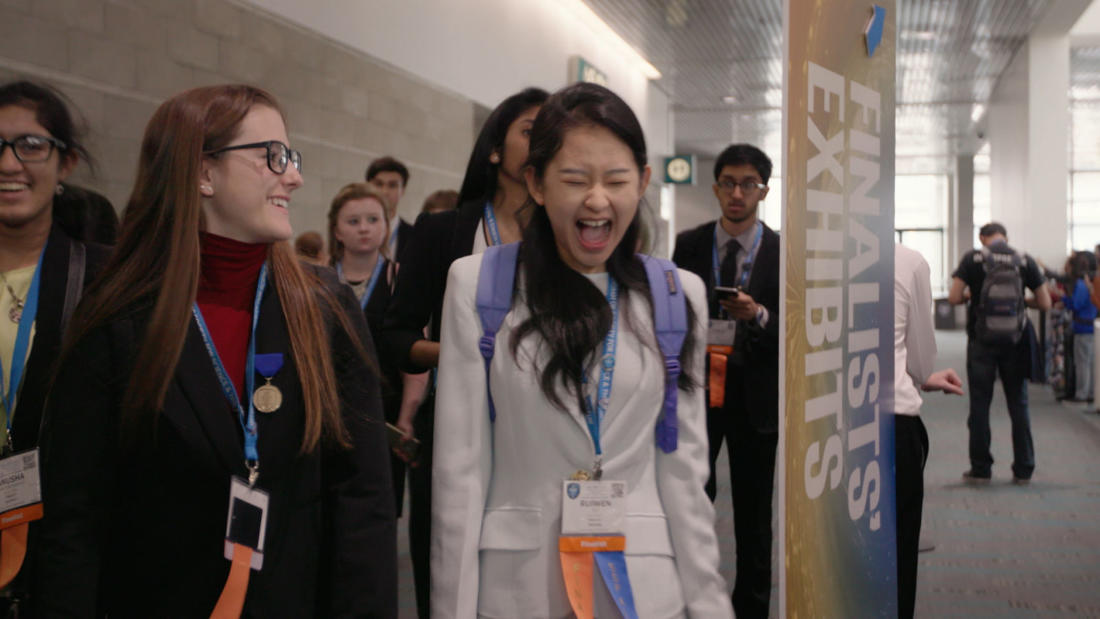 2019
with
Serena McCalla
STEM educator and scientist; Subject of SCIENCE FAIR
and
Darren Foster
Director of SCIENCE FAIR
Science Fair—

Turning high schoolers into science fair heroes
Program Description
Dr. Serena McCalla, a teacher profiled in the film, and some of her students from Jericho High School's award-winning science program display research projects from 2017−18 and discuss their current research. Following the screening, director Darren Foster (via Skype) and Dr. McCalla answer questions from the audience, and talk about what it takes to nurture the next generation of scientists and what schools, teachers, and parents need to do to encourage scientific exploration.
Film Synopsis
Filmmakers follow nine high school students from around the globe as they compete at the International Science and Engineering Fair. Facing off against 1,700 of the smartest, quirkiest teens from 78 countries, only one will be named Best in Fair.
Hailed by critics as "immensely likeable," "brilliant and quirky" and an "ode to the teenage science geeks on who our future depends," and winner of the audience award at Sundance and SXSW, National Geographic Documentary Films' Science Fair follows nine high school students from around the globe as they navigate rivalries, setbacks and, of course, hormones, on their journey to compete at The International Science and Engineering Fair. The film, from Fusion and Muck Media and directed by the DuPont Award-winning and Emmy-nominated documentary filmmaking team Cristina Costantini and Darren Foster, offers a front seat to the victories, defeats, and motivations of an incredible group of young men and women who are on a path to change their lives, and the world, through science.
About the Speaker
Dr. Serena McCalla has dedicated her life to the advancement of science and science education. Dr. McCalla was raised in New York City and fell in love with science in elementary school. She earned her bachelor's degree in biological sciences with the intention of becoming an ER physician. However, she quickly realized that she was more inspired by research than medicine. As a result, she earned an MS in hematology/microbiology and a PhD, focusing on the use of diagnostic tests to improve understanding of genetics, photosynthesis, and respiration processes. Dr. McCalla is the science research coordinator for Jericho UFSD and has engineered Jericho High School's science research program into the preeminent program on Long Island. She is also the founder of iResearch Science and iResearch Institute, where she shares her motto, "If you dream it, do the work to make the dream a reality," and her research practices with educators and students.
Darren Foster is a documentary filmmaker and journalist. He produced and co-directed Science Fair, which won the Festival Favorite Award at the 2018 Sundance Film Festival and the audience awards at SXSW, Sun Valley Film Festival, Portland International Film Festival, and Tumbleweeds Film Festival. Previously, Foster's one-hour investigation, "Death by Fentanyl," won a 2017 DuPont Award. His previous reporting on the opioid crisis began with "The OxyContin Express," which won a 2009 Peabody Award, a Television Academy Honor, and an Emmy nomination. Foster was the series director of the "Borderland" documentary TV series and co-creator and series producer of "Insider: Secret America" on the National Geographic Channel.