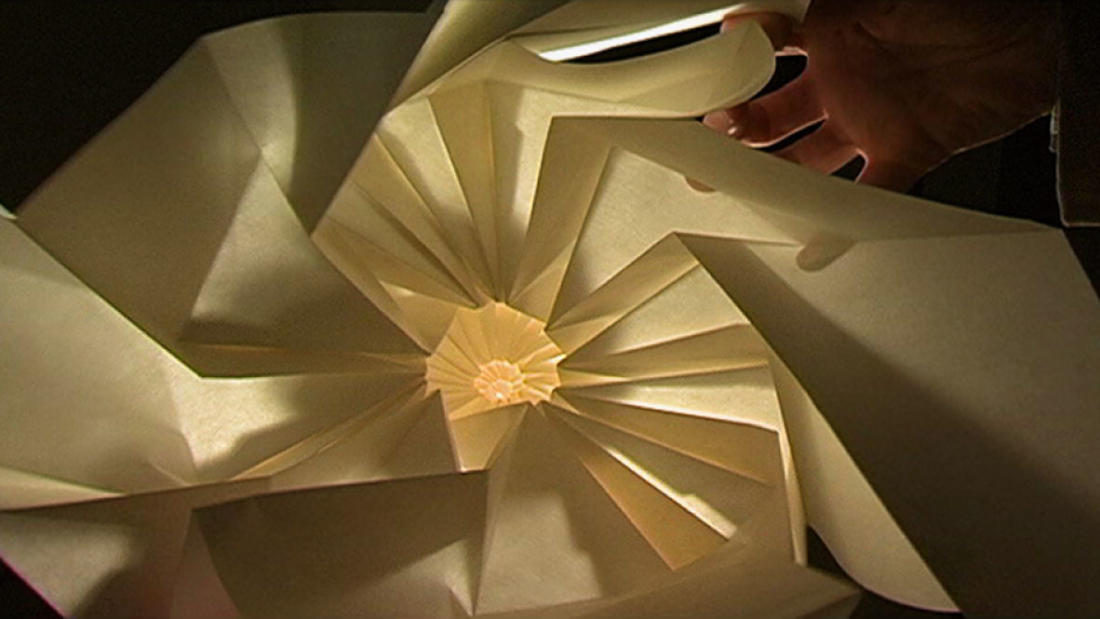 2019
with
Jennifer Clarke
Professor of Food Science and Technology, University of Nebraska-Lincoln; Director of the Quantitative Life Sciences Initiative, University of Nebraska-Lincoln
and
Stephen Klaas
Owner, Klaas Structural Engineering
and
Yong-Lak Park
Professor of Entomology, West Virginia University
Between the Folds—

The science and art of origami
Program Description
A panel of scientists and engineers discusses their work and how it intersects with the art of paper folding. Entomologist Yong-Lak Park talks about his current research and his experience with modeling origami insects. Data scientist Jennifer Clarke adds mathematical expertise and Stephen Klaas provides the perspective of a practicing engineer.
Film Synopsis
An investigation into the art form of origami and how paper folding has influenced and continues to influence modern science and technology.
Origami may seem an unlikely medium for understanding and explaining the world. But around the globe, several fine artists and theoretical scientists are abandoning more conventional career paths to forge lives as modern-day paper folders. Through origami, these offbeat and provocative minds are reshaping ideas of creativity and revealing the relationship between art and science.

BETWEEN THE FOLDS chronicles 10 of their stories. Featuring interviews with and insights into the practice of these intrepid paper folders, the film opens with three of the world's foremost origami artists. The film then moves to less conventional artists, exploring concepts of minimalism, deconstruction, process and empiricism, and also features advanced mathematicians and a remarkable scientist who received a MacArthur Genius Award for his computational origami research.

While debates ebb and flow on issues of folding technique, symbolism and purpose, this unique film shows how closely art and science are intertwined. The medium of paper folding—a simple blank, uncut square—emerges as a resounding metaphor for the creative potential for transformation in all of us.
Photo: Material artist Chris K. Palmer experimenting in paper with pattern, movement and a flood light. By Vanessa Gould.
About the Speaker
This event is open to the public, and admission is FREE, thanks to event sponsors and partners, including the University of Nebraska-Lincoln Panhandle Research and Extension Center, 21st Century Equipment, Nebraska Arts Council, and Nebraska Cultural Endowment. Every audience member gets a free ticket for a chance at winning a raffle prize.