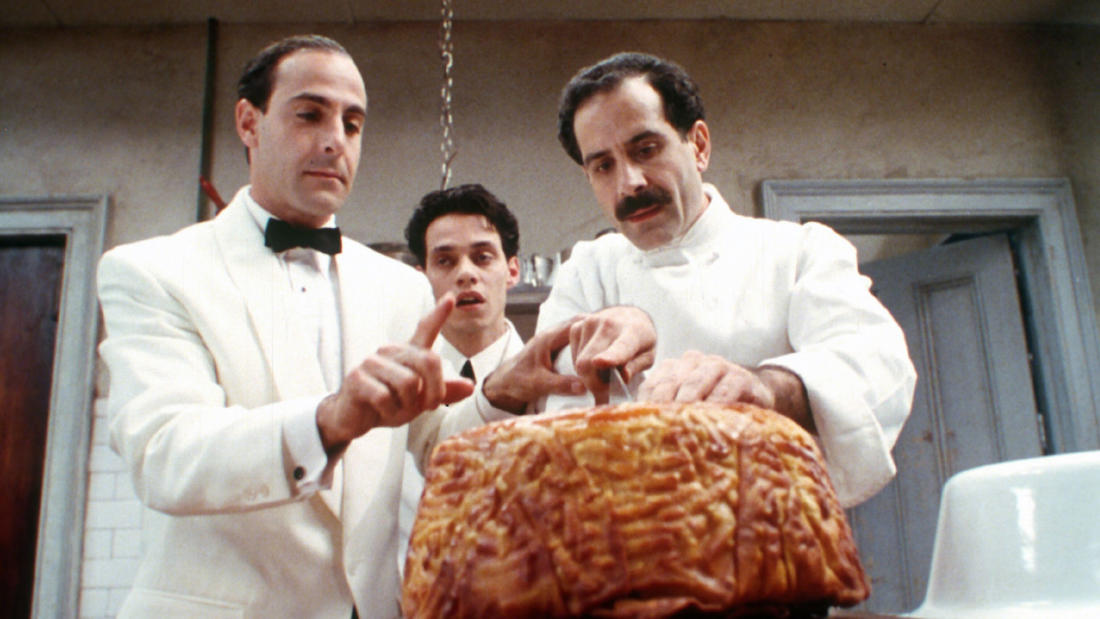 2019
with
Scott Schaus
Associate Professor of Chemistry, Boston University
Big Night—

The chemistry of flavor
Program Description
Chemistry professor Scott Schaus speaks about the chemical combinations behind the taste of food.
Film Synopsis
In a final effort to save their failing Italian restaurant, an exacting chef and his practical younger brother plan to put on an evening of incredible food.
Co-directed by Campbell Scott and Stanley Tucci, this sumptuous classic has long been considered "one of the great food movies" (Roger Ebert). Big Night focuses on the volatile relationship between two immigrant restaurateurs, the uncompromising chef Primo (Tony Shalhoub) and his younger sibling, Secondo (Stanley Tucci), who runs the dining room and is trying desperately to keep the business afloat. Their hopes are pinned on a favor from the owner of the nearby Pascal's, an enormously successful restaurant, despite its mediocre fare – he will call his friend, a big-time jazz musician, to play a special benefit at Paradise. Primo begins to prepare his masterpiece, a feast of a lifetime, for the brothers' big night…
Banner image courtesy of PHOTOFEST
About the Speaker
Scott Schaus received his Ph.D. in Organic Chemistry with Eric N. Jacobsen at Harvard University in 1999 and did postdoctoral studies in Andy Myers' laboratory at Harvard University as an NIH fellow. His research group concentrates on the synthesis of natural products, drawing mainly from catalytic methodologies as a source of selective organic transformations. Active projects in the group include the total synthesis of natural products that target cell cycle regulation, cell proliferation, and cell death. Recent developments in chemical and functional genomics make it possible to address specific questions concerning the biological response of cells to small molecule modulators. In this regard, genomic transcription profiling of both model organisms and mammalian cells using microarray technologies will be employed to validate drug targets and cellular response mechanisms.