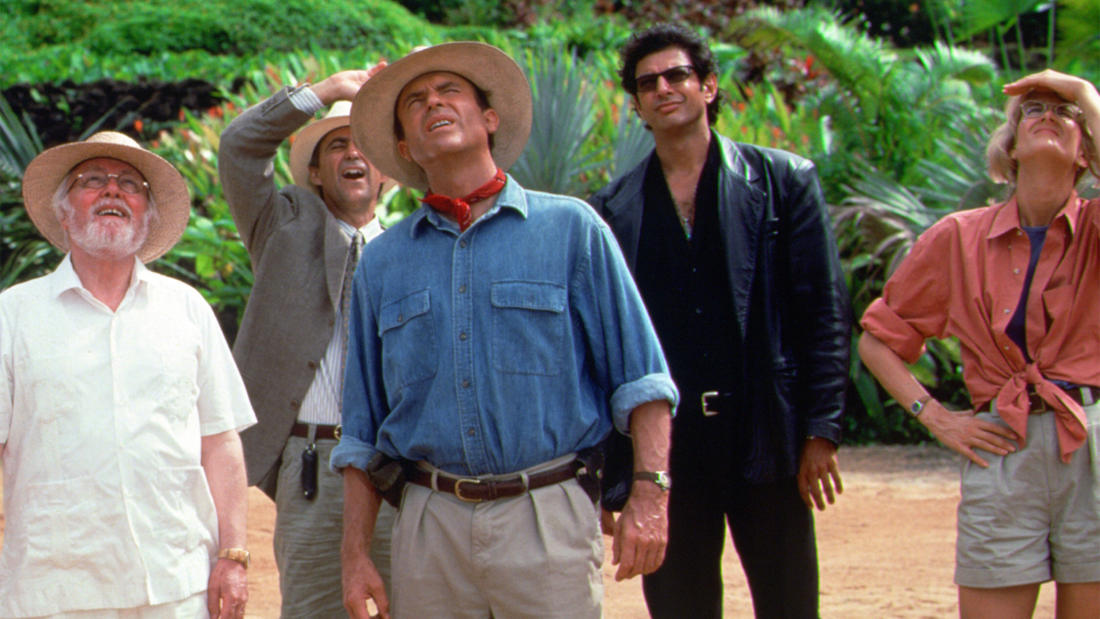 2019
with
Don Lessem
Science writer; Dinosaur advisor on JURASSIC PARK
Jurassic Park—

Jurassic Park: fact vs. fiction
Program Description
Paleontologist, science writer, and exhibit developer "Dino" Don Lessem served as Steven Spielberg's "dinosaur advisor" during the production of JURASSIC PARK. After this screening, he separates dino-fact from dino-fiction and challenges the audience to identify some real fossils.
Film Synopsis
During a preview tour, a theme park suffers a major power breakdown that allows its cloned dinosaur exhibits to run amok.
Two dinosaur experts, Alan Grant (Sam Neill) and Ellie Sattler (Laura Dern), are invited by eccentric millionaire John Hammond (Richard Attenborough) to preview his new amusement park on an island off Costa Rica. By cloning DNA harvested from prehistoric insects, Hammond's scientists have recreated living dinosaurs for the exhibits. Accompanied by a cynical mathematician who is obsessed with chaos theory (Jeff Goldblum) and the millionaire's two grandchildren (Joseph Mazzello, Ariana Richards), the experts are sent on a tour through the resort in computer-controlled touring cars. But as a tropical storm hits the island, knocking out the power supply, an unscrupulous employee (Wayne Knight) sabotages the system so he can smuggle dinosaur embryos out of the park, and the dinosaurs rage out of control. Based on the novel by Michael Crichton, Steven Spielberg directed the first installment of this epic sci-fi adventure film.
About the Speaker
Born in New York City in 1951, "Dino Don" Lessem saw his first dinosaur at the age of five: the awe-inspiring Tyrannosaurus Rex at the American Museum of Natural History. His fascination with extinct creatures never left him, and though he tried to pursue other interests—majoring in Oriental art history at Brandeis University, for example—he found himself returning to his favorite subject. Lessem studied biobehavioralism at the University of Massachusetts and was a Knight Science Journalism Fellow at the Massachusetts Institute of Technology in 1976. Shortly thereafter he published his first book for children, Life Is No Yuk for the Yak: A Book of Endangered Animals, and since then he has written more than 20 books for young readers, most of them on dinosaurs and other extinct creatures.
In addition to writing books, Lessem has a regular column in Highlights magazine. He has written and hosted television programs for the Discovery Channel and the PBS documentary series Nova, and worked as a technical advisor on films and for theme parks featuring dinosaurs. Founder of the nonprofit Dinosaur Society and its children's newsletter, Dino Times, he is also a member of the Society of Vertebrate Paleontology. He has created a Web site, www.giganotosaurus.com, as well as a popular CD-ROM for Microsoft. Lessem has cast life-sized re-creations of some of the largest dinosaurs and built traveling museum exhibits. He has won several National Science Teachers Association Awards for his books for children.