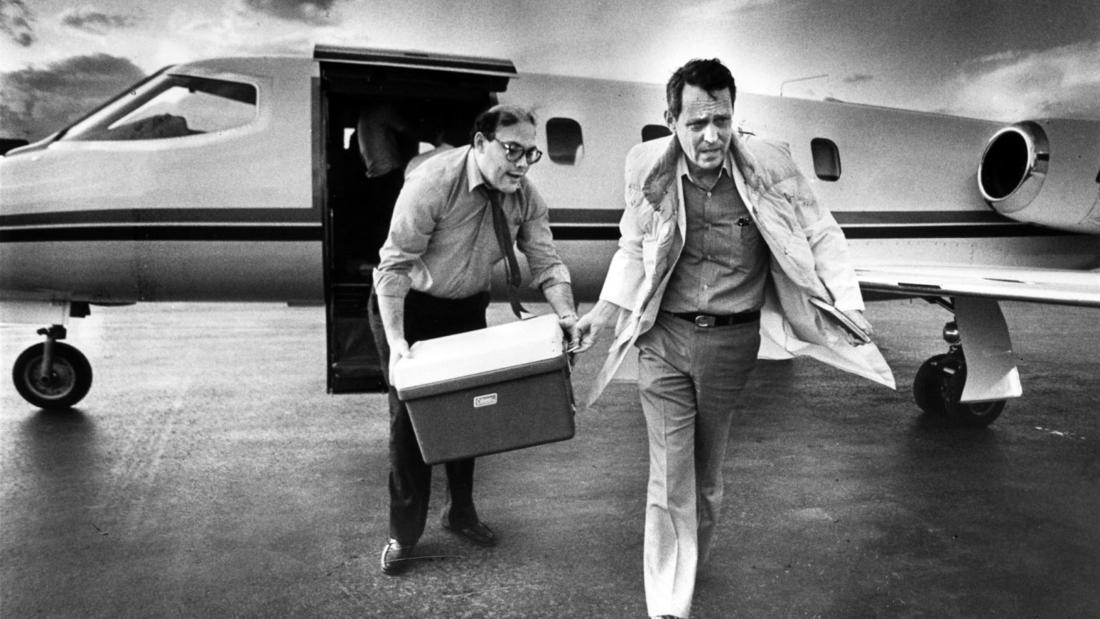 2019
with
Abhi Humar
Clinical Director, Thomas E. Starzl Transplantation Institute ; Chief of the Division of Transplantation, Department of Surgery, University of Pittsburgh Medical Center
and
Velma Scantlebury
Associate Director of the Kidney Transplant Program, Christiana Care Health System
Burden of Genius—

Beyond the burden: Building on the transplant revolution
Program Description
Thomas Starzl laid the groundwork for a revolution that will continue to change medicine for generations. Dr. Abhinav Humar and Dr. Velma Scantlebury discuss how many of the challenges Starzl faced continue to inform the field, what the future of transplantation and immunology will look like, and how it will change our world.
Film Synopsis
The story of Dr. Thomas Starzl, the first surgeon to successfully transplant a liver, and his journey from medical renegade to father of transplantation.
In 1967, Dr. Thomas Starzl stunned the world with the first successful liver transplantation. His breakthrough provoked controversy. Critics accused him of recklessness, even murder. Others declared it the beginning of a revolution.
Burden of Genius plunges the viewer into the controversy swirling around the Starzl's turbulent 60-year career, before we land in the 1980s, the decade when organ transplantation, the stuff of science fiction, becomes a reality. Accusations of blind career ambition collide with reflections from colleagues and patients who credit him with saving thousands of lives through his innovations in surgery and immunotherapy.
Fueled by coffee, cigarettes, and the odd ten-minute catnap on any available horizontal surface, he pushes himself relentlessly, acquiring mythic status and attracting the most talented young surgeons in the world, who now run most of its top transplant centers. "Working in the trenches was a form of insanity," Starzl admitted later. "It was a death march. At the end I was afraid I'd lost touch with humanity."
Burden of Genius is the story of an innovator as complex and elusive as the biological secrets he unlocked. It is also a reflection on the price of scientific progress by the man many consider the greatest surgeon of the 20th century and the father of organ transplantation.
About the Speaker
Dr. Abhi Humar is the clinical director of the Thomas E. Starzl Transplantation Institute and the chief of the Division of Transplantation in the Department of Surgery at the University of Pittsburgh Medical Center. Formerly the director of the University of Minnesota's Liver Transplant Program, Humar has continued to build on Starzl's pioneering work since coming to Pittsburgh, making history recently through his work teaching the body to accept new organs using immune cells to free patients from complications produced by anti-rejection drugs.
Dr. Velma Scantlebury was a Starzl fellow in Pittsburgh in the 1980s and is the first African American woman transplant surgeon in the U.S. She has received many honors in her career having been named to both the Best Doctors in America and Top Doctors in America lists multiple times. Scantlebury has been awarded the Woman of Spirit Award for inspiring others and the Gift of Life Award from the National Kidney Foundation. She has performed over 2,000 transplants and published many peer-reviewed papers as well as a new book, "Beyond Every Wall" which begins with her meeting Starzl.