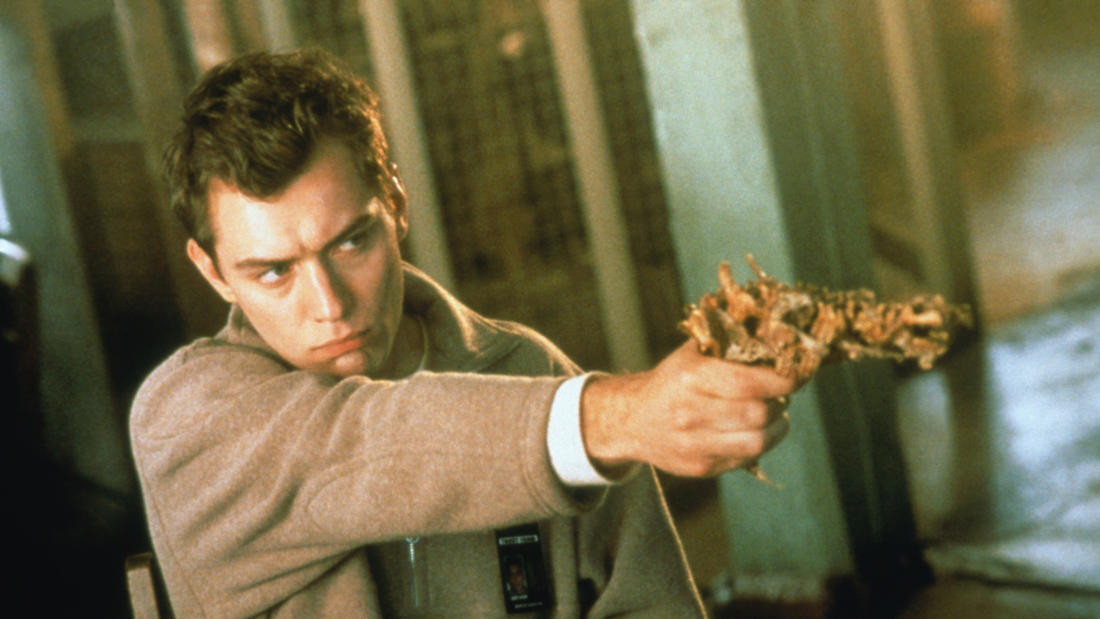 2018
with
Lia Nower
Professor and director of the Center for Gambling Studies, Rutgers University School of Social Work
eXistenZ—

This is your brain on gaming
Program Description
Gaming systems are strategically designed to keep us playing. At this event, gambling addiction expert Lia Nower reveals how game design impacts our brain function, our behavior, and our relationships—and explores the potential real-world consequences of increasingly immersive gaming. Part of the 2018 National Evening of Science on Screen.
Film Synopsis
A game designer on the run from assassins must play her latest virtual reality creation with a marketing trainee to determine if the game has been damaged.
Video game designer Allegra Geller (Jennifer Jason Leigh) has created a virtual reality game called eXistenZ. After a crazed fan attempts to kill her, Allegra goes on the run with Ted (Jude Law), a young businessman who falls into the role of bodyguard. In an attempt to save her game, Allegra implants into Ted's body the video game pod that carries a damaged copy of eXistenZ. Allegra and Ted engage in a series of experiences that blur the lines between fantasy and reality.
About the Speaker
Lia Nower, J.D., Ph.D. is a professor of social work at Rutgers University and director of the university's Center for Gambling Studies. She is also co-director of the Addiction Counselor Training Certificate Program and a research affiliate with the Center of Alcohol Studies. Dr. Nower's research focuses on psychometric measurement, the etiology and treatment of behavioral addictions—specifically disordered gambling—and gambling-related policy issues. Dr. Nower has served as an NIH pre-doctoral fellow, a Fulbright fellow, and a research intern at the National Research Council at the National Academies. Dr. Nower is also a member of the legislative board of and a clinical supervisor for the National Council on Problem Gambling in Washington D.C. A former criminal prosecutor, she is a member of the Thomson-Reuters Expert Witness Services (TREWS) network and serves as a forensic consultant in state and federal court cases involving gambling-related crimes.
Dr. Nower's current research includes developing a sub-group specific screening instrument for problem gamblers, exploring risk and resiliency factors among youth gamblers, behavioral decision making under win/loss conditions, defining recovery, and internet gambling policy. Dr. Nower has also co-authored several policy initiatives, including a model for self-exclusion programs and an industry framework promoting informed choice in gambling venues.
This screening is part of Montclair's HUMAN CONNECTIONS + FUTURE LANDSCAPES series, which explores contemporary "human" social behavior and identity in science fiction worlds.