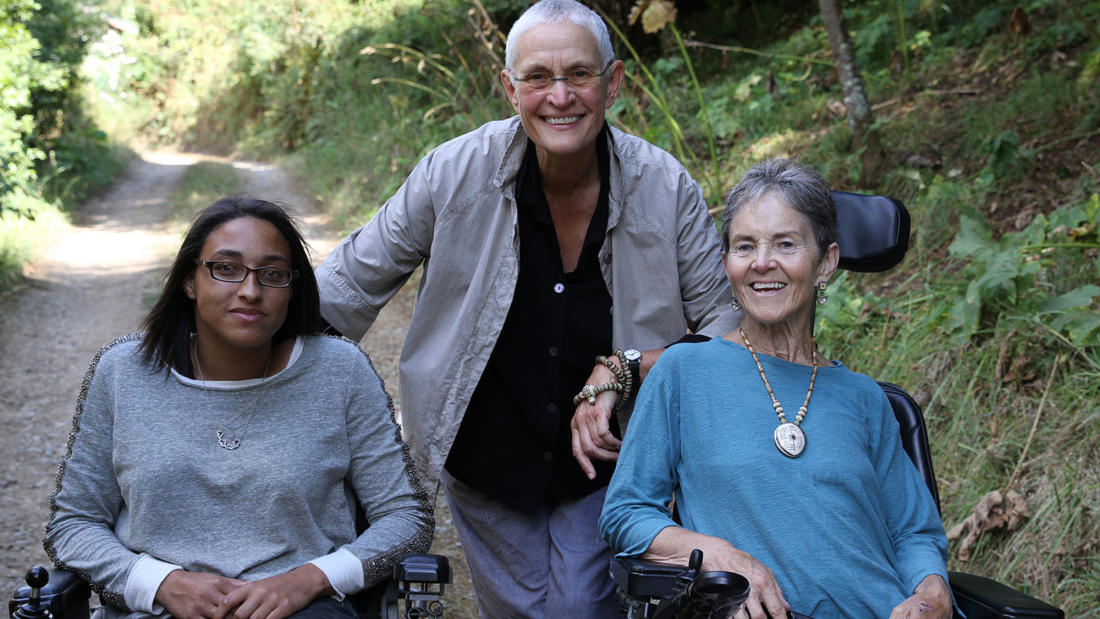 2018
with
Grace Dammann
Subject of STATES OF GRACE; Physician; 2005 recipient, Dalai Lama's Unsung Heroes of Compassion Award
and
Helen Cohen
Director of STATES OF GRACE
and
Doug Bauder
Director of the LGBTQ+ Culture Center at Indiana University
States of Grace—

The Zen of healing
Program Description
Buddhist physician and activist Grace Dammann was honored by the Dalai Lama for her years running clinics for poor San Franciscans with HIV/AIDS. But in 2008, she faced her own health crisis after sustaining catastrophic injuries in a head-on collision. Ten years later, she discusses health, wellness, and the Zen of healing.
Film Synopsis
An HIV/AIDS doctor survives a horrific head-on crash on the Golden Gate Bridge and struggles to re-create a meaningful life despite her severe physical disabilities.
Winner of multiple audience awards, States of Grace intimately captures the profound transformation of a revered physician and her family in the wake of a life-changing accident.
Dr. Grace Dammann was a prominent HIV/AIDS physician who was honored by the Dalai Lama for her extraordinary work during the height of the epidemic. In 2008, a routine commute across the Golden Gate Bridge turned tragic for Grace when another driver crashed head-on into her car. Though she miraculously survived, she spent more than a year in rehabilitation hospitals.
States of Grace follows her return home to the Buddhist community where she lives with her partner Nancy "Fu" Schroeder and their daughter Sabrina. With humor and candor, the film captures their story as Grace struggles to discover new purpose in her radically altered life.
About the Speaker
Grace Dammann, MD, co-founded one of the first HIV/AIDS clinics for poor people in San Francisco at Laguna Honda Hospital and signed more than 1,000 death certificates in the six-year period that marked the disease's deadliest era. She was honored for her work by the Dalai Lama with an Unsung Heroes of Compassion Award in 2005.
Her life changed forever in 2008 when, while driving across the Golden Gate Bridge with her daughter Sabrina and their dog Mack, another car swerved across the plastic median divider and crashed into them head on. Grace was airlifted to the hospital, where she remained in a coma and endured numerous surgeries before regaining consciousness with her mental facilities miraculously intact. She lived in rehabilitation hospitals for more than a year before returning home.
Grace eventually joined forces with the driver who hit her to advocate for a steel-and-concrete median barrier on the bridge. The barrier was recently installed and will prevent future head-on collisions. Grace spoke at the ribbon-cutting ceremony celebrating its completion in January 2015.
Award-winning directors/producers Helen S. Cohen and Mark Lipman have been creating documentary projects together under their Open Studio Productions banner since 2004. Cohen's producing credits include It's Elementary: Talking About Gay Issues in School (1996), a documentary that addresses anti-gay prejudice and explores how teachers can include discussions about LGBT people in their classrooms; That's a Family! (2000), in which elementary school–age kids describe in their own words the many shapes that families take in today's diverse world; and Let's Get Real (2003), an in-depth look at name-calling and bullying in middle schools, told entirely from a youth perspective. She has also directed, produced, and/or executive produced documentaries for public interest organizations, including Homes & Hands: Community Land Trusts in Action (1998) and Street of Dreams: Development Without Displacement in Communities of Color (2013).
Doug Bauder is the director of the LGBTQ+ Culture Center at IU Bloomington. He has served a variety of churches in Pennsylvania and rural Wisconsin, leading worship, offering pastoral care, and directing summer camping experiences for youth.
He has worked as a habilitation specialist at Stonebelt, Inc., in Bloomington, which provides services for people with disabilities, has served on the Bloomington Human Rights Commission, and is a founding member of Bloomington United.
This screening is sponsored by the LGBTQ+ Culture Center; Disability Services for Students; Indiana University LGBTQ+ Alumni Association; Bloomington PRIDE; Office of the Vice President for Diversity, Equity, and Multicultural Affairs; Indiana University–Bloomington School of Public Health Rural Center for AIDS/STD Prevention; Health & Wellness, IU Health Center; and IU Cinema.