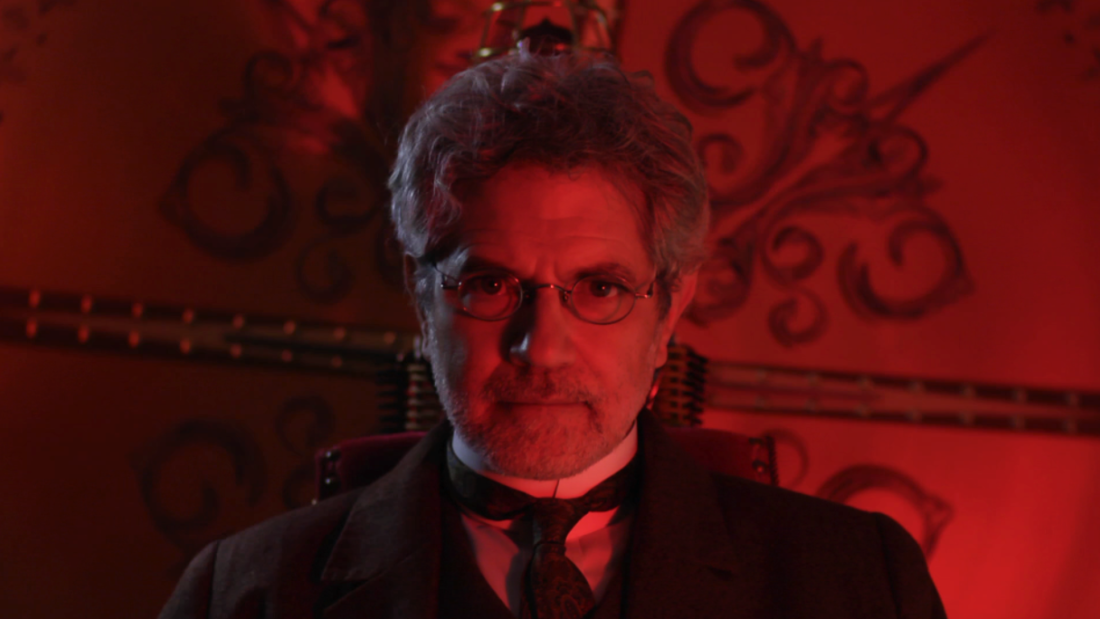 2018
with
Ronald Mallett
Research Professor of Physics, University of Connecticut
and
Rob Niosi
Film director and animator
and
Jay Cheel
Director, HOW TO BUILD A TIME MACHINE
How to Build a Time Machine—

Making time travel a reality
Film Synopsis
Two men pursue lifelong fantasies in very different ways, both inspired by H.G. Wells' classic novel The Time Machine.
How to Build a Time Machine follows two men as they set out on a journey to build their own time machines. Rob Niosi is a stop-motion animator who has spent the last 13 years obsessively constructing a full-scale replica of the time machine prop from the 1960 adaptation of H.G. Wells' The Time Machine. It's his attempt to recapture the memory of seeing the film in theaters with his father. Dr. Ron Mallett is a theoretical physicist whose story begins with a tragedy. He was only 10 years old when his father died suddenly of a heart attack. Distraught, he sought solace in science-fiction. After reading The Time Machine, Ron dedicated his life to studying physics. He has since become a professor at the University of Connecticut and is now working on building a real time machine in the hopes that he might go back in time to save his father's life.
About the Speaker
Prof. Ronald L. Mallett received his B.S., M.S. and Ph.D. in physics from Penn State. He worked for United Technologies from 1973 to 1975, and in 1975 joined the physics faculty at the University of Connecticut in Storrs, where he is currently research professor of physics. Prof. Mallett has published numerous papers on black holes and cosmology in professional journals. His breakthrough research on time travel has been featured extensively in the media around the world, including print media such as New Scientist, Die Zeit, GEO, the Boston Globe, the Hartford Courant, Rolling Stone magazine, and The Wall Street Journal, and broadcast media such as NPR's This American Life, Science Busters, the History Channel, the National Geographic Channel, the Science Channel, ABC's Good Morning America, NBC's Today Show, and CNN. Prof. Mallett appeared in the feature-length documentary How to Build a Time Machine, which won Best Documentary at the 2017 New York City Sci-Fi Films.
Prof. Mallett's recently published memoir Time Traveler: A Scientist's Personal Mission to Make Time Travel a Reality has been translated into Korean, Chinese, and Japanese.
Rob Niosi began drawing and painting at a young age. When he was 8, he picked up his father's 8mm home movie camera and began making short films. After studying filmmaking at New York's School Of Visual Arts, Rob began a career in film and video production. His credits include directing, producing, set design and construction, special effect make-up and cinematography but he is perhaps best known for his work as a stop-motion animator for such productions as The Reading Rainbow, Pee-wee's Playhouse, and Peter Gabriel's music videos.
His completed 12-year project, a full-scale artistic rendering of the Time Machine prop from the classic 1960 MGM film, is featured in the documentary How To Build A Time Machine.
Jay Cheel is a filmmaker from St. Catharines, Ontario. His feature debut, Beauty Day, premiered at the Museum of Modern Art in New York City as part of their Canadian Front Programming Series. The film was also an official selection at the Hot Docs International Film Festival and was nominated in the 'Best Documentary' category of the 2012 Gene Awards. His second feature, How to Build a Time Machine, premiered at the Hot Docs International Film Festival and went on the screen at AFI Docs, The Rotterdam International Film Festival, and DOC NYC. Jay is also the co-host of the Film Junk, the internet's longest running film podcast.