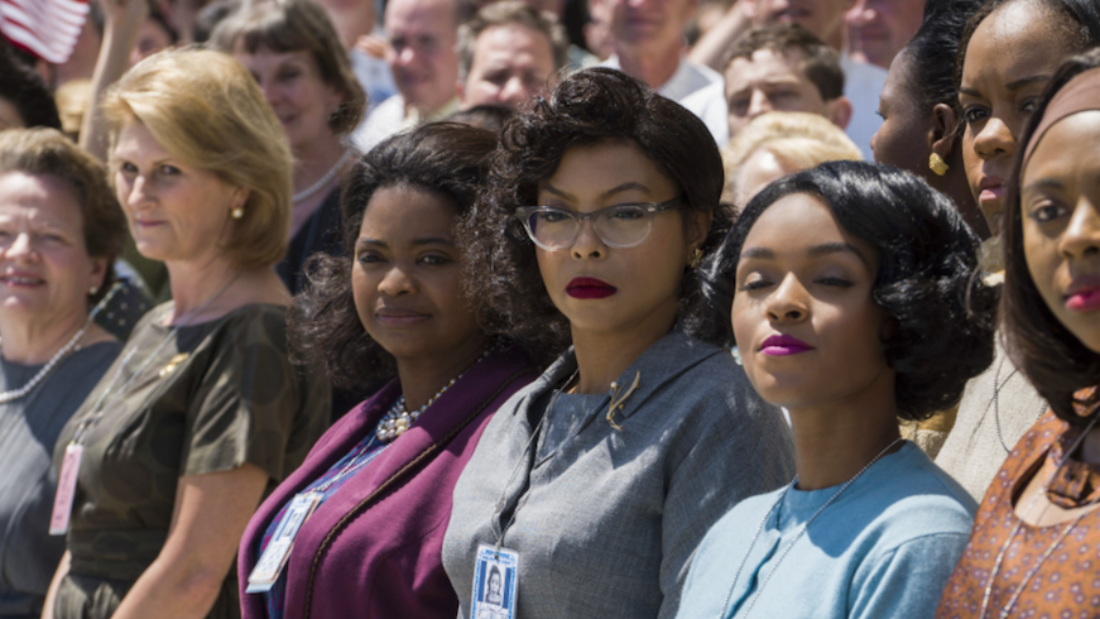 2017
with
Dr. Jedidah Isler
Postdoctoral Fellow in Astronomy and Astrophysics, Vanderbilt University National Science Foundation; Host/Executive Producer, "Vanguard: Conversations with Women of Color in STEM"
and
Tiffany Russell Lockett
Solar Sail Lead Systems Engineer, Near Earth Asteroid Scout Flight Mission, NASA
and
Dr. Nicole M. Joseph
Assistant Professor of Mathematics Education, Peabody College of Education and Human Development
Hidden Figures—

Women in STEM: Past, Present, and Future
Program Description
A discussion of the role of women — particularly women of color — in STEM, and how those roles have evolved and changed over time.
Film Synopsis
A team of African American women provide NASA with important mathematical data needed to launch the program's first successful space missions.
As the United States raced against Russia to put a man in space, three brilliant African American women at NASA — Katherine Johnson (Taraji P. Henson), Dorothy Vaughan (Octavia Spencer), and Mary Jackson (Janelle Monáe) — became the brains behind one of the greatest operations in history: the launch of astronaut John Glenn (Glen Powell) into orbit, a stunning achievement that restored the nation's confidence, turned around the Space Race, and captivated the world.

About the Speaker
Dr. Jedidah Isler is an award-winning astrophysicist, TED Fellow, and a nationally recognized speaker and advocate for inclusive STEM education. She is also the creator and host of the monthly web series "Vanguard: Conversations with Women of Color in STEM."
Dr. Isler received her bachelor's degree at Norfolk State University's Dozoretz National Institute for Mathematics and Applied Sciences (DNIMAS) before earning a masters in physics from the Fisk-Vanderbilt Master's-to-Ph.D. Bridge Program. Dr. Isler continued her education at Yale University, where her research on supermassive, hyperactive black holes was supported by fellowships from NASA, the National Science Foundation, and the Ford Foundation. In 2014, she became the first African American woman to receive a PhD in astrophysics from Yale, completing an award-winning study that examined the physics of particle jets emanating from black holes at the centers of distant galaxies called blazars. Dr. Isler's current research focuses on using simultaneous infrared, optical and gamma-ray observations to better understand the physics of these blazar jets.
Dr. Isler has served as a Chancellor's Faculty Fellow at Syracuse University, an affiliate of the Future Faculty Leader Fellowship at the Harvard-Smithsonian Center for Astrophysics, and is currently an National Science Foundation Astronomy & Astrophysics Postdoctoral Fellow at Vanderbilt University. She was recognized as a 2015 TED Fellow for her astrophysical research and innovative efforts to inspire a new generation of STEM leaders from underrepresented backgrounds. She has been invited to Astronomy Night at the White House and featured in various publications including Wired, Diversity in Action, Ebony, NPR: CodeSwitch, and The Crisis Magazine. Her writing has appeared in The New York Times.
As a speaker, Dr. Isler works with schools, museums, libraries, and nonprofit organizations across the country to advance the cause of truly inclusive STEM engagement and has established herself as a champion of access and empowerment in STEM education from middle school and beyond.

Tiffany Russell Lockett is currently the solar sail lead systems engineer for the Near Earth Asteroid (NEA) Scout flight mission. The spacecraft will launch on the maiden voyage of NASA's new Space Launch System. Her primary responsibility is the integration of the solar sail hardware, coordination of development and test activities, analysis oversight, and facilitation of communications with project management and team members. The team is comprised of multiple discipline experts from NASA Marshall Space Flight Center, NASA Langley Research Center and the Jet Propulsion Laboratory. She is also the co-principal investigator with Dr. Jeremy Munday on a technology development research project titled "Propellantless Attitude Control of Solar Sail Technology Utilizing Reflective Control Devices," sponsored by NASA's Space Technology Mission Directorate, Small Spacecraft Technology Program.
Mrs. Lockett is a 2006 graduate of Notre Dame of Maryland University with a bachelor's degree in physics and a 2008 graduate of the University of Maryland with a bachelor's in aerospace engineering. She started at NASA Goddard Space Flight Center in 2006 as an intern on the James Webb Space Telescope project and transferred full-time to Marshall Space Flight Center in July 2008 to work on the Constellation rocket called Ares I. She completed a three-month detail to the Materials and Processes Laboratory at Kennedy Space Center in 2009 in support of the International Space Station, Space Shuttle operations, and the Launch Services Program.

Dr. Nicole M. Joseph is an assistant professor of mathematics and science education in Vanderbilt University's Department of Teaching and Learning. Dr. Joseph was a 2014 National Academy of Education/Spencer Post-Doctoral Fellow and her research interests include mathematics education and equity from an intersectional perspective. She primarily studies black women and girls, and their identity development and experiences in mathematics and mathematics education. She also studies the role of race, class, gender, and other socially constructed identities in mathematics identity development as well as the history of mathematics education of African Americans (1837–1957).