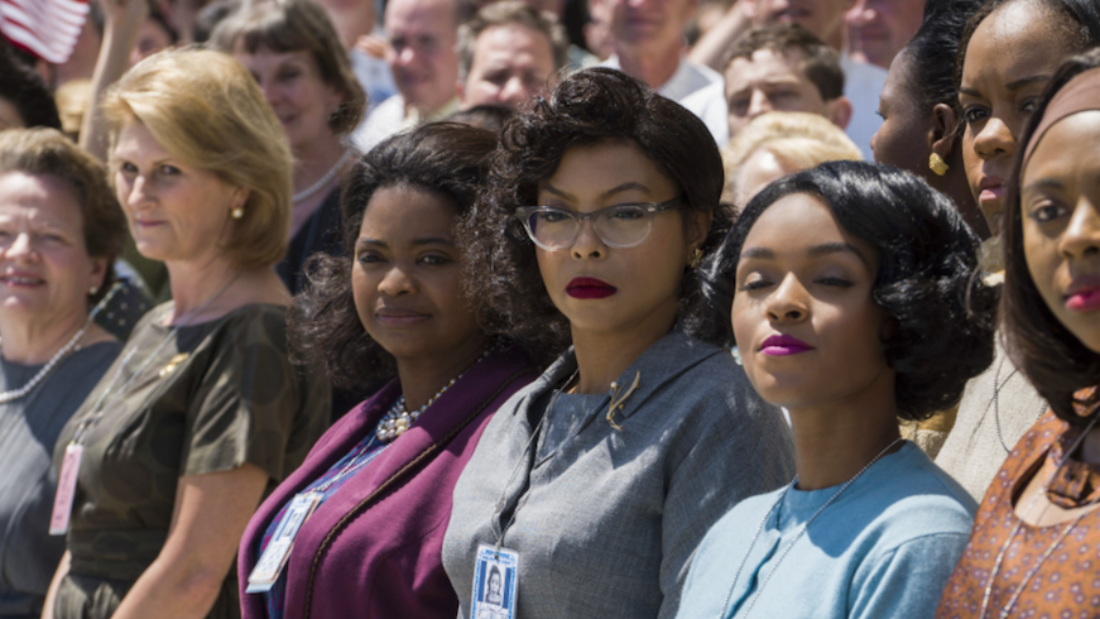 2017
with
Steffany Brown
Program Coordinator, YWCA Girls Without Limits!
and
Asha Isaac
Founder, In The Footsteps of Khadija
and
Sophie Nop
Design Research Intern, Premera Blue Cross
and
Channing Kimble-Brown
Software Engineer Intern, Amazon
and
Jaleesa Trapp
Computer Science Educator, Tacoma
Hidden Figures—

Science! It's Not Just a School Subject
Program Description
A post-film discussion about the opportunities for women of color in the field of science.
Film Synopsis
A team of African American women provide NASA with important mathematical data needed to launch the program's first successful space missions.
As the United States raced against Russia to put a man in space, three brilliant African American women at NASA — Katherine Johnson (Taraji P. Henson), Dorothy Vaughan (Octavia Spencer), and Mary Jackson (Janelle Monáe) — became the brains behind one of the greatest operations in history: the launch of astronaut John Glenn (Glen Powell) into orbit, a stunning achievement that restored the nation's confidence, turned around the Space Race, and captivated the world.

About the Speaker
Steffany Brown is a Black feminist who is dedicated to empowering all girls, femmes, and gender nonconforming youth in STEM through her work with YWCA Olympia's Girls Without Limits! program. Her passion for race and gender equity in STEM is grounded in her lifelong commitment to justice and critical thinking. She is proud and grateful to have studied sociology and political economy at The Evergreen State College Tacoma Campus.

Asha Isaac is a STEM education advocate and recent graduate of the University of Washington Tacoma where she earned a BS in information technology. She is the founder and president of Young STEM Minds, an on-campus mentorship program that provides support systems for first generation UWT students studying in the STEM fields, and the founder of In The Footsteps of Khadija, an annual professional networking event for young Muslim Women.

Sophie Nop is a computer science graduate from UW Tacoma and passionate about diversifying the field of engineering. She was a mentor at the Tacoma Computer Clubhouse, Cybersecurity instructor with UW Tacoma's Math Science Leadership program, and currently, she's interning as a Design Researcher at Premera Blue Cross. After her summer internship, she will go to Cambodia to study STEM identity and the digital divide through mobile app development. Her goals are to build on her research as a graduate student at UW's Human Centered Design and Engineering program — making computer science curriculum more culturally competent and accessible for women and people of color.

Channing Kimble-Brown is a computer science student interning at Amazon as Software engineer.

Jaleesa Trapp is an educator from Tacoma, WA. After high school, Trapp attended the University of Washington where she received her bachelor's degree in human centered design and engineering with a concentration in human-computer interactions. She has spent the last 6 years teaching computer science formally and informally to youth in her community. She is an advocate for underrepresented groups in computing and uses creative learning to help youth realize their potential. In fall 2017, she began attending the Massachusetts Institute of Technology (MIT) where she joined the MIT Media Lab as a graduate student in the Lifelong Kindergarten research group.