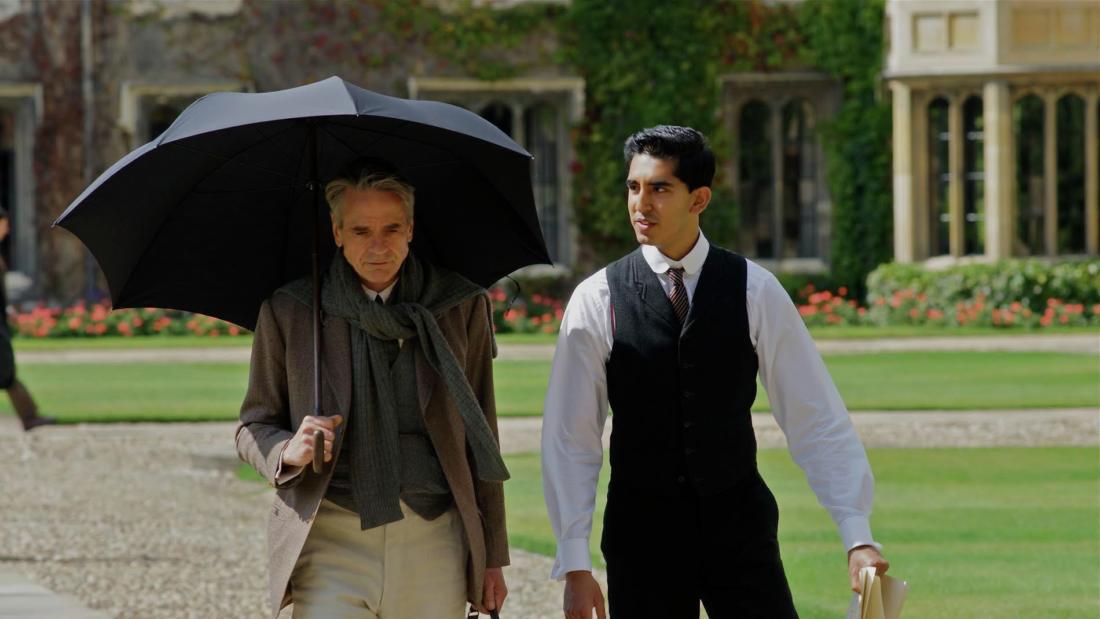 2017
with
Dr. David Fisher
Professor of Mathematics, Indiana University
and
Dr. Michael Larsen
Professor of Mathematics, Indiana University
and
Dr. Elon Lindenstrauss
Fields Medalist; Professor of Mathematics, Hebrew University
and
Dr. Susan Seizer
Associate Professor of Anthropology, Indiana University
The Man Who Knew Infinity—

Math at the Movies
Program Description
A discussion of Srinivasa Ramanujan and the importance of his work.
Film Synopsis
A true story based on the life of math genius Srinivasa Ramanujan and Professor G.H. Hardy, who recognized Ramanujan's brilliance despite the latter's lack of formal training and education.
During World War I, Srinivasa Ramanujan (Dev Patel), a self-taught Indian mathematics genius travels to Trinity College, Cambridge, where he forms a bond with the eccentric professor G.H. Hardy (Jeremy Irons), and must fight against prejudice to reveal his genius to the world.
About the Speaker
Dr. David Fisher is a professor of mathematics at Indiana University. His research interests include geometric group theory and analysis on metric spaces; rigidity in geometry, dynamics, and Lie theory; harmonic maps, heat flow, and generalizations; and ergodic theory of large groups, particularly semi-simple groups and their lattices. Before coming to Indiana University in 2005, he worked in the Yale University Mathematics Department as a Gibbs Instructor and NSF Postdoctoral Fellow, in the CUNY Graduate Center Mathematics Department as a member of the doctoral faculty, and in the Lehman College Department of Mathematics and Computer Science as an assistant professor. Dr. Fisher received a BA in mathematics from Columbia University and an MS and PhD from the University of Chicago.

Dr. Michael Larsen is a professor of mathematics at Indiana University. He is known for his research in arithmetic algebraic geometry, combinatorial group theory, combinatorics, and number theory. He has written highly cited papers on domino tiling of Aztec diamonds, topological quantum computing, and on the representation theory of braid groups. As an undergraduate mathematics student at Harvard University, Dr. Larsen became a Putnam Fellow in 1981 and 1983. He graduated from Harvard in 1984, and earned his PhD from Princeton University in 1988, under the supervision of Dr. Gerd Faltings. After working at the Institute for Advanced Study he joined the faculty of the University of Pennsylvania in 1990, and then moved to the University of Missouri in 1997. He joined the Indiana University faculty in 2001. In 2013 he became a fellow of the American Mathematical Society.

Dr. Elon Lindenstrauss is a professor of mathematics at Hebrew University and winner of the 2010 Fields Medal for his results on measure rigidity in ergodic theory, and their applications to number theory. Dr. Lindenstrauss works in the area of dynamics, particularly in the area of ergodic theory and its applications in number theory. He is also a graduate of Hebrew University, where he earned his BSc in mathematics and physics in 1991 and his master's degree in mathematics in 1995. In 1999 he finished his PhD, with a thesis on entropy properties of dynamical systems. He was a member at the Institute for Advanced Study in Princeton, New Jersey, then a Szego Assistant Professor at Stanford University. From 2003 to 2005, he was a Long Term Prize Fellow at the Clay Mathematics Institute.

Dr. Susan Seizer is an associate professor of anthropology at Indiana University. Her research and teaching interests include performance studies, standup comedy, humor in use, stigma, diasporic feminist film, queer studies, disability studies, ethnographic writing and methods, and the anthropology of parents and children. Dr. Seizer's first ethnographic research project focused on the lives of popular theater artists in Tamilnadu, South India. Her book Stigmas of the Tamil Stage: An Ethnography of Special Drama artists in South India (Duke University Press, 2005) won the prestigious A.K. Coomaraswamy Book Prize from the Association for Asian Studies in 2007. Her ethnographic documentary film Road Comic: Big Work on Small Stages (2012) turns an anthropological lens on the lives of road comics in the contemporary United States. Prior to becoming an anthropologist, Dr. Seizer was a performer of dance, theater, and circus. Many of her scholarly interests follow threads she first explored as a performer: improvisation; the way comedy can be used to do just about anything; and the particular exhilaration many women find in transgressing normative gender roles through public performance. Dr. Seizer received a BA in English from Barnard College and an MA and PhD in anthropology from the University of Chicago.