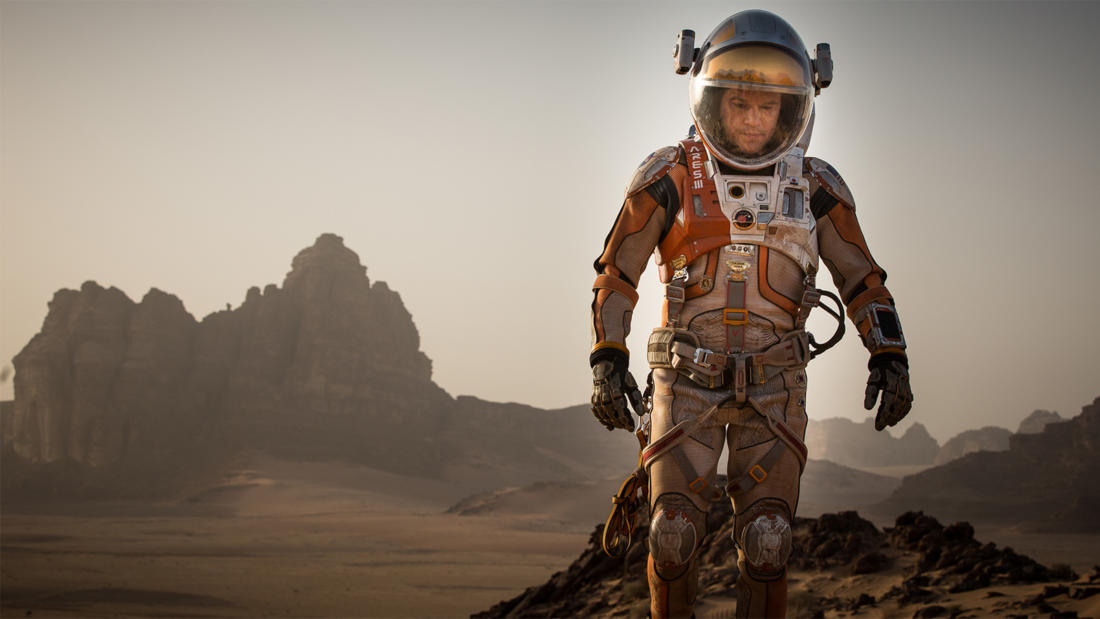 2017
with
Dr. Paul M. Sutter
Astrophysicist, Ohio State University; Chief Scientist, COSI
and
Michael Solomon
Theatre Associate, COSI
The Martian—

Is there life on Mars?
Program Description
An interactive discussion of the science behind human travel and colonization of Mars, the evidence of life on Mars, and the science behind the film.
Film Synopsis
When astronauts blast off from the planet Mars, they leave behind Mark Watney, presumed dead after a fierce storm. With only a meager amount of supplies, the stranded visitor must use his wits, spirit, and scientific know-how to find a way to survive on the hostile planet.
During a manned mission to Mars, Astronaut Mark Watney (Matt Damon) is presumed dead after a fierce storm and left behind by his crew. But Watney has survived and finds himself stranded and alone on the hostile planet. With only meager supplies, he must draw upon his ingenuity, wit, and spirit to subsist and find a way to signal to Earth that he is alive. Millions of miles away, NASA and a team of international scientists work tirelessly to bring "the Martian" home, while his crewmates concurrently plot a daring, if not impossible, rescue mission. As these stories of incredible bravery unfold, the world comes together to root for Watney's safe return. Based on the best-selling novel by Andy Weir, and helmed by master director Ridley Scott, The Martian was nominated for three Golden Globes.
About the Speaker
Dr. Paul Sutter is an astrophysicist at Ohio State University and chief scientist at COSI. He has authored over 60 academic papers on topics ranging from the earliest moments of the Big Bang to the emptiest places in the universe to novel methods for detecting the first stars. He received his PhD in physics in 2011 from the University of Illinois at Urbana-Champaign as a Department of Energy Computational Science Graduate Fellow, and held research fellowships in Paris and Italy. He has given over 100 seminars, colloquia, and conference talks at institutions around the world.
Dr. Sutter's Ask a Spaceman podcast invites listeners to send questions via social media to answer on the show, and is now one of the top podcasts across all subjects globally. As a contributing editor to space.com, his articles reach over 100,000 readers and are syndicated to CBS News, Scientific American, MSN, and more. A go-to expert for journalists and producers, he regularly appears on radio, TV, and in print, and consults on film and TV productions.
Serving as the public face of science for COSI, he gives talks, shows, and appearances across Columbus, including in his popular Deep Space Q&A live planetarium show.
Dr Sutter's company, Active Galaxy Productions, blends science with art in groundbreaking ways. The company's first project, Song of the Stars, was a Kickstarter-funded dance performance themed from astronomy. The film of the live performance will premiere nationwide on PBS member stations in June 2017.
He is routinely sought to give presentations about physics, astronomy, space exploration, the intersection of science and art, and the relationship between science and society.

Michael Solomon is a theatre associate at COSI.