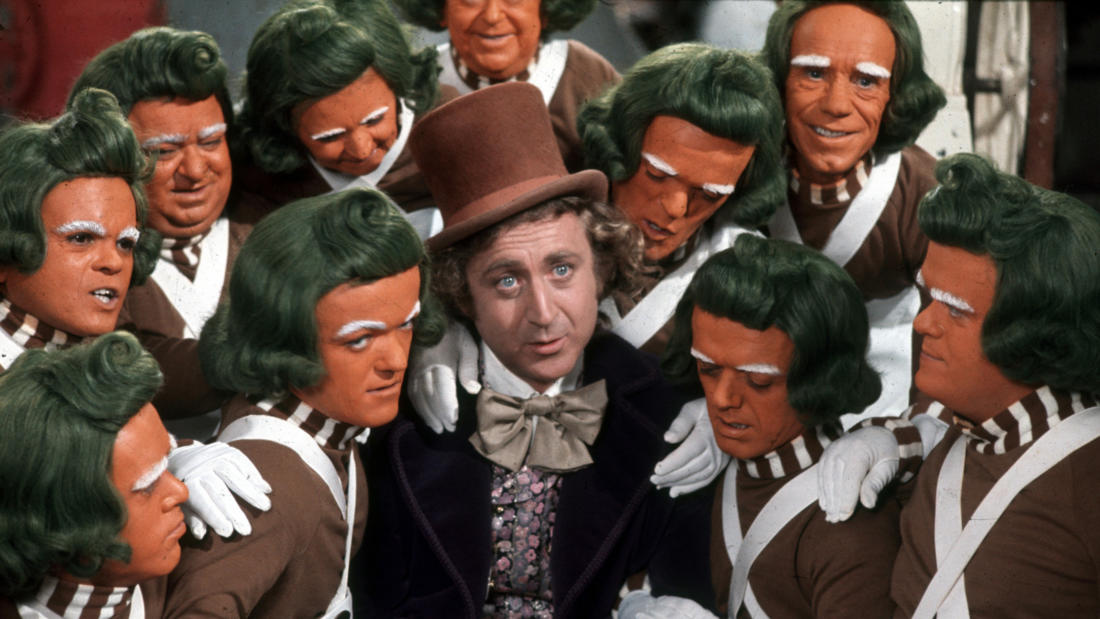 2017
with
Dr. Paul M. Sutter
Astrophysicist, Ohio State University; Chief Scientist, COSI
and
Dr. Farnaz Maleky
Assistant Professor, College of Food, Agricultural, and Environmental Sciences, Ohio State University
and
Dr. Brian Waters
Lecturer, College of Food, Agricultural, and Environmental Sciences, Ohio State University
Willy Wonka and the Chocolate Factory—

For the love of chocolate
Program Description
A discussion of the science of chocolate. Attendees sampled a variety of chocolate types, noting the differences between commercial and small batch chocolate and how different types of cacao affect taste.
Film Synopsis
A poor boy wins the opportunity to tour the most eccentric and wonderful candy factory in the world.
The world is astounded when reclusive and enigmatic candy manufacturer Willy Wonka (Gene Wilder) announces that five lucky people will be given a tour of the factory, shown all the secrets of his amazing candy, and one will win a lifetime supply of Wonka chocolate. Nobody wants the prize more than young Charlie Bucket (Peter Ostrum), whose family is so poor that buying even one bar of chocolate is a treat. Miraculously, Charlie snags the last of the five golden tickets, and he and his grandfather (Jack Albertson), along with four somewhat odious other children, get the chance of a lifetime and a tour of the factory. Along the way, mild disasters befall each of the children. Can Charlie beat the odds and grab the brass ring?
About the Speaker
Dr. Paul Sutter is an astrophysicist at Ohio State University and chief scientist at COSI. He has authored over 60 academic papers on topics ranging from the earliest moments of the Big Bang to the emptiest places in the universe to novel methods for detecting the first stars. He received his PhD in physics in 2011 from the University of Illinois at Urbana-Champaign as a Department of Energy Computational Science Graduate Fellow, and held research fellowships in Paris and Italy. He has given over 100 seminars, colloquia, and conference talks at institutions around the world.
Dr. Sutter's Ask a Spaceman podcast invites listeners to send questions via social media to answer on the show, and is now one of the top podcasts across all subjects globally. As a contributing editor to space.com, his articles reach over 100,000 readers and are syndicated to CBS News, Scientific American, MSN, and more. A go-to expert for journalists and producers, he regularly appears on radio, TV, and in print, and consults on film and TV productions.
Serving as the public face of science for COSI, he gives talks, shows, and appearances across Columbus, including in his popular Deep Space Q&A live planetarium show.
Dr Sutter's company, Active Galaxy Productions, blends science with art in groundbreaking ways. The company's first project, Song of the Stars, was a Kickstarter-funded dance performance themed from astronomy. The film of the live performance will premiere nationwide on PBS member stations in June 2017.
He is routinely sought to give presentations about physics, astronomy, space exploration, the intersection of science and art, and the relationship between science and society.

Dr. Farnaz Maleky is an assistant professor in the College of Food, Agricultural, and Environmental Sciences at Ohio State University. Her research focuses on material science of lipids and fatty food systems. By developing new techniques for structuring and nano-engineering of lipids, and understanding their functional properties in food systems, her research establishes structure-function relationships for fatty food products, with the aim of providing new insights for better selection of raw materials, improving food processing, and enhancing human health.

Dr. Brian Waters is a lecturer in the in the College of Food, Agricultural, and Environmental Sciences at Ohio State University. Prior to joining the faculty at OSU, Dr. Waters was a graduate research assistant at the University of Georgia. His courses include Beer and Wine in Western Culture, Chocolate Science, Kitchen Science, and Food Safety and Public Health.