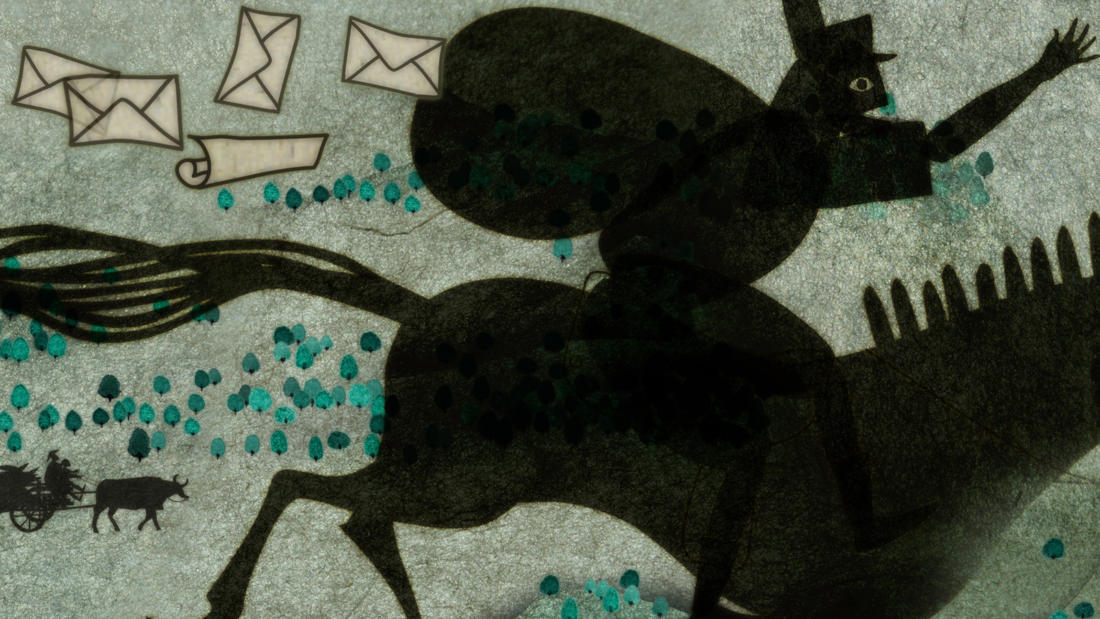 2014
with
Ying-Fang Shen
Artist and Professor, Virginia Commonwealth University
and
Dr. Katy Börner
Professor, Indiana University
and
Norbert Herber
Musician, Sound Artist; Professor, The Media School, Indiana University
Humanexus—

Social Uses and Effects of Information and Communication Technologies
Program Description
A panel discussion about the relationship between society and technology and societal uses and effects of information and communication technologies.
Film Synopsis
This animated documentary examines how humans communicate.
This documentary visualizes the evolution of human communication from the Stone Age to today—from storytelling to the contemporary humanexus of billions of biological brains and many more technological artifacts, to multiple possible futures. The film traces the invention of writing, printing, telegraphing, calling, emailing, and texting. At the same time, Humanexus traces the development of transportation systems, the typewriter, Morse code, the phonograph, the motion picture projector, radio, television, the phone, and computers. In the process, it explores the ways our lifestyles and the landscape of knowledge are shifting continuously and drastically.
About the Speaker
Born in Taipei, Taiwan, Ying-Fang Shen's recent work falls within the fields of painting, illustration, video, and animation. She received her BFA in Painting at Taipei National University of the Arts in 2000, an MFA in painting at National Taiwan Normal University in 2004, and an MFA in Digital Art at Indiana University in 2009.
Trained as a painter and immersed in Oriental arts, Shen is intrigued by metaphorical communication, which strongly influences her creation of both image and sound. Her works draw upon human nature and gravitate toward related subjects and characters.
Exhibitions of Shen's works have received acclaim in cities including Bloomington, Chicago, Cincinnati, Los Angeles, São Paulo, Taipei, and Vancouver, among many others.

Dr. Katy Börner is the Victor H. Yngve Professor of Information Science in the Department of Information and Library Science, School of Informatics and Computing, adjunct professor in the Department of Statistics in the College of Arts and Sciences, core faculty of Cognitive Science, research affiliate of the Center for Complex Networks and Systems Research and Biocomplexity Institute, member of the Advanced Visualization Laboratory, leader of the Information Visualization Lab, and founding director of the Cyberinfrastructure for Network Science Center at Indiana University. She is a visiting professor at the Royal Netherlands Academy of Arts and Sciences (KNAW) and is a curator of the international Places & Spaces: Mapping Science exhibit. She holds an MS in electrical engineering from the University of Technology in Leipzig, and a PhD in computer science from the University of Kaiserslautern. She became an American Association for the Advancement of Science (AAAS) Fellow in 2012. She is an expert in the theory and practice of data mining and information visualization.

Norbert Herber is a musician and sound artist. His work explores the relationship between people and sound within mediated environments—spaces created by software, sensors, speakers, and other mediating technologies. This music is more likely to be heard on a personal computer, mobile device, or installation space than on CD or vinyl. Field recordings, live instruments, and electronics are brought together in an ever-changing, generative mix of texture and tone that leverages the processing capabilities of contemporary technology to create music specific to a place and time. Using this approach, Herber is focused on creating sound and music in digital environments for art, entertainment, and communications applications. His works have been performed and exhibited in Europe, Asia, South America, and the United States.