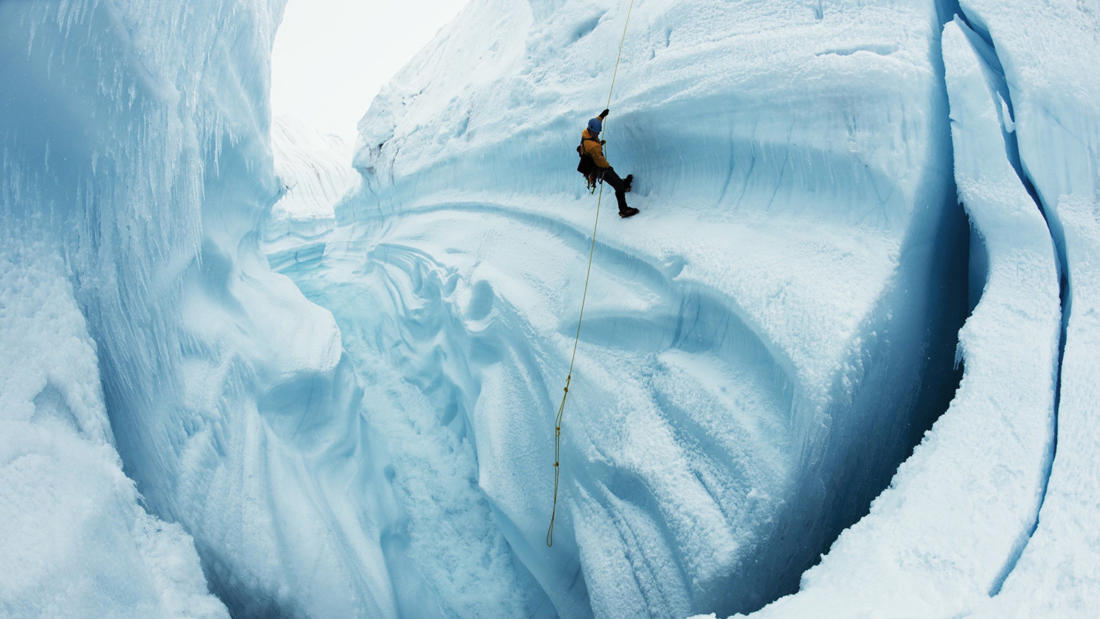 2013
with
Dr. Ryan Fogt
Assistant Professor, Ohio University; Director, Scalia Lab for Atmospheric Analysis
and
Linda Lilienfeld
Director, "Let's Talk About Water"
Chasing Ice—

Glacial Melting
Program Description
A discussion of the correlation between glacial melting and patterns of extreme weather and climate change.
Film Synopsis
Follow National Geographic photographer James Balog across the Arctic as he deploys time-lapse cameras designed for one purpose: to capture a multi-year record of the world's changing glaciers.
Acclaimed National Geographic photographer James Balog was once skeptical about climate change. But through his Extreme Ice Survey, he discovers definitive evidence of our changing planet. In this documentary, Balog uses time-lapse cameras to capture a multi-year record of the world's glaciers. His videos compress years into seconds and capture ancient mountains of ice in motion as they vanish at an astonishing rate. Traveling with a team across the brutal Arctic, Balog risks his career and his health in pursuit of the biggest story facing humanity. As the debate polarizes America, and the intensity of natural disasters ramps up globally, Chasing Ice depicts a photojournalist on a mission to deliver fragile hope to our carbon-powered planet.
About the Speaker
Dr. Ryan Fogt is a climatologist with a particular research focus on Antarctica. He received a BS in atmospheric sciences, summa cum laude, from Creighton University in 2000. After completing his bachelor's degree, he worked at Creighton for one semester as a graduate teaching associate. He then obtained his MS and PhD in atmospheric sciences in 2003 and 2007, respectively, from Ohio State University. During his graduate education, Dr. Fogt traveled to Antarctica three times, each visit to work with the forecasters on ice to improve the forecasting model used to support all operations of the US Antarctic Program. While on ice, he also helped with other meteorology projects and installed and upgraded several automatic weather stations on the Ross Ice Shelf, and made a site visit to the South Pole station. After graduate school, Dr. Fogt spent two years as a postdoctoral researcher at the NOAA Earth System Research Laboratory in Boulder, Colorado, working with Drs. Bill Neff, director of the Physical Sciences Division, and Dr. Judith Perlwitz. Currently, he is an assistant professor at Ohio University, where he directs the Scalia Laboratory for Atmospheric Analysis and oversees the meteorology program.
Dr. Fogt's work on Antarctic climate variability has been published in the Journal of Climate, Geophysical Research Letters, Weather and Forecasting, and in Science. He currently has over 10 manuscripts published, and has over 300 citations since first publishing in 2004. Since 2008, he has been the editor of the "Antarctic" chapter in the State of the Climate report, issued as a supplement to the Bulletin of the American Meteorological Society in conjunction with NOAA. He was also a contributing author of the 2007 IPCC Fourth Assessment Report.

Linda Lilienfeld is the creator and project coordinator of Let's Talk About Water. Linda has 35 years of experience as a film and picture researcher, specializing in science and history on projects ranging from PBS documentaries to museum exhibits and books. She has served for the past 10 years as a research assistant to Peggy Parsons, curator of the Film Program at the National Gallery of Art in Washington, D.C. She has been a member of the steering committee and pre-screening committee for the International Water and Film Events (RIEC-IWFE.org).

In 1992, Lilienfeld was inspired to create the LTAW project while working on an exhibit on global warming at the American Museum of Natural History in New York City. She realized that efforts to solve environmental crises such as global warming were hindered by a lack of clarity in the science and a need to communicate the subject to the public.