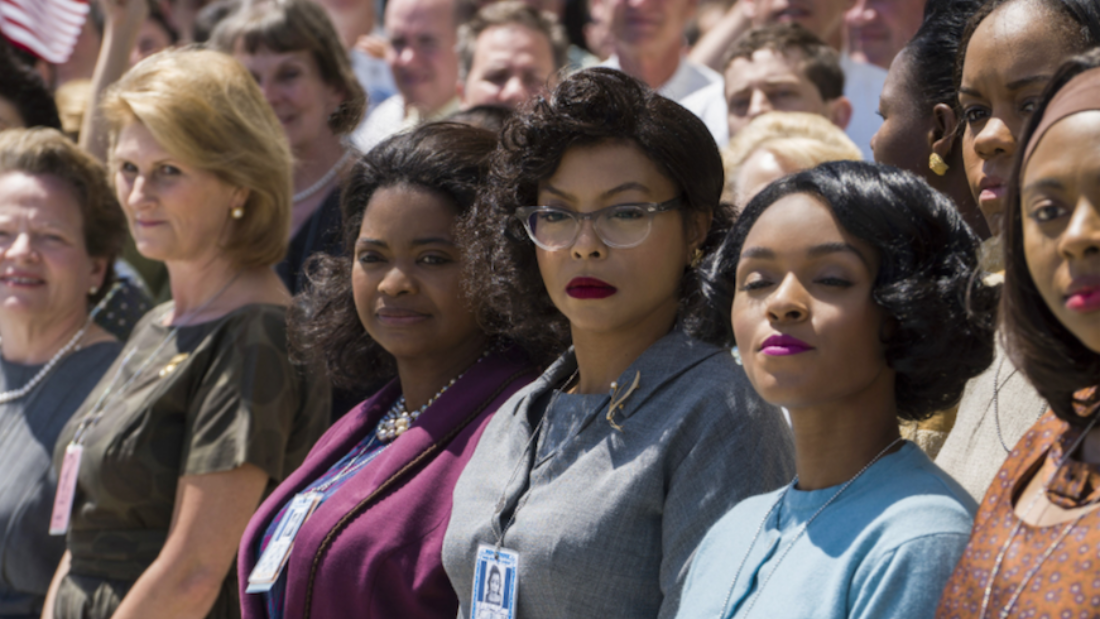 2017
with
Vanessa Cruz
Mathematics Teacher, Bulkeley High School
and
Melissa Strother
Senior Actuarial Consultant, Travelers Insurance Company
and
Kendra Letang
Senior Actuarial Analyst, Actuarial and Analytics Leadership Development Program (AALDP), Travelers Insurance Company
and
Dr. Carla Gunn
Partner, Manchester OB-GYN
and
Shakira Ramos
Fleet Manager, Aviation and Aerospace Departments, Pratt and Whitney
and
Dr. Anjanette Ferris
Cardiologist; Assistant Professor of Medicine in the Division of Cardiology, Pat and Jim Calhoun Cardiology Center, University of Connecticut
Hidden Figures—

A Giant Leap for Humankind
Program Description
A panel discussion with accomplished and experienced, Hartford, Connecticut-based women of color that excel in STEM occupations.
Film Synopsis
A team of African American women provide NASA with important mathematical data needed to launch the program's first successful space missions.
As the United States raced against Russia to put a man in space, three brilliant African American women at NASA — Katherine Johnson (Taraji P. Henson), Dorothy Vaughan (Octavia Spencer), and Mary Jackson (Janelle Monáe) — became the brains behind one of the greatest operations in history: the launch of astronaut John Glenn (Glen Powell) into orbit, a stunning achievement that restored the nation's confidence, turned around the Space Race, and captivated the world.

About the Speaker
Vanessa Cruz has been a mathematics teacher at Bulkeley High School since 2006 and a graduate of Hartford Public High School. She received her BS in mathematics, MEd in curriculum and instruction, and Intermediate Administrator Certificate from the University of Connecticut.

Melissa Strother is a senior actuarial consultant for Travelers Insurance whose primary responsibility is to calculate reserves for Small Business Units with the Auto line of business. Strother has over 20 years working in various actuarial roles within the insurance industry, and holds an MS in mathematics with a concentration in actuarial science from the University of Connecticut and a BS in mathematics with a concentration in actuarial science from the University of Massachusetts.

Kendra Letang is a senior actuarial analyst in the Actuarial and Analytics Leadership Development Program (AALDP) at Travelers Insurance. She earned her BBA in insurance with a concentration in actuarial science from Howard University located in Washington, DC, and is currently completing actuarial exams to obtain a fellowship in the Casualty Actuarial Society.

Dr. Carla Gunn is a partner of Manchester OB-GYN, who earned her undergraduate degree from Hampton University in Virginia and graduated from UConn School of Medicine then finished her residency in Obstetrics & Gynecology at St. Francis Hospital & Medical Center in 2010.

Shakira Aida-Ramos is the deputy regional fleet manager in Pratt & Whitney's Engines Services for Commercial Engines & Aftermarket Department, and a graduate of Ms. Porter's School. She received a BS in mechanical engineering from Trinity College and an MS in business administration from the University of Hartford.

Anjanette Ferris is a cardiologist and assistant professor of medicine in the Division of Cardiology at the Pat and Jim Calhoun Cardiology Center at the University of Connecticut Health Center, the former director of the Lipid Clinic, and past co-director of the Women's Heart Health Program at the Pat and Jim Calhoun Cardiology Center. She completed both her residency in Internal Medicine and fellowship in Cardiovascular Diseases at Columbia University Medical Center, and earned a Master of Public Health degree from Columbia University.